You Should Be looking for Small-cap Stocks that Will Rebound Strongly
Oct 1, 2020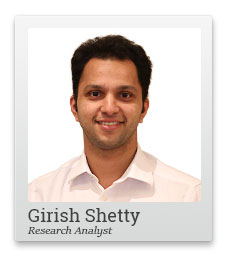 Ever tried searching what 'Rebound' means?
Here's what you get from google... 'bounce back through the air after hitting something hard''.
Now why do some objects rebound and some don't?
Throw a rubber ball on a hard surface and it will rebound easily. On the other hand, a glass ball will shatter into pieces.
Why does this happen?
A glass ball is harder and stronger whereas the rubber ball is much more softer. The scientific definition has to do with energy and atoms. I'll give you a simplified explanation.
When you throw a rubber ball on a hard surface, it compresses and changes its shape to adapt to the hard surface.
This allows it to absorb the impact and bounce back. The glass ball on the other hand retains its shape and thus breaks.
Advertisement
India's Next War
Recently, both China and Pakistan have started amping up tensions at the border.

So, now India faces a possible 2-front war scenario.

And this calls for a heavy deployment of future-ready and highly advanced weapons at our borders.

We are talking next generation tanks, guns and even high-tech equipment like drones.

Now unlike in the past where all this money was spent with foreign companies, now, it's being redirected to Indian companies.

For a few Indian defence companies...this is a mega growth opportunity.

And for investors... it's a rare opportunity to make potentially huge gains as select defence companies see their growth, and therefore stock prices, potentially shoot up.

To learn everything about this new, and huge, opportunity, Click Here to join Equitymaster's Explosive Profits Summit.

At this exclusive summit, you will also get to access details of what we call our #1 defence stock pick.

It's a potential 10x opportunity in the long term.
Do you see these similarities in our day-to-day life?
Kodak and Nokia were no doubt strong companies.
But like the glass ball, they were unable to adapt in an ever-changing world. Eventually, they broke.
If there were ever an acid test of adaptability, the Covid-19 pandemic would rank among the highest.
Individuals and businesses' ability to adapt to the new world order is being severely tested.
And this test won't be over anytime soon.
Businesses that are unable to adapt will not survive this phase. Businesses that have grown by taking high debt and have unsustainable business models will surely break first.
On the other hand, there are few businesses that will adapt and survive this difficult phase.
#1 Small-Cap Stock: Biggest Opportunity in the Indian FMCG Market
Like the rubber ball, they will rebound. With its peers unable to survive, these strong and adaptable businesses will grow much faster when normalcy resumes.
I am seeing these signs in a few quality small cap stocks.
The BSE Small cap index has had a tough time off late. In a span of just over two years (Jan 2018 - March 2020), the small cap index fell by more than 50%. Since then, there has been a sharp rebound of 67% from its March lows.
But I believe the best is yet to come for small cap stocks.
Despite the sharp rise in recent months, the BSE Small cap has given nil returns in the last 3.5 years (Apr 2017 - September 2020). Many stocks in this index haven't survived. Most of them have suffered from either poor business models or corporate governance issues.
But the ones that have suffered this difficult phase are likely to do well now. These players have weathered all kinds of disruption ranging from demonetisation, GST, and finally the Covid-19 pandemic.
There are some common characteristics among these survivors.
--- Advertisement ---
For Those Looking to Buy Stocks

If you're looking to buy stocks now, then we've uncovered 3 great stocks for you.

Our research says, these stocks have the potential to create a wave of Indian millionaires.

Get the Details Now
------------------------------
They're selling products that are disruption free and will be in demand for years to come. The managements have survived difficult cycles in the past and are well equipped than most to handle difficult times.
If you're looking for a framework on how to pick such stocks, my video below might help you...
We have tried to do the same for our Hidden Treasure subscribers. In our report 5 'Essential' Smallcaps to Ride the Covid-19 Rebound' we have picked stocks through this very framework.
In the coming years, these smallcaps are likely to rebound fast whereas their average peers, just like the glass ball, are likely to get shattered.
Warm regards,



Girish Shetty
Research Analyst, Hidden Treasure
Equitymaster Agora Research Private Limited (Research Analyst)
PS: Get access to our top recommendations to profit from the rebound in smallcap stocks here...
Recent Articles