Is Indiabulls Housing the Next Yes Bank?
Oct 3, 2019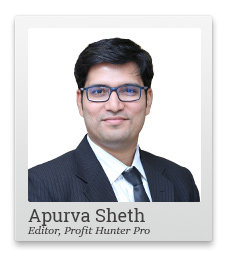 Rs 57 Billion!
That's the figure of wealth destroyed in a day for shareholders of Indiabulls Housing Finance Ltd. (IBHFL).
First, the Delhi high court (HC) on Friday issued notices to IBHFL and other respondents in a public interest litigation (PIL) seeking a probe into irregularities in the company.
Second, the RBI put Lakshmi Vilas Bank (LVB) under the PCA (Prompt Corrective Action) framework after it found that the bank had mounting losses, bad financial health and a couple of directors committing fraud.
--- Advertisement ---
Richa Agarwal's #1 stock pick for 2021 is out

It is a little-known company that is now tapping into a Rs 4 trillion opportunity...

Setting it up to potentially deliver huge gains in the years to come.

Now, this stock has already started to move...

As the word spreads, there's a chance that this stock could move up rapidly.

Hence the urgency to act now...

Here are the full details of the company I'm talking about...
------------------------------
IBHFL and LVB had announced a merger earlier this year. This merger was expected to turn out as a win-win for both the companies. IBHFL would get access to cheaper funds and LVB would get a strong partner with financial muscle.
After the recent developments, its reported that merger may not go through all the regulatory hurdles. These developments disappointed shareholders of both the companies. LVB is locked in a lower circuit of 5% since this news broke out. But the stock of IBHFL is causing heartburns to shareholders after it dropped 40% in two sessions.
However, that isn't the case with everyone. Some are seeing the recent fall as an excellent entry opportunity. I would like to remind you that many people felt the same in Yes Bank six months ago.
The uptrend in Yes Bank halted suddenly on 21 September 2018 after RBI denied an extension to CEO Rana Kapoor. The stock ended lower by 30% on this day.
Unlock Now: India's 3 Unstoppable Tech Stocks
The stock traded sideways for six months and even recovered from this blow by April 2019. But on 30 April 2019 the stock plunged another 30% after reporting its first ever quarterly loss.
Many investors expected it to be a one off. They thought the worst is over and bought Yes Bank. But the story hasn't improved after that. We know that Yes Bank has remained in the limelight for all the wrong reasons recently. The stock is thrashed badly and is a major pain point for retail investors now.
IBHFL and Yes Bank's Stock Performance Since 21 September 2018
Could this be the case with Indiabulls Housing Finance as well?
--- Advertisement ---
How to Unlock Almost 3x More Gains During the Corona Crisis...Good News...

Our top analyst Richa Agarwal just identified 5 "pandemic-proof" smallcaps that could win the war against coronavirus...

And deliver up to 50-100% gains really fast!

She has revealed the exact details of these 5 high-potential smallcaps in her latest special report...

Check It Out Now...
------------------------------
Nobody knows that for sure. But if you are tempted to buy a stock which has fallen a lot recently then you need to keep these points in mind before buying.
Don't buy stocks only because they are cheaper now

A lot of investors simply buy stocks because they are cheaper now. You do not buy a stock just because it has fallen from Rs 100 to Rs 70 in a day. There are chances it could fall even further. You need more reasons than price drop to buy a stock.
Don't catch falling knives

Some investors find it really exciting to buy stocks which everyone fears touching with a 10-foot pole. They like to be contrarian just for the sake of it. Please note that you aren't getting any award for playing contrarian. It's your hard-earned money and its better if you invest it responsibly. Don't be reckless and try catching falling knives just for the sake of adventure.
Maintain strict stoploss

This might sound like a broken record. But it is an absolute essential especially when you are investing in such stocks. It's a market where 'sasta stock aur sasta ho raha hai aur mehenga stock aur mehenga ho raha hai'. Simply put cheap stocks are becoming cheaper and expensive ones are becoming more expensive. You don't want to be caught holding a cheaper stock. Maintain strict stoploss if you are trading such stocks and exit once it is hit.
Hedge your trades

One could also hedge his trades using futures or options (F&O). Now trading in F&O could be risky and requires huge capital. So, it should be done by investors who have knowledge of F&O, risk appetite and adequate capital.
Trade in fundamentally strong stocks

Finally, one should make it a point to invest and trade only in fundamentally strong stocks. The biggest advantage of trading in such stocks is that you have a comfort with such stocks. Even if they drop or don't move initially you know you could hold it for a while since the company is fundamentally strong. Obviously, this doesn't mean all your trades would be successful. But you can have an edge and fair chance of being successful over a longer period. I have been following this approach at Profit Hunter Pro and am successful at it. You could be successful too.
Happy Trading.
Warm regards,

Apurva Sheth
Editor and Research Analyst, Profit Hunter Pro
PS: Identifying profitable trades in this volatile market requires a proven trading strategy. This is exactly what I have developed for you. Read more about my trading strategy.
Recent Articles