India's Third Giant Leap
This Leap Could Potentially Generate Gains
Far Bigger than Anything We Have Seen in Our Lifetimes
Analysts Warn of a 30% Market Crash. Should You be Worried?
Oct 3, 2022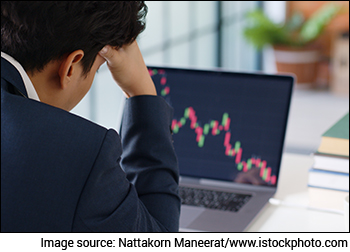 For a few weeks now, I have been maintaining that the Indian stock market is not cheap but not very expensive either. It is only slightly overvalued.
As I write this, we are at a PE of 21.8x on the Sensex on a trailing twelve-month (TTM) basis. This is hardly in the bubble territory as we've averaged 20x over the last 20 years or so.
Bubble is when the PE crosses the 25x mark. Historically, buying when the Sensex PE is above 25x hasn't proved to be a wise decision. Investors have suffered below par returns on an average when the Sensex PE has been north of 25x.
Thus, with the current Sensex PE well below 25x, I dismissed any warnings of a big bubble in stocks.
Well, it turns out, I may have missed an important element in my analysis.
An asset class can be termed cheap or expensive based on its own valuation history.
However, it can also come under selling pressure if an alternative asset class suddenly starts looking more attractive. When it comes to India, this alternative asset class answers to the name of bonds.
--- Advertisement ---
IMPORTANT: Save the Date for the Biggest Financial Conference of The Year...

The Equitymaster Conference 2023 happens on 25th-26th Feb 2023...

If you want to discover where the market is headed for the next 10 years... and which mega-trends could potentially help you make the most wealth over the next decade...

Make Sure to Grab Your Ticket Right Now (Special Reserve Member Discount Inside: OPEN NOW)

HURRY: Grab Your Ticket Now
------------------------------
CLSA, one of India's leading brokerages has observed that India is the only market other than the US where equity valuations are extended compared to domestic bonds.
You see, in order to bring inflation under control, the RBI has been continuously raising rates since May this year. This rate hike now stands at close to 2% if you include the latest one that was announced last Friday.
Mind you, a 2% rate hike in a few months is quite substantial. It can turn bonds into an attractive asset class, and this is precisely what's happening.
The difference between the government bond yield and the earnings yield of the stock market index currently stands at 200 basis points. For perspective, this yield has averaged 100 basis points historically.
Thus, the takeaway is clear. For the yield to go back to the average, either the stock market needs to fall from here or the bond yields must go up further.
CLSA seems to be of the view that since Indian equities haven't fallen as much as their global counterparts, a stock market fall seems a stronger possibility between the two.
In fact, CLSA has warned that the Indian benchmark index is vulnerable to a crash as big as 30% from current levels to bring it more in line with this new world of rising interest rates and falling stock markets.
Therefore, it may not be the Sensex's own valuations that can bring the market down but the rising bond yields, as it makes the latter more attractive as compared to the former.
--- Advertisement ---
Potential 33x Opportunity by 2030

This decade belongs to defence stocks.

We are staring at a potential 33x opportunity by 2030.

But it is absolutely important that you choose the right defence stocks to ride this opportunity.

We've already identified 3 next-generation defence stocks for you...

These companies are into developing cutting-edge military technologies where we're seeing a huge potential.

If you're a serious investor, then you should not miss these 3 stocks for anything.
* 2 out of these 3 stocks have already run up. Act fast or you might completely miss out on this big opportunity.

Full Details Here
------------------------------
Of course, this commentary is of little importance to a dyed-in-the-wool bottom-up stock picker. His main job is to identify fundamentally strong companies that are adept at handling storms like interest rate hikes or stock market crashes and keep becoming more and more valuable with each passing year.
These are stocks like Page Industries or Nestle or Titan Company ltd where a 30% crash can mean only one thing - a golden opportunity to buy the best Indian stocks for next 10 years.
Therefore, if you are an investor who believes in investing in only these kinds of companies, then a 30% crash, if at all it materialises, can give you a great chance to scoop up these world-class franchises at mouth-watering prices.
The only challenge here is the entire world knows these are world-class franchises. Thus, their prices may not fall as much as desired.
You may end up paying a premium even though you are buying close to a bear market bottom. It is a risk worth taking in my view as over a long-term period, you may still end up with decent, if not market beating returns.
A 30% crash could be of great relevance to someone like me who likes to toggle between stocks and bonds and who wants to recommend stocks after every market fall and sell them after every substantial rise.
I have always believed that to earn market beating returns, you have to do two things: Choose a strategy that has a sound logic to it and is not very popular among a large majority of investors.
You see, my strategy of toggling between stocks and bonds i.e. having at least 25% invested in each asset class at all times and moving the rest based on the broader market valuation, is certainly sound in my view.
It allows you to be fearful when others are greedy and greedy when others are fearful. And if this isn't a recipe of making market beating returns then I don't know what is.
Also, the strategy is not very popular among investors. Most investors, both retail as well as institutional, prefer adopting a bottom-up approach, where they like to be nearly 100% invested all the time.
In case you are thinking that success is guaranteed in the approach I follow then nothing could be further from the truth. There is no winning formula in the stock market. If there was one, everyone would follow it and it would soon cease to be a winning one.
Therefore, the only hope that you have of earning a market beating return over the long term is by trying not to blow up your portfolio and taking advantage of people's tendency to give in to emotions of greed and fear.
As long as there is clarity on this front, a 30% correction should not worry you.
In fact, it could be an opportunity to take a lead over other investors in your long-term wealth building journey. So, if you keep following your process that is inherently promising and which has worked, then you should be fine in my view.
Warm regards,



Rahul Shah
Editor and Research Analyst, Profit Hunter
PS: Talking of bubbles and crashes, check you my latest video on why I feel there could be a bubble in some of Tata Group stocks.
Recent Articles