Rebound Riches Could be Yours With These Stocks
Oct 4, 2019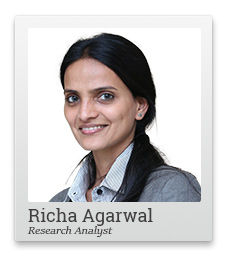 In the last few weeks, the Indian stock markets have been more volatile than usual.
For those who are not yet fine with higher level of volatility, there are still great opportunities in the smallcap space. In fact, I believe that this is once in a decade opportunity to ride the smallcap rebound.
The last such mega opportunity was in the year 2009 and early 2010. This was the time when we came up with recommendations like Page Industries, City Union Bank, Balkrishna Industries that went on become wealth compounders.
And yet, many first time investors are shying away due to the volatility and correction in smallcap space in last one year. They want to play safe. In their minds, safety is synonymous only with largecaps, and smallcaps are risky.
But ask yourselves if this is true.
At least I don't think so.
Cases like Yes Bank and Tata Motors bring to light the myths associated with the concept of safe investing.
No one has been spared from their sharp fall...be it retail or institutional investors.
You see, these two aren't the only examples is not alone. Eicher Motors, India Bulls Housing, Hero Motocorp... the behemoths haven't been able to defend themselves against crashes.
Now I don't know what the future holds for them. Maybe they will rise to glory again and offer a good entry point post correction.
But events like this underscore what I have always believed:-
Safety or stability in investing has little to do with the size of the business.
Big Size is no substitute to ethical and competent management.
And an ethical and competent management is not guaranteed in big businesses.
--- Advertisement ---
"We Just Gave a Go Ahead to a Very Controversial Summit…"

We predict that a lot of people out there will NOT like us revealing the idea of "Rebirth of India".

And in the process, We fear that this MEGA SUMMIT initiative is likely to generate its fair share of controversy.

But…We have decided to go ahead with it anyway.

And that's because Senior Analyst and Co-head of Research, Tanushree Banerjee, has solid evidence that makes is very clear that…

The "Rebirth of India" is happening right now…

And here's why this is very urgent…

If you don't hurry up now, you stand to miss out a once-in-a-generation opportunity to potentially make a massive fortune.
------------------------------
In fact, it is always easier to assess the management quality in case of smallcaps than in the case of big ones. That's because levels of hierarchy and different cogs make it difficult to put together a complete picture in big businesses.
Unlike small businesses where the owner is the key operator/manager, established businesses have multiple people managing them. Most of these are hired professionals. With almost no skin in the long-term game, they are more focused on short term performance rather than creating long term value.
Further, people avoid smallcaps since they often like to follow big investors. And big investors mainly operate in large and mid cap space.
The common belief is that big investors know better, and hence following them will help them invest safe. This I believe is another myth.
The presence of high-profile investors doesn't guarantee 'robustness' of the business model.
For all the experience they have, big investors could be really naive. A case in point is the Theranos scam. This is a story I had shared with Phase One subscribers a few months ago.
I want to share it with you again as I believe this is quite relevant here.
Elizabeth Holmes - a 19-year-old drop out from Stanford University. She founded Theranos in 2004. The company promised to revolutionize healthcare. It worked on a technology that could diagnose a range of conditions from a single drop of blood. Further, it promised to do it faster and cheaper than old methods.
Elizabeth was touted as the next Steve Jobs.
Within a decade, she managed to raise US$ 400 million. Theranos once was valued at US$ 9 billion. Its founder became the youngest self-made female billionaire.
She was charismatic and had a strong narrative (revolutionizing healthcare industry).
The story and all the marketing around it was quite strong. It managed to seduce big investors like Tim Draper of VC firm Draper Fisher Jurvetson, Larry Ellison, Walton family (Walmart founders), media mogul Rupert Murdoch, Hedge fund management firm Partner Fund Management (PFM), Atlanta's billionaire Cox family and Mexican tycoon Carlos Slim.
The list of investors included eminent Stanford University alumni and a notable military veteran.
However, soon the employees started whistle blowing. As the investigation followed, it all turned out to be a smokescreen. The crash was as swift as the rise.
Elizabeth Holmes - once the darling of Silicon Valley, has been indicted on fraud and criminal charges. She is now the subject of a fascinating book - Bad Blood: Secrets and Lies in a Silicon Valley Startup and a documentary - The Inventor: Out for Blood in Silicon Valley.
--- Advertisement ---
Our Latest Report… (Download Free)

We at Equitymaster have just published this report…

Rebirth of India: The First Step to the Biggest Investment Opportunity of Your Lifetime

…it's perhaps the most important work we have published ever, yet.

We strongly urge you to download it…and read it right away.

After all, it has the potential to dramatically change your life…for the better.

Here's an additional benefit…

As soon as you download, we will also automatically block a seat for you at the Rebirth of India MEGA SUMMIT.

At the Summit, Senior Analyst and Co-head of Research, Tanushree Banerjee, will reveal full details about Rebirth of India… including specific opportunities to profit from it.
------------------------------
Learnings - Following big investors blindly can be risky.
In fact, when the things go wrong, a higher institutional stake (61.3% in case of Yes Bank at the time of big crash) could potentially lead to sharper declines. That's because most big investors press 'Exit' button at the same time.
That said, smallcap stocks are a lot more vulnerable to bad managements as compared to big businesses.
Big businesses almost run on auto pilot mode. A small cap stock, on the other hand, is unlikely to get a second chance if the management goofs up.
You can't afford to second guess the management quality. The conviction has to be absolute.
The best way to test this conviction is - Will I be excited and ask my subscribers to Buy more when the stock corrects? Or will it make me worry and put a stop loss limit?
This explains the high caution and boots on the ground approach. This includes mandatory management meetings in recommending smallcap companies in Hidden Treasure.
To be sure, it doesn't lead to a 100% success ratio. But it indeed improves the probability of winners over losers in the long term.
And given the huge gains in smallcaps for stocks that win, the effort is worth it.
The chances of higher gains improve further when one enters quality stocks at attractive valuations.
The crash in the smallcap space in last one year has done nothing to spoil the management quality in strong businesses. All it has done is to allow one to buy quality smallcaps cheap. And to maximize the potential returns once the rebound happens.
After reading this, I hope you will make the most of it and not let broad market sentiments or myths come in the way of once in a decade rebound opportunity.
Warm regards,



Richa Agarwal
Editor and Research Analyst, Hidden Treasure
PS: I believe India's stock market and small-caps in particular have much further to go. While many investors are cautious, I'll show you how to get real actionable research today to see the kind of gains to build a fortune.
Recent Articles