Investment in securities market are subject to market risks. Read all the related documents carefully before investing
An Emerging Opportunity for Investors
India's Lithium Megatrend
Are You Following Financial Influencers? Read This...
Oct 4, 2022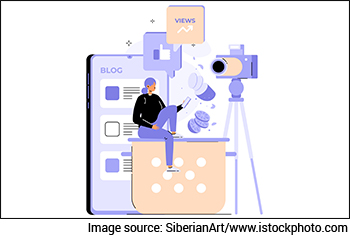 I recently had an interesting conversation with my friend at a social event. He sounded quite excited about penny stocks to buy.
Usually someone who sticks to safe investments, he mentioned a stock I had never heard of. He believed it would be the next Bajaj Finance.
I got to know he was following tips from some tier 2 town-based influencer/investor. He had no idea if the latter was a registered analyst with market regulator.
His confidence in the person stemmed from some of his recent bets on his tips that delivered good gains in a short time.
Nothing in the stock markets could be as alluring, and as trapping as a short-term success. Luck masquerades as skill all the time. A few successes, and tweets could make one the next investing star.
Many retail investors have been a victim of following such stars and tips. The stock markets have rallied since March 2020 and so has the rise of financial influencers. This has drawn millions to brokerage apps and rise in demat accounts.
While this is good for the long-term trend of financialisation of savings, some hard lessons are likely to be learnt along the way. Especially for the ones who take advice with no pinch of salt.
Here's one...
Look for skin in the game (or the lack of it).
--- Advertisement ---
Investment in securities market are subject to market risks. Read all the related documents carefully before investing

An Investment Opportunity at a Very Nascent Stage

Recently, our co-head of research, Tanushree Banerjee has found an excellent investment opportunity in the EV space that is still at a very nascent stage.

This is your best chance to get on the ground floor of this opportunity before the broader market catches up.

Full Details Here
Details of our SEBI Research Analyst registration are mentioned on our website - www.equitymaster.com
---------------------------------------------
Always pause to reflect on the incentives of who you take advice from. Especially when it comes from someone with no long-term track record.
If you've been playing poker for half an hour and you still don't know who the patsy is, you're the patsy. - Warren Buffett
Here are some instances to keep in mind.
Since November 2021, the bitcoin has corrected nearly 70%.
The financial influencers, and booming bulls could not stop going gaga about the asset class. They promoted a Singapore based crypto firm Vauld, promoting and pitching it as crypto FD, drawing in hosts of investors including college students.
In July, the firm suspended all transactions. The investors are stranded. The finfluencers have made good money on promotions. I bet you don't remember the disclaimer if you were one of the followers and some apologies post the fallout.
In another instance, Kim Kardashian would be paying a US$ 1.26 m fine for promoting EthereumMax on her Instagram page.
The reason?
She never disclosed receipt of US$ 0.25 m for this promotion..
The penalty is well deserved. It won't bring money back to millions who followed her but I believe that's a fair lesson for buyers not being aware.
Now some lessons will never be learnt. There will always be a new crowd to take the hit - a group of investors, new to the entire game that will end up taking the bait.
Join us: And hear investing experts share their ideas
Now I'm not saying all this to scare you. I'm bullish on Indian markets and economy in the long term.
But you need to tread wisely.
Instead of following free tips and finfluencers, you should be chasing structural themes that could create strong winners in the long term.
Let me share one example of one such theme.
China commands 20% share in the global speciality chemical industry worth US$ 800 bn.
As global supply chains are undergoing a strategic shift to reduce dependence on China, the Indian specialty chemical industry stands to benefit.
And this is not just a narrative, but a trend unfolding. For instance, Japan has announced incentives to companies shifting base from China to India. And many other countries are encouraging lesser reliance on China.
Even a 5% shift from China to India will unleash a US$ 8 bn opportunity for specialty chemical companies in India. Within five years, India could double its share in global chemical industry.
To know more about China Plus One opportunity, click here.
Once you identify big themes, you should be getting into promising companies at attractive prices.
So what are attractive prices? Who decides what is an attractive level for the stocks.
Here are some tools - Return on equity, debt to equity, consistency in the profit margins, cash conversion cycle, pledging of shares, growth, management quality, cash flows compared with earnings, and historical and current valuations.
Fundamental and bottom up focused analysts like me use these tools to assess the quality of the business and a reasonable buying price for stock.
We all work with the information publicly available to us about the businesses. We try to connect the dots to get some sense of what future could look like for the business.
We work with imperfect and limited information available to us, multiple variables that could influence the business. Sometimes, unexpected variables like Covid and lockdowns get thrown into the equation, upending all the analysis.
This does not guarantee a 100% success. But if the process and allocation are right, there is a high chance of beating the benchmark index returns by a wide margin.
There are experienced fundamental analysts who use the same method, are earnest and yet could end up arriving at different target prices.
Sometimes, the same stock may be given a Buy view by one analyst, and Sell by another analyst, based on their deductions from the same information.
So who can you count on? Especially in volatile times like this.
Well, if you have done the basic analysis, I'm going to talk about someone who can help you polish your stock picking process. You get to know not just the names of the stocks to buy. But also a sense of the price at which it would make sense to buy.
That person is none other than the management or promoter of the business.
They are the people with the highest influence on the business and the most skin in the game.
Unlike tips that you come across on the social media that could be just a front running exercise, the promoter is invested in the business for the long haul.
Hence, keeping a track of what they do with the stocks of their companies could give you interesting insights about the business in your watchlist.
Peter Lynch has said...
Insiders might sell their shares for any number of reasons, but they buy them for only one: They think the price will rise.
Of all the stakeholders, it is the promoters who know the most about their businesses, and future potential.
If they are willing to part with their personal money to buy stocks from open market, there is good possibility they believe the stock is undervalued and will potentially go up in the future.
The good news is: You could access this data for free on BSE website.
I strongly recommend you watch this video to make use of this information for better investing decisions.
Warm regards,



Richa Agarwal
Editor and Research Analyst, Hidden Treasure
Recent Articles