The Go GREEN Revolution is Hazardous to these Auto Ancillary Companies
Oct 7, 2021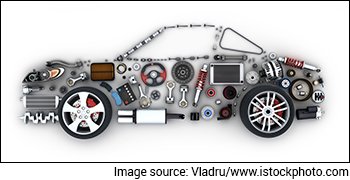 As a kid, I was fascinated by one of Disney's highest box office collection movies- The Lion King
The song Circle of Life in the movie has always taught me that Life is zero sum game.
After all, one man's food is another man's poison.
The conversation between Mufasa-the Lion and his son Simba -the Cub makes me wonder- Change is Permanent.
That is exactly happening in the Automobile sector.
EVs are likely to take share from the incumbent auto players.
Let me go a step further...
The EV revolution is likely to dent business models of many companies.
--- Advertisement ---
STOP Trading and Become a Lazy Millionaire...

There's an incredible way to get extremely rich without losing any sleep whatsoever.

The most amazing thing is that you can accelerate your wealth creation journey with very little effort...and without any unnecessary risk.

Rahul Shah, our Co-Head of Research, is about to reveal his ultimate master key to SUPERFAST riches which he has successfully mastered over the last 15 years.

In fact, on 24th January at 5pm, he's going to reveal everything about the most controversial project of his career - Lazy Millionaire.

If you want to sleepwalk your way to extreme riches, you've got to tune in to this special summit.
------------------------------
In my last editorial, I had spoken about the segments and companies within the automobile sector which are likely to get hit the hardest as the pace of EV adoption increases.
The most important aspect in valuation - the terminal value is likely to have a sizeable shave off.
In some companies, the effect could be 25% of the company's current value.
But what about the auto ancillary companies who supply parts required in making an engine? Or how about auto ancillary companies supplying fuel injection parts?
When there is no engine, where will the engine part or fuel injection go?
These companies would go to the Stone Age within 10 years.
The question is not 'if' the business model will get redundant but 'when' the business model will get redundant.
We all know what happened to Kodak when mobile phones started having cameras in built in them.
The fun part is: Kodak now is a pharmaceutical company.
I am sure during the early part of 2000's we all must have used CDs and DVDs.
FREE REPLAY: Catch the Details of Potential Crorepati-Making Stocks Right Now...
Moser Bear was the pioneer in CDs and DVDs.
The status of Moser Bear is - Bankrupt.
This was despite changing their business model from CDs to Solar Panels.
The point I am trying to make apart from the threat on business model is that it is extremely difficult to change the business model and start from scratch.
When we talk about the EV transition, there are 3 types of auto ancillary companies.
Companies which will benefit from the EV adoption- Buy them just now
Companies which will be redundant from the EV adoption- Sell them and avoid them no matter how lucrative their valuations are.
Companies which will be indifferent from the EV adoption- Buy them as they will be the most resilient with highest certainty built in their valuations.
I am sure, you must have heard from the managements of lot of companies the following
"We are reinventing our business model" or "We are entering new segments to mitigate the loss from EV adoption"
Those are value traps.
--- Advertisement ---
[Alert] Sell These 3 Stocks Immediately

These 3 stocks are ticking time bombs in your portfolio.

It is very likely that you could be owning these 3 overvalued...

fundamentally weak... ready to crash stocks... in your portfolio today.

Because many stock brokers have painted rosy pictures of these stocks. But the reality is starkly different.

If the market crashes, then these stocks could wipe out your wealth.

You should get rid of these stocks as soon as possible.

Click her for full details of these 3 landmines
------------------------------
The method to go about analyzing the impact of EVs on auto components is as follows
If supplying components to the engine or the fuel eco system forms more than 30% of current revenues, no matter how hard they try to enter new segments, the loss from the existing 30% will be difficult to replace.
Starting a new segment and scaling it up requires a lot of capital, expertise along with ability to withstand cut throat competition from incumbents.
Impact and Time line of EV adaptability in different segments in the automobile sectors
| Segment | Impact | Time line of EV adaptability |
| --- | --- | --- |
| 2 wheelers | | |
| | High | Immediate |
| | Moderate | Soon |
| 3 wheelers | | |
| | High | Soon |
| | Moderate | Late |
| | Low | Late |
| Commecial vehicles | | |
| | Moderate | Soon |
| | Very Low | Very late |
Source: Equitymaster
Most impacted to Least Impacted
Scooters
Passenger 3 Wheelers
Motorcycles
Buses
Commercial 3 Wheelers
Passenger Cars
Trucks and Tippers
Source: Equitymaster
Besides Auto Ancillaries, the sector which can have an impact is the - Oil and Gas Sector
Who will HPCL, BPCL and Oil India sell their fuel to?
Obviously, the impact will be very gradual and slow as EV adoption is likely to take time but the concept of discounting events in advance always happens in the stock market.
Let me leave you with a food for thought like I did in my last article.
If you were BPCL and had thousands of fuel stations, a better option for you is to install chargers and leverage on the EV revolution.
The drop-in fuel demand would be compensated by charging fees.
After all, one of the biggest constraints in setting up the charging infrastructure is space. Petrol pumps owned by these OMCs can rent out the space or even set up charging stations and provide the charging infrastructure at a fee.
Conclusion:
In life knowing what not to do and in stock markets knowing which stocks to avoid is a far underrated but important skill than only focusing on doing the right things.
In simple words- Risk Management.
In my opinion from the above analysis, buying or having a combination of auto ancillary companies supplying engine parts to Scooters is the worst place to be in.
Warm regards,



Richa Agarwal
Editor and Research Analyst, Hidden Treasure
Recent Articles