69% Gains from March Lows! This is Just the Beginning of the Smallcap Rebound
Oct 8, 2020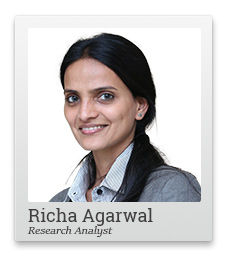 As I sat down to write this letter, good news flashed on my screen.
The WHO chief expects safe and effective Covid- vaccine to be out by the end of this year.
After months of lockdown, I can't wait to go out and resume a normal life... to get my boots on the ground and add more airmiles.
And this isn't all.
Amid the height of the pandemic, certain sectors are showing amazing resilience.
...On a year on year basis, Indian economy is faring better on manufacturing PMI. The railway freight loading statistics has surpassed last year numbers in August.
...The second order effects of virus seem to be kicking in with 2 wheelers and passenger vehicles showing a year on year growth.
Despite a rise in Covid cases, we seem to be in a much better place as compared to 6 months ago when despair ruled.
--- Advertisement ---
These 3 Stocks are the Dark Horses of the Stock Market

The mainstream media mostly ignores them.

Mutual funds and hedge funds can't buy them in bulk.

Stock brokers rarely cover them.

These stocks are the dark horses of the stock market.

They only come in limelight after they have rallied by hundreads of even thousands of percent.

Our head of smallcap research, Richa Agarwal, has a knack for identifying such stocks before they begin their rally.

Over the years, she has spotted such stocks which have gone on to offer triple and even quadruple digit gains for investors. (* Past performance is no guarantee of future results)

Today, when the markets are near all-time high... and some investors are thinking of booking profits... Richa has spotted 3 such stocks which are set for a massive rally.

She will reveal the details of these 3 stocks on 28th January at her free online summit.

Click here to sign-up instantly. It's free.
------------------------------
And one can see that from the way market has shrugged off pandemic blues.
The Sensex and Smallcap index are up 52% and 69% respectively from the lows in March 20.
The smallcap rebound that I've spoken about is finally here.
2 of our smallcap recommended under Hidden Treasure (Equitymaster's smallcap recommendation service) in the last six months have almost doubled.
I believe this is just the beginning of a strong rebound in small-cap stocks.
The reason I think so is because I still see a huge valuation anomaly between large caps and smallcaps.
Picture this. The annual earnings growth for the Sensex companies is a paltry 2.7% over last 3 years. Yet, the Sensex is commanding a price to earnings (P/E) multiple of over 28 times.
This compares to a long-term median of 19.4 times. The valuations are stretched way beyond the fundamentals.
BREAKING: Full Details of the #1 Investment of the Decade...
The smallcap index, despite its sharp rise post March, is still trading at a sharp discount.
I have taken smallcap to Sensex ratio as a proxy to give you a sense of the valuations.
The smallcap to Sensex ratio at present stands at 0.38 times. This compares to a long-term median of 0.43 times and to 0.58 times in January 2018 when the index peaked.
In short, there is a lot of steam left to the rally in smallcaps.
With new demat accounts rising by 20%, I expect huge money to pour into this space.
But that's just the broad view. There is a lot of fine print to it.
The virus has been selective in its rage on different businesses - brutal to the companies with bad balance sheets and fringe players, and a blessing in disguise for well run businesses with strong market share.
I expect a strong consolidation across sectors. Big niche players getting bigger, and smaller players shrinking.
There is going to be wealth concentration in a few stocks.
--- Advertisement ---
Top 3 Stocks for 2020 and Beyond

We've uncovered 3 high-potential tech stocks after years of research.

These 3 cutting edge tech stocks could potentially create a wave of Indian millionaires.

First one is present in the sector which is expected to GROW over 300 times by 2030.

Second one is one of the leading players in Artificial Intelligence technology.

And the third one is involved in putting up a global safety net to save the world from cyber criminals.

These 3 tech stocks have the potential to offer life-changing gains in the long run.

Click here to get the details...
------------------------------
These will include market leaders, companies with cost advantage over their peers, and businesses that can afford a muted demand environment with their strong balance sheets.
Below are some pointers to consider while investing in smallcaps:
Growth in profits is not enough. You must look for companies where returns in capital beat cost of capital by a wide margin.
Look for niche market leaders - You will be surprised to know that within the smallcap space, market leaders in niche segments are not just the biggest in India, but lead in the entire Asian subcontinent.
Avoid companies with high debt and poor working capital management, irrespective of how impressive their profit and loss statements look. Only cash is real...the rest could be just financial engineering.
Strong management quality: Unlike in large caps where businesses run on an autopilot mode, managements in the smallcaps could be the make or break factor.
Last but not least, your entry price matters. Never compromise on the margin of safety in valuations when it comes to smallcaps.
To know more about the most promising investments in the smallcap rebound, you could check out my video.
Warm regards,



Richa Agarwal
Editor, Hidden Treasure
Equitymaster Agora Research Private Limited (Research Analyst)
PS: Join me online, tomorrow at 5 PM, at the Rebound Riches Summit. I'll tell you all about the best smallcaps to buy in the market. Sign up for free here...
Recent Articles