Here's What You Should Do In this Market...
Oct 9, 2018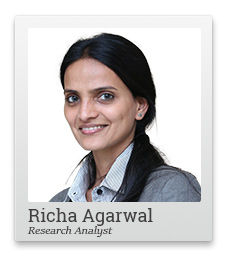 Where do you think the markets are headed?
I often find myself facing this question - now more than ever. As an equity research analyst, I'm expected to know.
Early in my career, I might even have ventured a view. But with experience, today I have no qualms saying I do not know what's going to happen in the markets in the short term.
The fact is - no one knows.
If I had foreseen this kind of correction in the small cap space, I would have taken a long break in the past... and would release all my recommendations now.
There wouldn't be any market cycles if these things could be predicted. Equity investing - especially in the small cap space - is all about embracing uncertainties.
Having said that, I do have a fair idea of what a business's value should be worth....and can say with certain conviction whether it is fairly valued or not.
This conviction comes from researching businesses and the industry space well, meeting the managements, and building a margin of safety in the estimates and valuations at the time of recommendation.
So, while I do not know what the markets will do, I do know what YOU should do.
So I ask my subscribers to buy more when I see a strong business witnessing sharp correction, despite sturdy financials.
I know it's tough in the short term. I know how painful it can be when daily price movements prove you wrong and try to shake your conviction.
And if you have not done your homework well, you will end up chasing prices rather than value - slashing target price at every fall in the stock price, and raising it as the stock price rises, with the least regard to fundamentals... Basically mirroring market sentiments.
Unfortunately, most from this industry are price chasers, even those who tag themselves as value investors.
It's kind of Catch-22 situation in the short term.
But only in the short term.
Eventually, valuations catch up with the fundamentals.
That's what Graham meant when he said:
'In the short run, the market is a voting machine but in the long run it is a weighing machine'
And here is the thing.
The highest wealth compounders in my service, Hidden Treasure, are the stocks that were recommended when small caps were under a bear hug.
For instance, from Jan 2008 and March 2009, the small cap index was in a free fall - with a correction as sharp as 80%. Small caps were shunned by investors like a plague.
The stocks that we recommended then - Page Industries in January 2009, eClerx Services in March 2009 and NIIT Technologies in October 2008 have offered returns over 8000%, 2600% and 540%.
These kinds of gains would not have been possible had we recommended the very same stocks when all was hunky-dory in the stock market.
--- Advertisement ---


LAST Few Hours Left: Pay Just Rs 99 To Get…

We're just a few hours away from closing one of our best offers.

An offer to get 30-Day unrestricted access to Smart Money Secrets (Normally worth Rs 6,000 per annum) for Just Rs 99.

PLUS, INSTANT Access to detailed reports on 15 Guru-Based stocks we have already recommended in the past (13 of these are still within their Buy Limits)…

PLUS, there a lot more.

So, if you're reading this before 11:59 PM, tonight…

Don't wait for another minute!

Click here for full details…
------------------------------
Soon after, we were proved right as small caps posted a sharp recovery of 286%.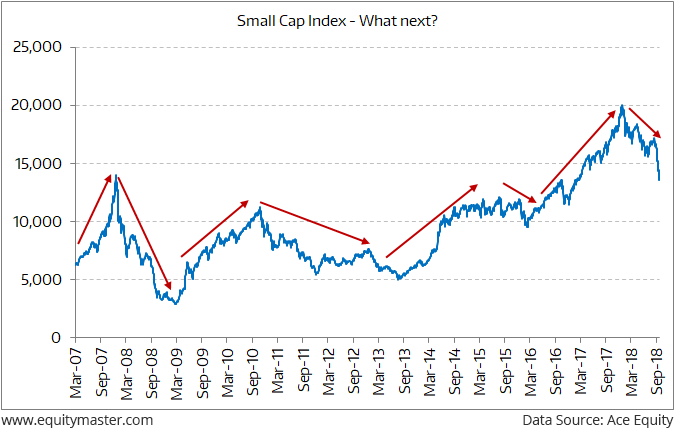 Our outperformance was not just about recommending great businesses in a stock market downturn.
We also had the conviction to hold the stocks during the next downturn in small caps - October 2010 to August 2013, and maintain our view and target prices.
Had we panicked then, we would never have been able to benefit from the next upcycle and claim an outperformance of nearly three times as compared to Sensex.
I'm talking about this history with you now because we are in a downcycle yet again. And I want you to know that sticking to a process with discipline is the only way to survive - even thrive.
To be sure, there could be further correction in the short term in the small cap space.
That said, if you are here to play for the long term, I believe there are some great buying opportunities. I urge you to make the most of them.
Regards,



Richa Agarwal (Research Analyst)
Editor, Hidden Treasure
PS: Do not be afraid to buy stocks right now - if you pick the right stocks today, it will have a lasting impact on your wealth. I cannot stress this enough - buy today! Sign up for Richa's recommendations ASAP!
Recent Articles