Everyone is Fearful in the Market. Now is the Time to be Greedy
Oct 9, 2019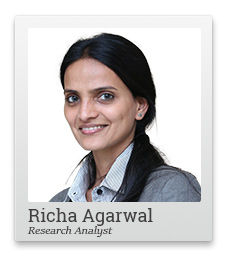 There's fear everywhere.
About auto sales. About corporate bankruptcies. About the GDP numbers. About the fiscal deficit. About bank NPAs. About global trade wars. About crude prices. The list can go on and on....
And if all the bad news wasn't enough, came RBI's freezing of bank accounts in PMC Bank.
Now everyone's really scared.
What should investors do in a situation like this?
--- Advertisement ---
"We Just Gave a Go Ahead to a Very Controversial Summit…"

We predict that a lot of people out there will NOT like us revealing the idea of "Rebirth of India".

And in the process, We fear that this MEGA SUMMIT initiative is likely to generate its fair share of controversy.

But…We have decided to go ahead with it anyway.

And that's because Senior Analyst and Co-head of Research, Tanushree Banerjee, has solid evidence that makes is very clear that…

The "Rebirth of India" is happening right now…

And here's why this is very urgent…

If you don't hurry up now, you stand to miss out a once-in-a-generation opportunity to potentially make a massive fortune.
------------------------------
Since Warren Buffett certainly knows a thing or two about making money, what would he say about the situation that we're in today?
In his own words:
"I will tell you how to become rich. Close the doors. Be fearful when others are greedy. Be greedy when others are fearful."
There's no better time than today for this astute Buffett quote to be valid!
The BSE Small Cap index has taken a huge hit.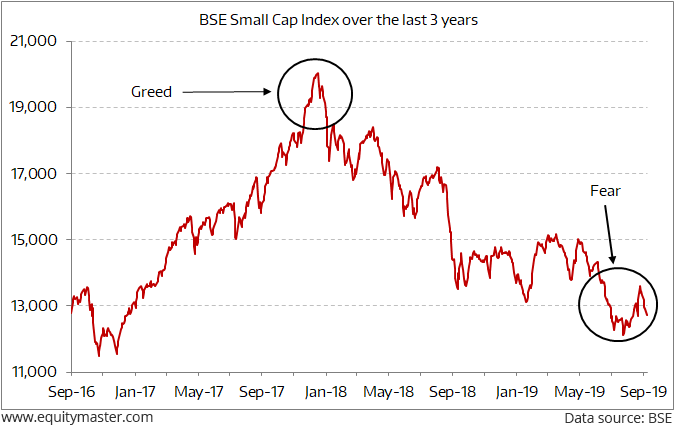 You see, the climb from 12,000 to 20,000 points on the small cap index from the end of 2016 to the start of 2018 took small cap prices to a silly level. The prices left small caps expensive and unattractive.
But there was good news everywhere at the time - and investors were too greedy to realize.
Finding the complete package of attractive company along with attractive valuations became an uphill task to say the least.
--- Advertisement ---
Our Latest Report… (Download Free)

We at Equitymaster have just published this report…

Rebirth of India: The First Step to the Biggest Investment Opportunity of Your Lifetime

…it's perhaps the most important work we have published ever, yet.

We strongly urge you to download it…and read it right away.

After all, it has the potential to dramatically change your life…for the better.

Here's an additional benefit…

As soon as you download, we will also automatically block a seat for you at the Rebirth of India MEGA SUMMIT.

At the Summit, Senior Analyst and Co-head of Research, Tanushree Banerjee, will reveal full details about Rebirth of India… including specific opportunities to profit from it.
------------------------------
You see, the returns a stock will give are inversely proportional to the price it is bought at. Seems obvious, but this simple truth often gets lost in the stampede of rising share prices.
But like gravity, it's a simple but inescapable truth: Everything else constant, the lower your buy price, the higher your returns.
In the cases of so many strong stocks the correction is not because of an issue with fundamentals but simply because of the recent wave of market correction, especially in the small cap space.
Because of all the fear among investors, this is a space where not just the weak businesses but almost everything has been going down, including great businesses with great futures.
This is precisely what I've been waiting for. And let me tell you, such opportunities don't come often.
I'm not going to let it go by without recommending some good quality smallcaps at attractive valuations that promise to be great wealth creators over the next few years....
Make no mistake. India has a bright future ahead of it.
But the upward march of an economy is never a one-way street up.
Bad times always alternate with good times. Fear alternates with greed.
And if you're looking to get rich in a hurry, be fearful when others are greedy. And Be greedy when others are fearful.
Warm regards,



Richa Agarwal
Editor and Research Analyst, Hidden Treasure
PS: I believe small caps are poised for a rebound and I want to show you real actionable research today to realise these gains and build a fortune.
Recent Articles