Will Small Caps See an 80% Crash?
Oct 10, 2018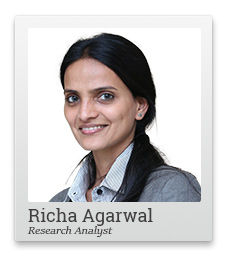 Many are calling the IL&FS debacle India's Lehman Brothers moment.
A news report points out that crisis ridden IL&FS may require impairment of around Rs 150 billion in loans and equity in its subsidiaries - for now.
But the cat is not completely out of the bag yet, and it may get uglier.
Its newly appointed board is slowly discovering this unpleasant fact. Uday Kotak, chairman of the board, described IL&FS as an extremely complex corporate with 348 entities that are part of the group. The initial estimate was 169.
Considering IL&FS has a debt pile of over Rs 900 billion, the potential for further bad news rolling out of the runaway IL&FS train remains quite high.
All this and other recent bad news has not gone well with stocks. Especially small cap stocks.
It has served to deepen the fall that started in Jan of this year: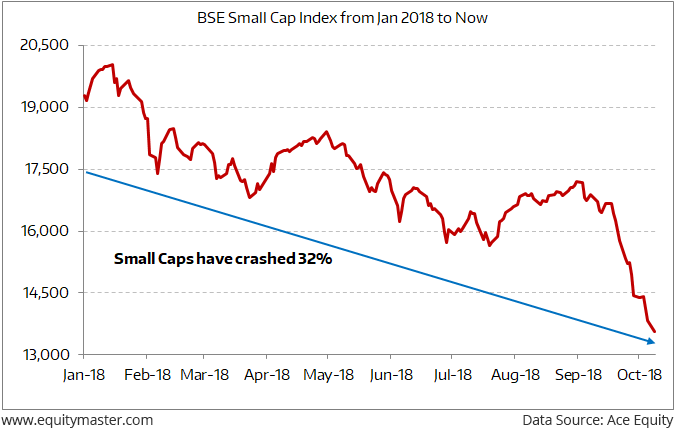 What's next?
After such a large fall, are things bottoming?
--- Advertisement ---


The Small Cap Index Is Down, And We Are Loving It!

Many solid small companies have gotten caught up in the recent market mayhem for no fault of theirs.

And we believe this is a blessing in disguise because for the first time in many years, several solid small companies are available at attractive valuations.

Yes! But to truly benefit from this opportunity, one needs to know which small companies to buy. And that's exactly what Richa's Hidden Treasure service can guide you with.

Click here to grab Hidden Treasure at 50% off now.
------------------------------
What does history say about a fall of this magnitude?
Well, if you're going to look at price movements of stocks for cues, the news is not good. Since we referred to Lehman Brothers, what happened at the time it went bust?
Here, have a look: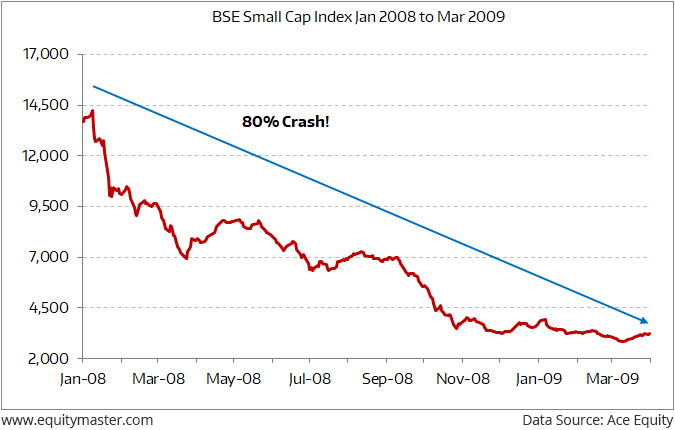 That's right! From January of 2008, the BSE Small Cap index crashed 80%!
But does that mean that you should wait and that small caps will fall that much again before they rise?
Well, not really. In fact, the last time they fell that much, they saw a rapid rise over the next few months creating massive wealth for many investors: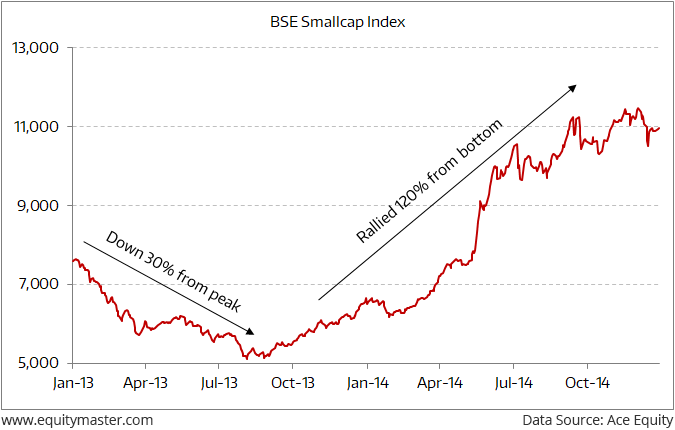 There's absolutely no telling where the markets will go!
So for you as a stock investor, what is the answer?
The answer: Stock prices are a mirage. Stop chasing them before you lose both your mind and your wallet.
What must you do then?
Like I wrote to you earlier, chase business values instead.
That is, get a fix on company's worth. Do your homework. Research each business and its industry space well. Talk to its management. Get a fix on what the business' future is going to be. Estimate what it conservatively worth.
And then buy it only when the stock market offers it to you at a discount to that worth.
--- Advertisement ---


How You Could Potentially Profit Big Right Now By NOT Following The Herd

It's one of those times where every stock associated with the small cap index – good and bad – seems to be going down…

A classic example of the market following the herd.

But if one uses this opportunity to snag great small companies with great futures for cheap, we believe one could potentially make substantial gains in the long run.

To know which small companies to buy, join Richa's Hidden Treasure service at 50% off now!
------------------------------
Why do this?
Because while stock prices tend to bounce around so much they almost take on a mirage like quality of there today gone tomorrow, the value of a fundamentally strong business seldom disappears into thin air. In fact, it steadily grows over time.
Thus, it makes sense to base your decision on a business' value rather than its stock price. Do this, and you'll love markets such as these. Because it is only when stock prices start falling that you get to buy such businesses at discount prices.
And if the market falls further? All the better! You get to buy more of the stocks of the most attractive businesses at even lower prices!
Sooner or later... by hook or by crook... the stock will come running back to catch up with its value.
And leave you laughing all the way to the bank.
Happy Investing,



Richa Agarwal (Research Analyst)
Editor, Hidden Treasure
PS: Do not be afraid to buy stocks right now - if you pick the right stocks today, it will have a lasting impact on your wealth. I cannot stress this enough - buy today! Sign up for Richa's recommendations ASAP!
Recent Articles