What to Do When Market Gurus Are Super Optimistic but the Data is Not?
Oct 10, 2019
If you Google search Mr Manish Chokhani, you will find he is one of India's most respected financial advisors and not without reason.
An ex-CEO of India's leading investment bank, he has helped devise and implement the India investment strategies of several funds.
He also serves on the board of many well-known companies. I am all ears when Mr. Chokhani shares his opinion on the economy or the markets.
But I don't agree with everything he says. Take his recent Tweet. It's high on optimism and low on facts in my view.
Here's the Tweet in question.
Low oil & commodity prices, great monsoon, low interest and tax rates, admin reforms, privatisation centre stage, continuing SIP flows, final purgatory of bank & nbfc loans: we will remember 2019 as the base for a major economic expansion & bull market.
Chokhani seems to believe the worst is behind us. He says, there are a lot of reasons to feel optimistic about the future.
In fact, he argues that 2019 will be remembered as the year that started a major bull market.
I too share his optimism about the long term. I believe the news in the long term, about the economy as well as the stock market, will be good.
However, when I look at the data, the optimism, especially when it comes to the near-term outlook, starts evaporating into thin air. The data says the chances of a big bull market starting anytime soon isn't very bright.
Look at this chart...
Sensex Has Traded at Higher Valuations Only 12% of the Time Since 1991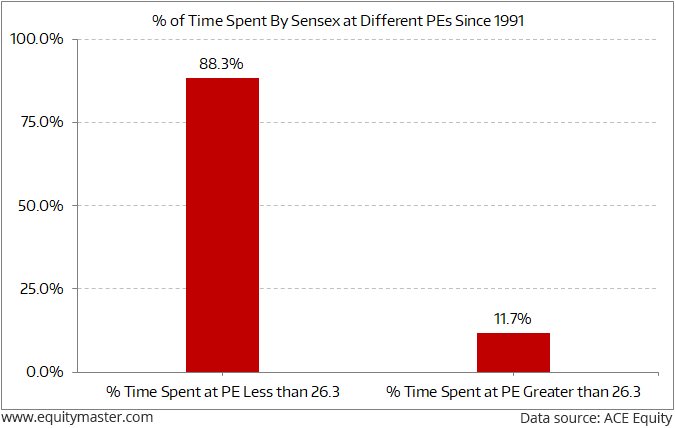 Allow me to explain this chart in a few words...
The current Sensex PE is 26.3.
There have been about 7,000 trading days since January 1991.
I compared the current Sensex PE multiple of 26.3x with the PE multiples on each of these 7,000 trading days.
I arrived at an interesting conclusion.
The market has valued the Sensex higher than 26.3x PE only 12% of the time.
This means, a whopping 88% of the time, since January 1991, the Sensex has traded at lower multiples than its current PE.
--- Advertisement ---
Our Top Stock Pick for 2021

Whatever you do, don't miss out on this.

This little-known stock is behind a technology that could revolutionize the FMCG sector in India.

What's more, it has the potential to generate huge gains for investors, and is our #1 Small-Cap Stock for 2021.

You'll find all the details in this note. Make sure you read this as soon as possible today.

Continue reading...
------------------------------
Put differently, there is only a one-in-eight chance that the Sensex might trade higher tomorrow. Thus, based on historical evidence, Sensex is trading well above its fair value and is expensive at current valuations.
I strongly believe a strong bull market needs two legs to stand on.
A low valuation multiple
Strong earnings growth
Right now, not even one of these cylinders are firing.
Not only the valuations are expensive as we just saw, the earnings growth isn't anything to write home about either.
However, this does not mean that one should completely abandon stocks and head for the exits.
In stock markets, relying on data alone can only take you so far. Plus, if you wait for the swallows to arrive, the summer will well be over.
In other words, if you wait for the earnings growth to show up in the P&L statements of India Inc, it could well be very late to buy stocks.
Tricky situation, isn't it?
Listening to market gurus would mean going against historical evidence.
And going by historical evidence would mean ignoring the rich experience of market gurus and relying on something that's not 100% scientific.
How about taking a 50:50 view?
How about having half your portfolio in stocks and the other half in bonds and then altering this allocation based on who do you want to listen to?
How to do this?
Let's say you have Rs 100 right now. How about investing Rs 50 in stocks and the remaining Rs 50 in liquid funds or fixed deposits?
Better still, if you think market gurus like Chokhani are worth listening to, you can shift the allocation in stocks to 75% and keep only 25% in liquid funds/fixed deposits.
This way, if there's a bull market like Mr Chokhani says, 75% of your portfolio benefits.
And if there is a bear market like the historical evidence suggests, your 25% in liquid funds/fixed deposits is safe and only the remaining 75% may come under fire.
--- Advertisement ---
Top 3 Stocks for 2020 and Beyond

We've uncovered 3 high-potential tech stocks after years of research.

These 3 cutting edge tech stocks could potentially create a wave of Indian millionaires.

First one is present in the sector which is expected to GROW over 300 times by 2030.

Second one is one of the leading players in Artificial Intelligence technology.

And the third one is involved in putting up a global safety net to save the world from cyber criminals.

These 3 tech stocks have the potential to offer life-changing gains in the long run.

Click here to get the details...
------------------------------
Over the last five and a half years, I have been doing exactly this.
But instead of relying on market gurus, I am relying more on data to decide on the allocation between stocks and bonds.
I am of the view that even the most experienced market gurus are human after all. They are subject to some bias or another. Cold, hard facts will always have an edge over human insight and intuition.
So, if based on data, markets are expensive, like they are now, I have been recommending subscribers to go 75% in liquid funds/fixed deposits and only 25% in stocks.
And when they turn cheap, I have been recommending doing the reverse i.e. 75% in stocks and the rest in fixed deposits.
Has this strategy worked?
You bet it has! It has worked like a charm. It has enabled my subscribers to beat the Sensex by almost 2x since 2014.
This strategy, which I call Accelerated Profits has given returns of 160% vis-a-vis the 84% returns of the Sensex.
I have started to absolutely love this approach because it has well defined rules and there is zero confusion. The track record stretching back more than five years is proof that it works in the real world.
Yes, it is not 100% accurate. But then no strategy is.
This strategy does one thing very well. It turns you greedy when markets are cheap (75% in stocks and 25% on fixed deposits when the Sensex PE is low) and turns you fearful when they are expensive (25% in stocks and 75% in fixed deposits when Sensex PE is high like it is right now).
This is my number one rule to earn long term market beating returns.
Warm regards,



Rahul Shah
Editor and Research Analyst, Profit Hunter
PS: Dear reader, our small cap expert, Richa Agarwal, believes small-cap stocks are poised for a rebound and she wants to show you real actionable research today to realise these gains and build a fortune.
Recent Articles