Stop! Read This Before You Cancel Your SIPs
Oct 11, 2018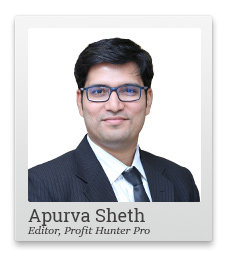 Markets have been trending lower ever since it topped out in the last week of August 2018. The BSE Sensex topped out at a high of 38,989 and is down by 12% from there.
The ferociousness of the fall in the last week has shaken the confidence of retail investors. Some have even stopped their SIP's (Systematic Investment Plans) in equity mutual fund schemes after the recent correction.
Have you stopped your SIP's as well?
If you are planning to stop your SIP's or have already stopped one then what I am going to share today will change your mind.
When you are investing in the markets through SIP route you are ideally investing for the long term which means atleast 5-6 years.
Now despite the ongoing correction I think markets could be much higher 5-6 years down the line. At Profit Hunter Pro I have published a series of articles on why I think Sensex could touch 100,000 mark by 2024.
I have also published a detailed guide exclusively for Profit Hunter Pro subscribers called Stocks That Could Take The Sensex To 100,000.
In this guide, I have shared the numbers and patterns which makes me believe why Sensex could touch 100,000 by 2024.
Not only that I have also written about the sectors and stocks that could drive the Sensex higher.
Here is the one of the main charts which I have shared in this guide.
Greed and Fear Cycle in Sensex
The 8-year greed and fear cycle dominates the Sensex. Greed takes the Sensex up. Fear brings it down.
Sensex has been alternating between these greed and fear cycles for many years.
The first greed phase ended in April 1992 with gains of 469%. The fear phase ended in April 2000 with gains of 20% only.
--- Advertisement ---


How to find high-potential trading opportunities in the middle of a correcting market…

The intra-day fall of 950 points recently cost a lot of investors a lot of money.

But believe it or not, one could identify (and potentially even benefit from) solid trading opportunities in the middle of this correcting market also.

Yes! Apurva Sheth's Profit Hunter Pro service guides subscribers in doing just that.

Click here to try Profit Hunter Pro at 71% off now.
------------------------------
It moved back into the greed phase in April 2000 and stuck with it till April 2008, moving up 271% during this period. It entered fear phase again and moved up only 48% by April 2016.
Now it has entered the Greed phase and is up 34% as of last Friday's closing price. When the markets are down and going through extreme volatility it is difficult to maintain calm. It's during times like these when people are vulnerable and make mistakes.
But I don't let that happen to my readers. At Profit Hunter Pro, I don't just recommend the best trading opportunities. I share my market insights as well and make them the best trader they can be.
And to do that it's important to keep the big picture in mind always.
I received a query from our reserve member a few days ago. I am sure he's not the only one having second thoughts about the Sensex touching 100,000 by 2024. There are many readers who will be thinking on similar lines.
So, it's important to reiterate that I still believe Sensex could touch 100,000 by 2024 and not even a 50% correction can change this view. Well... this doesn't mean I am expecting a 50% correction in Sensex.
So don't press the panic button. Relax! ??
Now 50% correction may sound dreadful but it's completely normal. Take the example of one of the biggest wealth creators of all time Warren Buffett's Berkshire Hathway. The company has suffered four major crashes since 1970 averaging a fall of 50% yet it has managed to create phenomenal wealth for its shareholders.
The Top 4 Berkshire Hathaway Share Price Crashes Since 1970
So, in short, the long-term picture of Sensex would remain unchanged even if it drops 50% anytime during the greed phase.
In fact, Sensex has corrected more than 50% from its highs three times in the last 30 years. So, there is nothing new about it.
It has dropped by 50% twice during the fear phase and once when it was in the greed phase. 50% corrections during fear phase is normal. But a 50% drop occurred in the greed phase of 2000 and 2008. And yet the Sensex managed to end that phase with gains of 271%.
--- Advertisement ---


The No. 1 Book on Investing That May Never Be Printed Again…

Equitymaster's Secrets is the No. 1 book on investing you'll find anywhere – if you ask us.

Not only does it contain investing wisdom and secrets no one else will ever tell you…

…it also reveals the exact strategies behind our most successful stock picks!

This is a book no serious investor can do without!

If you want a copy for yourself, just let us know, and we'll have a hardbound copy sent over wherever you like (as long as it is within India) – virtually for free.

Click here for details.

We have very few copies of this book left, however – and we have no plans of printing any more. Please claim your copy ASAP if you don't want to miss out.
------------------------------
You will notice a black arrow in the greed phase between 2000 and 2008 in the chart above. Sensex moved against the main trend between 2000 and 2003. The Sensex dropped from an April 2000 high of 5,542 to a low of 2,594 by September 2001. This was a 53% drop in Sensex in less than 18 months.
Despite this fall the Sensex ended the greed phase of 2008 with gains of 271% from where it had started in April 2000. Thus, a 50% drop within the greed phase doesn't change the perspective. What matters is the point-to-point performance every 8 years... in this case it is from April 2000 to April 2008.
Now that you know Sensex is headed higher in the next 5-6 years. And even a 50% correction won't have any considerable impact on our view or your returns in the long run.
Then why would you think of stopping your SIP's?
Right. So stay invested. It is times like this when one must continue with the SIP's and benefit from lower prices.
That's not all you can also benefit from trading in this market. The recent correction in markets is offering excellent entry opportunities in many fundamentally strong companies.
At Profit Hunter Pro, I explore these companies and pick the best trading opportunities in them for my subscribers. You too can avail them here...

Apurva Sheth (Research Analyst)
Editor, Profit Hunter Pro
PS: If you've never dipped your toe in the trading waters now is a tempting time to do so. Start with Apurva's current trading recommendations today - and you will see why we are such fans of his. Join him now.
Recent Articles