Two Stocks to Buy in the Great Indian Festival
Oct 11, 2019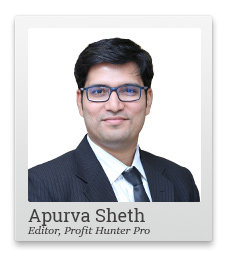 The first round of the festive season sale ended last week. Flipkart and Amazon had their festive days sale between 29 September to 4 October.
Economic Times reported sales of approximately US$ 3 billion or Rs 190 billion during this six-day period.
What makes these festive days sale popular?
Discounts.
Indians are price sensitive. You need heavy discounts to attract them. Heavy discounting has worked in favour of e-tailers as they have achieved a record sale this festive season.
But what works for e-tailers doesn't always work in the Indian stock markets.
What is the normal reaction of investors when stocks start trading at a discount?
They run away instead of chasing them.
But I don't let that happen to my Profit Hunter Pro readers.
I have come across two stocks which are available at 50% discount. More on that in a bit...
But first let's check what just happened to the Nifty.
It has given up more than half of its gains after Finance Minister Nirmala Sitharaman announced the corporate tax cuts to boost the economy on 20 September.
This down move has taken many people by surprise. They expected markets to continue moving higher after the 1,000-point rally following the tax cut.
--- Advertisement ---
You're missing out on a profit source that's up to 200X bigger than stocks

Stocks have been performing terribly over the last 2 years...And it's probably cost you a lot of money.

But what if we told you that instead of stocks - there's another profit source that you can tap into...

One that's up to 200 times bigger than stocks...

And has the potential to deliver explosive payouts like Rs 63,400 in 1 day, Rs 18,250 in 1 day, Rs 13,950 in less than 12 hours and a lot more.

When you can tap into a profit source like this, you won't need to rely on stocks to build a fortune.

Now over the last 30 years, India's #1 trader has been using a special Blueprint to trade these profit sources...And we've convinced him to share it with you.

All you need to do is register for a special summit we're holding on the 26th of November.

Register now – it's free.

*Past performance does not guarantee future results.
*Two lots of each trade have been assumed to calculate the returns of all the backtest examples used.
------------------------------
But I was among the few people who thought otherwise and warned my readers and viewers to remain cautious.
I warned: Don't let this euphoria get in to your head.
And I said this not once or twice but three times. You can read my views here and here (subscription needed).
And that's not all.
I even recorded a YouTube video where I explain everything in detail.
Here it is...
Last Friday, I told my readers the Nifty has entered the demand zone after giving up 50% of the 1,000-point rally.
Here's the 75-minute chart of Nifty I showed my readers along with my views...
A 75-minute Chart of the Nifty
I have been showing you this chart of Nifty along with the supply and demand zones for a while now. The level of 10,700-10,800 acted as demand zone since August till 20 September.

As soon as the FM announced tax cuts the index zoomed off like a rocket and crossed the supply zone of 11,100-11,200. This level is now acting as a demand zone. I have marked it in green band in the above chart.

I expected the range of 11,600-11,700 to act as a supply zone after the markets shot on 20 September. This was the only reason I told you to stay cautious after the 1,000-point rally.

Now the index has given up 50% of its recent gains. We have seen earlier that markets tend to retrace 50% of their move. This is normal. So one shouldn't get scared. Instead one should be on the lookout for opportunities.
The markets bounced back from the levels of 11,100 this week.
I found two trading opportunities in fundamentally strong stocks.
--- Advertisement ---
Our No. 1 Recommendation for 2020

This tiny company is Richa Agarwal's No. 1 Small Cap Stock for 2020…

It is a little-known company which trades around Rs 300, but is the backbone behind industry giants like Asian Paints, Vadilal and Heinz…

And has immense profit potential for early investors.

Get all the details here.
------------------------------
One of them is from the auto sector.
I have written to you that the worst could be over in the auto sector. It has entered the greed phase and will remain there until 2021. This means one should look out for trading opportunities in this space.
You can watch my YouTube video to know more about the greed and fear cycles in Auto sector.
The other stock is a proven multi-bagger.
It moved up sharply after the tax cuts were announced. However, it has given up 50% of these gains. This gives us a good entry point.
Now these two stocks are trading close to their recommended price. However, they may not remain there forever.
As you know, stocks have been moving violently these days and it may take just a few sessions for me to close these trades at a profit.
You can read about these recommendations by signing up for Profit Hunter Pro here.
Warm regards,

Apurva Sheth
Editor and Research Analyst, Profit Hunter Pro
PS: Dear reader, to pick profitable trades by navigating this volatile market, you need a proven trading strategy. This is exactly what I have developed for you. Read more about my trading strategy here.
Recent Articles