Is the Smallcap Rally Overheated?
Oct 13, 2020
Editor's Note: Tanushree Banerjee just published a guide to potentially enormous wealth: The Explosive Rs 4 Lakh Crore Opportunity. Get access to this new guide here...
---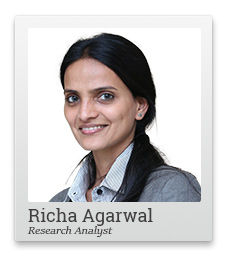 Before I answer that question, let us consider this.
India's GDP has decelerated, posting its sharpest fall of over 20% in the last quarter. The forecast doesn't look good either.
The unemployment figures have a sad story to tell.
Factories are yet to resume operations at full capacity. The capex plans have been postponed.
The banking sector is bracing itself for huge NPAs.
And yet...
The Sensex hit 40k and the Nifty hit 12k yesterday. The markets are at the highest levels since the pandemic began. They are just about 3% shy of touching their pre-covid, lifetime highs.
The markets are unpredictable. To time it well, you need lots of luck. You might as well be gambling at a casino.
--- Advertisement ---
[Alert] Sell These 3 Stocks Immediately

These 3 stocks are ticking time bombs in your portfolio.

It is very likely that you could be owning these 3 overvalued... fundamentally weak... ready to crash stocks... in your portfolio today.

Because many stock brokers have painted rosy pictures of these stocks.

But the reality is starkly different.

If the market crashes, then these stocks could wipe out your wealth.

You should get rid of these stocks as soon as possible.

We are going to reveal details of these 3 landmines at our upcoming special event.

You can click here to sign-up in 1-click. It's free.
------------------------------
Maybe that's what is happening in the Sensex now. It's trading at 30 times price to earnings (P/E), versus a long-term average of 20 times.
I think it is overvalued.
But what about smallcaps?
Well, they have indeed stolen the show in this rally. The smallcap index is up 68% gains versus 56% gain in the Sensex since 23 March.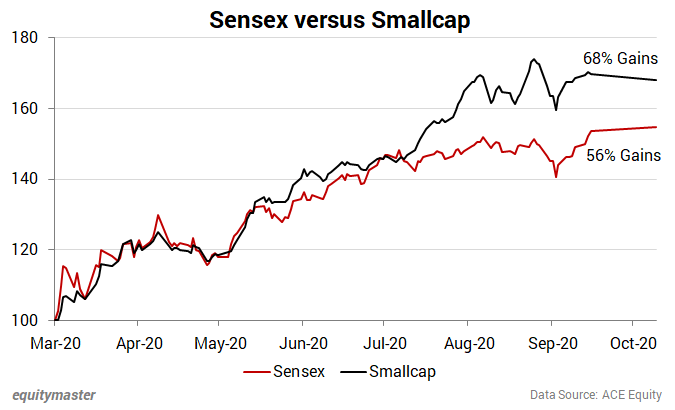 This begs the question: Are smallcaps overvalued too?
Has this rally run ahead of fundamentals?
Let's look at the history of previous smallcap crashes and rebounds over the last two decades...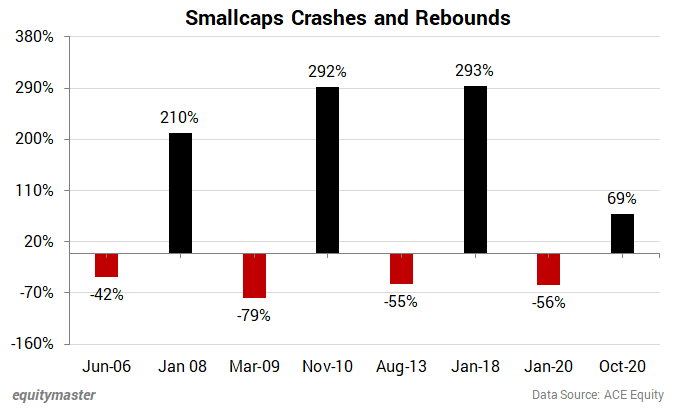 Every big fall in the smallcap index was followed by a sharp up move, a minimum gain 200%. Twice the rebounds were just shy of touching 300%.
The 69% gain so far looks modest in comparison. There could still be a lot of steam left to this smallcap rebound rally.
I'm not saying this because of what the regulator may decide about the smallcap allocation in mutual funds, although the recent rule about a balanced allocation in multicap schemes could give a boost.
Nor am I counting on past trend of crashes and rebounds.
As I've shared with you over the last few months, while recommending stocks, we have added measures to check for resilience of businesses.
India's Revival: A Once-in-a-Generation Wealth Making Opportunity
I'll be focusing a lot more on balance sheets. No matter how attractive the valuations or earnings growth are, a company with low cash and high debt levels, is not making the cut.
I'm looking for smallcap companies that have beaten the macro blues and posted good growth, while strengthening balance sheets at the same time.
I recently ran a screener for the smallcap space, avoiding high debt, very thin liquidity, high receivables and companies with promoter pledging above 15%.
I was specifically looking for companies that have managed to grow EBITDA or operating profit at or above 10% on a CAGR basis.
10% may not be very impressive, but I have made some allowance for the fact that the last quarter of FY20 was bad.
I got a list of over 50 stocks. From this list, I will pick stocks for my upcoming recommendations.
My team and I have already finalised a tech stock to recommend to Hidden Treasure subscribers.
This business is going to become increasingly relevant in a world that is moving fast towards digitisation and machine learning.
Its key asset is its intellectual capital. Unlike typical assets that fall in value, it's likely to be monetised in the future and will boost the growth rate of the business.
The company has grown over 20% CAGR (compound annual growth rate) in the last five years. Given the sectors it is catering to, including healthcare and telecom, I expect the revenue run rate to remain strong.
--- Advertisement ---
[Watch Now] 3 Little-known Stocks We are Super Bullish On




Click Here to Watch Now
------------------------------
Its company's return ratios are impressive, debt minimal, cash flow from operations positive, and it is also catching the interest of institutional investors.
The cherry on the cake is healthy dividend payouts.
Whether or not the smallcap index rebounds by over 200%, I believe this stock is set to soar big in the next few years.
And that, dear investors, is my message to you.
Don't bet on what the markets may or may not do.
Focus instead on businesses quality, margin of safety in valuations, and an optimum asset allocation.
And with the right frame, you are highly likely to create huge wealth for yourself.
To know more, check out my video on an almost zero loss strategy to invest.
Warm regards,



Richa Agarwal
Editor, Hidden Treasure
Equitymaster Agora Research Private Limited (Research Analyst)
PS: Tanushree Banerjee just published a guide to potentially enormous wealth: The Explosive Rs 4 Lakh Crore Opportunity. Get access to this new guide here...
Recent Articles