Tata Group Stocks are on Fire: Which one Should You Buy?
Oct 15, 2021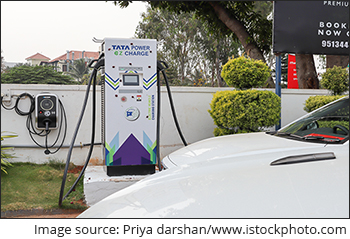 The stock of Tata Motors breached its new 52-week high.
Over the past three months, the gains on the stock have been 69%.
Anyone who has bought the stock exactly one year ago, would be sitting on gains of 278%.
If you regret having missed this meteoric rise in the stock within such a short time, you aren't alone. There was very little in the company's financials to suggest such a sharp ascend.
No doubt the stock of Tata Motors has been in the news over past several months.
New product launches, price hikes, capex based on the PLI scheme, and green energy initiatives - the stock has seen positive sentiment. Add to that the narrowing losses, quarter after quarter.
But what really helped the stock was the company's focus on electric vehicles.
--- Advertisement ---
Govt's 257 Bn Rupees Boost for EVs- Your Chance for Potentially Wild Profits

Recently, the government announced that it will be pumping a whopping 257 billion rupees into electric vehicle initiatives by 2025.

We urge you to become a part of the EV gold rush that's happening now and gain the early mover advantage.

We have closed in on 3 EV stocks which could potentially hand you over insane profits in the long run.

We will be revealing all the details in one of our upcoming special online event.

Sign Me Up For the FREE Event
------------------------------
Tata Motors currently has one of the highest share of electric vehicles sold in India. Its latest move to raise Rs 75 bn from TPG group for the EV businesses cemented the company's plans.
The funds to be invested in Tata Motors's new EV subsidiary has already convinced the markets of the value unlocking opportunity in the stock.
But Tata Motors is not the only Tata group stock to win big.
Over the past year, majority of the companies belonging to this group have delivered handsome shareholder returns.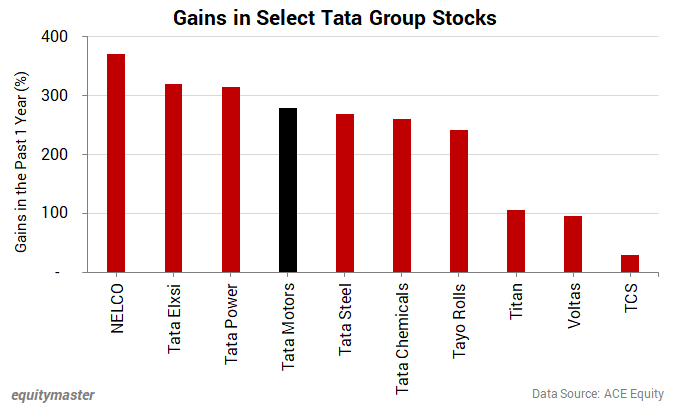 Tata Motors is not the only entity in the group to ride the massive EV megatrend.
Several Tata group companies are setting up EV related capacity. Add to that their combined knowhow and domain knowledge.
Tata Power is tying up with several players for all formats of EV charging infrastructure such as home, public, and fleet charging.
Tata Chemicals will provide the battery technology localisation and powertrain systems. It's also building an energy storage system facility for mobility and stationary charging. It has labs in Pune and Chennai working on this.
Revealed: Richa Agarwal's Top 3 Stocks for 2022
Tata Elxsi is working on AI enabled platforms for EV dealers, fleet operators, manufacturers etc.
Tata Motor Finance has chalked out vehicle financing options.
Others like Tata Steel, Titan, NELCO, TCS have lent their hand in components, software, and design.
So, which is the best Tata group stock to ride this massive electric vehicle megatrend?
Should you simply buy Tata Motors assuming it will be India's Tesla in a few years?
Well, EV businesses are disruptive. And they operate in an entirely new ecosystem.
Therefore, it would be imprudent to decide the safety of the EV stocks based on traditional methods.
--- Advertisement ---
Markets in Downturn? Here's What You Must Do...

The markets corrected sharply in recent days...

And it's impossible not to be reminded of the bloodbath we saw in March 2020.

The truth is...

Stock market corrections and recessions are inevitable and painful...

But this #1 video with Rahul Shah has the power to change how you perceive corrections and crashes. In fact, you'll master the art of turning every market crash to your advantage...

Watch the COMPLETE Lazy Millionaire Summit Right Now
------------------------------
I will shortly release a video on Equitymaster's YouTube channel explaining my methodology of evaluating SAFE EV stocks.
But that's not all!
My research on the EV ecosystem threw up several such hidden opportunities which are being completely ignored.
To know more about these profitable investing opportunities, join me at my special online event on 25 October.
Please don't invest a single rupee in EV stocks before attending the event.
Warm regards,

Tanushree Banerjee
Editor, StockSelect
Equitymaster Agora Research Private Limited (Research Analyst)
PS: Equitymaster's secret research has uncovered a little-known way to play the massive 15x Profit opportunity in electric vehicles. Get the details here...
PPS: Do you want to know the best investments in the space? Equitymaster's top editors Tanushree Banerjee and Richa Agarwal, have created a one-of-a-kind YouTube playlist on India's great EV transition. Watch the videos here.
Recent Articles