This is the Best Opportunity in a Decade to Buy Small-cap Stocks
Oct 16, 2019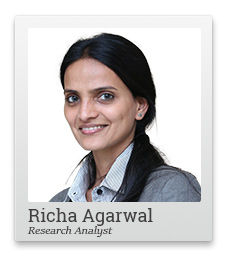 That's right!
I believe now is the best opportunity in a decade to buy - smallcaps.
If I'm right, investors could potentially make three, five, or 10-times their money in the long-run.
Why am I so confident?
You see, investors are focused only on negative headlines these days.
But most of these have no impact on the wealth making opportunities in the long term.
India's economy and the stock market and quality small-caps in particular have much further to go.
How much further?
I'm talking about double, triple, and quadruple-digit percentage gains in the market rebound.
In fact, I believe investors now have the chance to build what I like to call Rebound Riches, as the market rebounds from the recent lows.
Many investors today are making a big mistake...they're being overly cautious.
Don't be one of them.
If you buy the right small-cap stocks today, and hold on to them, I believe you could build a fortune in the long run.
All the bad news and negative headlines have brought down stock prices of high-quality smallcaps to historically low levels.
Due to this, the market is currently giving you a great opportunity.
You can pick up companies that will likely see massive growth in the years to come - at low bargain prices.
Advertisement
India's Next War
Recently, both China and Pakistan have started amping up tensions at the border.

So, now India faces a possible 2-front war scenario.

And this calls for a heavy deployment of future-ready and highly advanced weapons at our borders.

We are talking next generation tanks, guns and even high-tech equipment like drones.

Now unlike in the past where all this money was spent with foreign companies, now, it's being redirected to Indian companies.

For a few Indian defence companies...this is a mega growth opportunity.

And for investors... it's a rare opportunity to make potentially huge gains as select defence companies see their growth, and therefore stock prices, potentially shoot up.

To learn everything about this new, and huge, opportunity, Click Here to join Equitymaster's Explosive Profits Summit.

At this exclusive summit, you will also get to access details of what we call our #1 defence stock pick.

It's a potential 10x opportunity in the long term.
Keeping this in mind, I shortlisted three stocks for my premium subscribers. I spoke about them recently at the Rebound Riches Summit.
I believe these 3 stocks are not just safe long-term bets but they also have massive upside.
Let me tell you a little bit about one of those stocks. Hidden Treasure subscribers can read the research report on the stock by clicking here.
This company is the clear market leader.
It operates in a highly competitive industry but despite that, its products command a premium and it has grown faster than its industry.
So much so, the second largest domestic player is barely half its size! This gives it a big edge over its competitors.
Its customer list is the who's who of each industry it caters to...and not just in India but in the US and Europe too.
This brings me to the amazing growth potential...
The key business drivers for this company is its growing presence in the high potential export market. It caters to big marquee clients and can charge premium prices - even higher than the domestic market.
The company's exports have already more than doubled over the last 4 years. I believe, the share of these lucrative exports will go up significantly in the next 3 to 4 years.
This is why I believe this company is in a sweet spot to not just grow sales at a rapid rate but to also maintain its profit margins.
This is a rare and explosive combination for building big wealth over the long term.
At the current price, I expect this stock to more than double before it meets my target price.
And like I said, to take advantage of the low prices in the stock market currently, I've shortlisted three stocks.
This is an opportunity you shouldn't miss. You can find more details about these 3 stocks at the Rebound Riches Summit.
Make sure you buy these stocks before they run up!
Warm regards,



Richa Agarwal
Editor and Research Analyst, Hidden Treasure
PS: The Rebound Riches Summit is LIVE now! Click here to watch it.
Recent Articles