8.47% Gains in One Day... Here's How Pro Traders Do It
Oct 19, 2018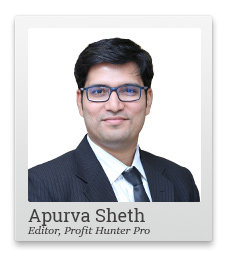 Last Friday I recommended a buy in an old private sector bank - Federal Bank Ltd to my Profit Hunter Pro subscribers. I recommended buying the stock at a level of 73.75 with a target of 80.
I was confident the stock would achieve its target price...but never imagined that would happen in one day.
The stock achieved its target price of 8.47% on Tuesday. This is the fastest ever I have closed a trade in Profit Hunter Pro.
I am sure you know the basis of my recommendation is two-fold. First, it passes through all the fundamental filters of the Equitymaster research team.
--- Advertisement ---


Your Deadline to Act Ends Tonight...

This is your last chance to get Equitymaster's Secrets virtually for free.

After 11:59 PM tonight, you will never see this offer again.

Click here to get your book now.
------------------------------
Second, the price action suggests the stock could be headed higher in the short time.
The stock was forming an inverse head and shoulder pattern on the daily and intraday charts and only needed a breakout above 74 levels to confirm an uptrend.
Now don't worry if you aren't aware about this pattern. I will explain it to you in detail in a minute. But first let's check out the chart.
The stock opened on a volatile note on Monday but ended with gains of more than 2% confirming a breakout. On Tuesday, it opened above the previous day's close and moved from strength to strength as the day progressed.
It announced a good set of quarterly numbers which lifted the stock way above our target price to the day's high of 82.85 with heavy volumes staging a stellar gain of 8.47% in a day.
If you are a Profit Hunter Pro subscriber then you are amongst the happy lot to make money in such markets.
Now let's check out in detail what an inverse head and shoulder pattern looks like and how you can profit from it.
This pattern warns the death of a down move and the beginning of an up-move.
It is a three-trough chart pattern resembling, as the name would suggest, a head and two shoulders but inverted.
Just imagine a person hanging upside down. How would he look?
A Person Hanging Upside Down
Now that you have a rough idea of how this pattern looks.
Let's get straight to chart, it will help you understand the pattern better.
The Inverse Head and Shoulder Price Pattern
As the stock trades in a downtrend, it makes a lower top - lower bottom pattern. The down-move halts near point A. This is the point from where the bulls start showing interest and that results in pushing the price up to point B. After a decent recovery, the bears once again drag the price to a new low (point C).
This is where the sellers are exhausted, and the buyers begin to step in and test the waters, slowly bringing the stock back to life. The stock rallies to point D where it witnesses selling from the people who bought at point B because they prefer to exit at breakeven levels.
--- Advertisement ---


At 11:59 PM, Tonight – This Page Goes Offline Forever

If you haven't claimed your virtually free book – Equitymaster's Secrets, you have less than 24 hours left.

We are ending this offer at 11:59 PM Tonight, and can promise you, you'll never see this again.

Click here to get your book.
------------------------------
Selling from these people drags the price down to point E. However, the price doesn't hit a new low. As a result, the bulls are now confident that their attempt to start a new uptrend could be successful now.
They start buying and push the price up near point B and D, which acts as a resistance once again. (When you join both these points, you get what is called as the 'Neckline' of the inverse head and shoulder pattern. See the blue dotted line in the chart above).
However, the bulls are confident this time around and push the price above this neckline. The breakout completes the pattern and you get your buy signal.
Federal Bank was forming this pattern and was on the verge of a breakout. The neckline for the stock was placed at 74 levels. Now I have seen such patterns play out on several occasions and decided to recommend an entry before the actual breakout.
Fortunately, the stock moved in our favour but I'm not surprised by that. I'm surprised by the speed with which it moved.
That's what I love most about trading.
Things can change quickly...and they normally change when no one expects them to. That's where the best opportunities lies.
At Profit Hunter Pro, I do this day in and day out - picking the best of the best trading opportunities for my subscribers. You can benefit from what I do as well. Find out how here.
And that's not all...I have recommended a buy in yet another old private sector bank which looks ready for an upmove. You can find out more about it...before it starts moving up.

Apurva Sheth (Research Analyst)
Editor, Profit Hunter Pro
PS: To get Apurva's trading recommendations join his legion of satisfied customers by clicking here.
Recent Articles