It Makes Perfect Sense to Look at Defence Stocks Now
Oct 21, 2020
Editor's note: Join Tanushree Banerjee, tomorrow at the Explosive Profits Summit where she will show you how to invest in the best defence stocks in India. Register for free here...
---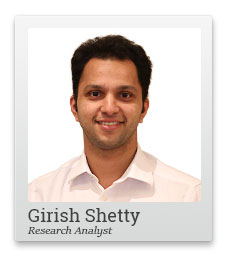 Why do politicians usually make bad decisions?
Is it because they enjoy doing so? Sounds crazy right.
I mean, people would like them if they made good decisions
A very important thing that influences our decisions is incentives.
A politician's incentive is only to get re-elected.
Or to make money when he is in power.
These things influence every decision he takes. The masses get lucky only when his incentive aligns with theirs once in a while.
It happened in 1991 in India...and it created a huge wealth-building opportunity.
At that time, we were going through a huge economic crisis. The government was close to defaulting.
--- Advertisement ---
FREE Event on Equitymaster's New Project

On May 17, we are holding a FREE event to reveal Equitymaster's Great Indian Wealth Project.

At this event, we'll reveal the details of your first stock for a potential Rs 7 crore in long-term wealth.

Seats for this event are filling up fast.

Since there are limited seats, we urge you to register at the earliest.

Click here for free sign-up
------------------------------
The central bank refused to lend credit to the government. Our foreign exchange reserves were drying up.
Firmly forced in a corner, the incentive for the government was clear. They had to do something big to survive.
This strong incentive resulted in India's biggest economic reforms.
This is exactly what I am seeing in our defence sector right now.
I see an opportunity to create immense wealth.
Here's why...
According to a SIPRI (Stockholm International Peace Research Institute) report, India was the third largest military in the world in 2019.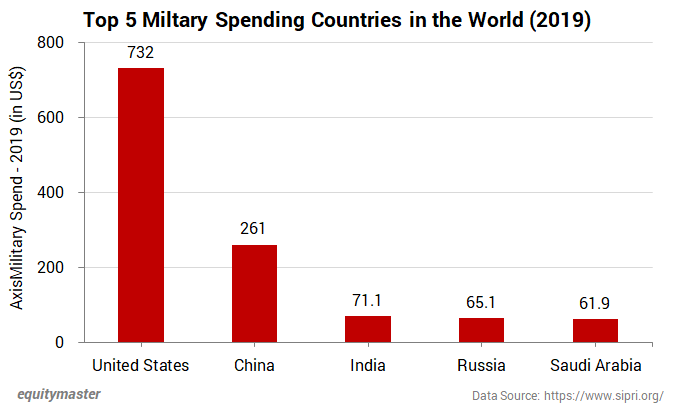 If you look at the chart closely, you will realise it is likely to remain among the top spenders in the coming years.
It's because of the second largest spender shown in the chart, China.
With rising tensions between the two countries, the incentive is strong for India to keep up with China.
Learn: How to Potentially Accumulate Rs 7 Crore in Wealth Over the Long-term
Today, we are seeing an economic crisis on a global scale.
Countries need to efficiently manage resources to survive this difficult phase. In that sense, it makes perfect sense for India to look local.
The third biggest military spender in the world can't afford to keep relying on imports. The incentive is pretty strong to look at local players for defence supplies.
You could see that with the recent import embargo on 101 defence items. These 101 items will now be purchased locally instead of foreign players.
I believe this is just the start.
It all makes sense for the government to focus on this sector in a big way in the near future.
The government's 'Atmanirbhar' push will get a massive boost through local defence manufacturing. This will create profitable opportunities in defence stocks for astute investors.
--- Advertisement ---
How to Earn a Fortune in Gold, the Smart Way

Gold is on 'the verge of a decadal run' says Vijay Bhambwani, India's #1 Trader and Editor of Fast Profits Daily at Equitymaster.

He says gold has the potential to generate staggering gains in the coming years...And those who are betting on gold right now will hit the jackpot.

But wait.

While gold is an attractive investment destination, there's a very specific way to play this opportunity...

A way that ensures you rake in maximum profit and perhaps hit the jackpot...while minimizing potential pitfalls. Thankfully, Vijay - India's #1 Trader - can guide you step-by-step in the upcoming gold rush and help hit the jackpot just at the right time.

Sure, you don't want to be an average trader. That's not how you make a fortune.

Here's how you can get Vijay's guidance...
------------------------------
Is the inflection point for defence stocks then getting closer?
My colleague Tanushree certainly thinks so. She recently spoke about the defence opportunity in her recent video...
Lastly, it is a sector as critical as any to India.
Recent border tensions with our neighbors have been on the rise. The government has a big incentive to prove its competence in a sector that is always in the limelight.
When the incentive is big, the profit-making opportunity in defence is also huge.
Warm regards,



Girish Shetty
Research Analyst, Hidden Treasure
Equitymaster Agora Research Private Limited (Research Analyst)
PS: Join Tanushree Banerjee, tomorrow at the Explosive Profits Summit where she will show you how to invest in the best defence stocks in India. Register for free here...
Recent Articles