Why Tata Motors can be India's Tesla
Oct 21, 2021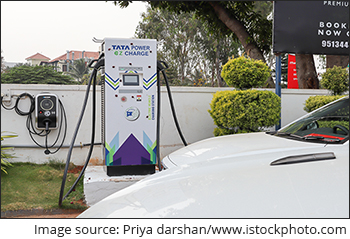 Over the past 1 week, Indian electric vehicle news has been dominated private equity giant TPG's US$1 bn investment in the EV subsidiary of Tata Motors.
No wonder Tata Motors share price has rallied 50% in 1 week.
However, the important thing to focus on is not the US$1 bn amount. For TPG, this amount is not such a big deal.
It's the valuation at which the money is being brought in. That is eye popping.
The deal values the EV subsidiary at US$9.1 bn or Rs 673 bn. The marketcap of Tata Motors is about Rs 1,600 bn.
So as per this deal, 40% current value of Tata Motors is from the futuristic EV subsidiary!
Now that is huge.
--- Advertisement ---
The Hidden Opportunity in EV Stocks No One Knows About

With today's fast-changing technology and concern about the environment, the popularity of electric vehicles (EVs) has been on the rise.

Most investors go the usual route of investing in large companies and waiting to rake in profits.

We believe that's not the best approach.

In fact, our research has uncovered a hidden way to make potentially windfall gains from this EV opportunity.

Interested to know more? You can get all details by clicking the link below:

Equitymaster's Latest Research Project - Details
------------------------------
The yet to be incorporated subsidiary, will only house the technology and future IP. The manufacturing will be done in the passenger vehicle segment.
Also, critics are questioning the valuation. Tata Motors, on average, makes about 1,000 EVs a month.
Obviously, this is a big bet on the future.
Forecasts suggest India's EV penetration in passenger vehicles will reach 30% by 2030.
And who else but Tata Motors which will be the largest beneficiary? After all, it currently sells 70% of all the EVs in India.
As an analyst, I have been asked how can a valuation of US$9.1 bn be justified?
Let me try to make a sense of this by giving you the example of Tesla.
Traditional Car Companies v/s EV Companies
| | EV Manufacturers | Traditional Auto Manufacturers |
| --- | --- | --- |
| Number of players | 16 | >50 |
| Valuations | US$1.14 tn | US$1.42 tn |
Data Source: Equitymaster
Tesla accounts for 74% of the total electric vehicles sold in the US by market value.
FREE Event: Discover Your First Stock for a Potential Rs 7 Crore in Long-term Wealth
The reason Tesla and other EV manufacturers like BYD are getting this crazy valuation is based on the following 2 assumptions.
Traditional firms may not be able to deliver competitive electric cars in the future

All the traditional car makers from Daimler, BMW, JLR to Volkswagen, Ford and General Motors are working on EV. But what we see today from their stable especially Audi, Daimler, and JLR are luxury EVs.

The mass market EV segment is still dominated by Tesla in USA and Europe and home-grown companies like BYD in China.

Nissan has launched its flagship EV 'Nissan Leaf' cheaper than Tesla. But sales are below average despite the price advantage.

Issues such as range and charging infrastructure are major headwinds for traditional car firms.

Apart from first mover advantage, it's the top 3-4 companies which have been aggressively setting up the charging infrastructure.

The market knows all this. When EV penetration increases, these 3-4 players will have a dominant share.

Can EV profitability per car be better than IC engines?

The level of data integration and complex usage of software in an electric vehicle is much more than an IC engine vehicle.

Traditional car manufacturers rely on sale of spare parts after the sale of vehicles. There is no major high value recurring revenue after the car is sold.

Besides, a majority of the service costs, such as labor, go to the dealerships which sell the car. It is these services which help run dealerships profitably.

However, in an EV, add on subscription based services generate annuity income.

Tesla's full self-driving capability is a classic example. It sells the autonomous driving software for a monthly subscription.

This is likely to lead to higher profitability per car.
--- Advertisement ---
What CNBC Won't Tell You...


The next 10 years would be a golden period for Indian investors...

The "Big Bull" Rakesh Jhunjhunwala claims it could be one of the largest stock market bull runs in India ever...

And veteran investor Raamdeo Agarwal says the S&P BSE Sensex could even reach 200,000 points in the next 10 years... All thanks to these...

Highly Powerful Wealth-Building Mega-Trends
------------------------------
Can Tata Motors be the Tesla of India?
Well, if we replicate these 2 assumptions for Tata Motors, here is what we get...
a) 70% market share in Electric passenger vehicle and counting...
While Tesla has a 54% market share in the EV segment, Tata Motors has a 70% market share. Its EV line up is encouraging. The company plans to roll out 10 EVs in the next 4 years.
Maruti Suzuki, the largest passenger vehicle player is on a slow track when it comes to roll outs.
What Tesla has done in EVs in the US, Tata Motors could replicate in India. This is a strong reason for the high valuation of the company.
b) Synergies with Tata group companies
The salt to airplane conglomerate has synergies across the entire EV value chain. The table below highlights how Tata Motors will go about it.
In-house Answers for the EV Eco-system
| | |
| --- | --- |
| Tata group company | Segment catering in the EV Eco system |
| Tata Chemicals | Chemicals used in batteries |
| Tata Power | Charging infrastructure |
| Tata Elxsi | Software and integration |
| JLR | UK Subsidiary to enable know how and technology |
Source: Equitymaster
My View
The obvious choice for TPG would have been Tata Motors, considering the brand, size, and synergies.
While valuations are always debatable, it's the size of the EV opportunity which is the most important. The size of opportunity which TPG could envisage would justify the valuation paid for in the deal.
Besides, Tesla enjoys super high valuations (whether right or wrong) based on the same assumptions and will play out for Tata Motors over the next 5-10 years.
In an environment with interest rates at an all-time lows and there is ample liquidity across the globe, money is likely to chase growth and valuations are likely to take a back seat.
I believe, Tata Motors is one of the few companies you can bet on in the long-term Indian EV story.
Warm regards,



Aditya Vora
Research Analyst, Hidden Treasure
PS: Equitymaster's secret research has uncovered a little-known way to play the massive 15x Profit opportunity in EVs. Get the details here...
Recent Articles