This Niche Smallcap Market Leader is All Set to Ride the Rebound Amid the US China Trade War
Oct 22, 2019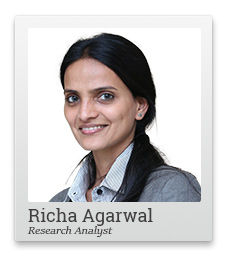 A few months ago, I watched 'Chernobyl' on Hotstar.
It's based on the infamous nuclear plant accident in USSR in 1980s. The drama captures the incidents on an unforgettable night of one of the biggest manmade disasters in the history of mankind, the panic that ensued, followed by authorities and individuals' struggle to fix the mess.
It also reveals what went wrong.
It wasn't just some erratic behaviour or inadequate personal training, as one might rush to conclude from the initial episodes.
The fate of the plant was sealed years ago... when the authorities allowed reactors with flawed designs in the plant. You see, they made a choice to compromise on safety to hold down operating costs of the plant.
In short, it all boiled down to human greed and callousness.
The cost of this turned out to be huge. It was paid with lives, future generations, money, and resources spent on containing the damage.
Not to mention the huge embarrassment for the USSR.
As per Mikhail Gorbachev, former General Secretary of the Communist Party, the Chernobyl nuclear disaster was the real reason behind the collapse of Soviet Union and Communism that thrived on totalitarian policies.
With right measures in place, the chances of such an accident happening again are said to be virtually zero.
But it's unfortunate that it took a radiation disaster of such epic proportions for the stakeholders to comply.
Now one would expect that an event like this will make the authorities the world over toe line.
Hardly.
The Blasts that Scared the Chinese
Source: YouTube
This isn't some high-octane action scene from a Hollywood movie. It's an actual coverage of an explosion at Chinese chemical plant in March 2019.
It took over 900 firefighting men and over a day to douse the fire. But not before it had claimed many lives and inflicted grave injuries on unsuspecting civilians.
As per media reports, the blast is said to have led to tremors of magnitude 2.2 earthquake. It cut many old people and kids with flying glass shards. It rendered the air and water toxic, and houses uninhabitable.
4,000 workers and residents had to evacuate.
The plant, set up in 2007, was found to have 13 safety problems after an inspection last year.
These included leakage, poor site management shortage of operating procedures, and technical specifications posted in the benzene tank area. (Source: New York times)
Unfortunately, this wasn't a one off event. Similar explosions in China have led to loss of lives and panic over the last few years.
This has shaken the Chinese government under the President Xi Jinping.
Since late 2016, Chinese chemical companies are being subject to strict environmental tests. It has led to a closure of many plants in China. Almost 70% of the chemical companies are said to have failed the environmental tests.
In the past, such inspections were a mere formality. Not anymore. The pressure and intent is severe this time. The officials who failed to ensure controls have been dismissed. Some have even been handed over to the police.
Reduction of environmental pollution is one of the top three priorities of the Chinese government.
Chinese chemical companies have two options -
Stop production
Upgrade to ensure environmental compliance.
A lot of these companies even need to relocate to dedicated industrial parks.
--- Advertisement ---
FREE Event on Equitymaster's New Project

On May 17, we are holding a FREE event to reveal Equitymaster's Great Indian Wealth Project.

At this event, we'll reveal the details of your first stock for a potential Rs 7 crore in long-term wealth.

Seats for this event are filling up fast.

Since there are limited seats, we urge you to register at the earliest.

Click here for free sign-up
------------------------------
The Result?
The small scale chemical producers have shut down. For bigger players, the costs have gone up. The costs are likely to rise further as many are still in the process of complying.
What's more, it now takes much longer for these plants to get permissions as due diligence is conducted seriously.
The Chinese chemical industry, saddled with overcapacity, has shrunk. It's now in the process of consolidation. Smaller players are getting out of the picture. It's not a viable business for most of them anymore.
Now a lot of these Chinese chemical companies were catering to global demand.
But tough measures over the past two years have led to drying up of supply of a lot of critical chemicals. This has caused a sharp surge in prices for affected chemicals and at times supply interruptions for the end user industries.
The Positives
The global end user industries of these chemicals have now learnt the lesson the hard way. They need to diversify beyond China and deal with environmentally compliant companies.
This benefits some Indian chemical companies. They have been filling the supply gap for last two years now with great rigor.
I have recently recommended an Indian company which is one of the biggest beneficiaries of this structural shift - India's largest specialty chemical firm in its niche segment.
In the last 5 years, the company has grown its sales and profits at a compound annual growth rate (CAGR) of 12% and 51%.
The company is expanding its capacity and this will bear fruit in the form of higher revenues over next few years.
The other important numbers are goo too. The balance sheet is debt free. The cash flow is positive. The average dividend payout over last five years comes in at 26%.
But none of this is good enough a factor to recommend the stock.
You see I have been tracking the company for over 2 years. I have always liked how the story has shaped up.
But I wasn't comfortable with the valuations.
So I had not recommended it...until now.
From the highs of January 2018, the stock is down by over 50%. The current market price offers a great entry point to long term investors.
I hope you will make the most of this opportunity in this stock and get rich in this market rebound.
And if you don't find this stock to your liking, you can always consider the other three small-cap stocks I wrote to you recently about.
Warm regards,



Richa Agarwal
Editor and Research Analyst, Hidden Treasure
PS: Dear reader, for details of my top stock pick of 2020 please click here.
Recent Articles