The One Company Riding the Auto Revolution Beyond EVs
Oct 22, 2021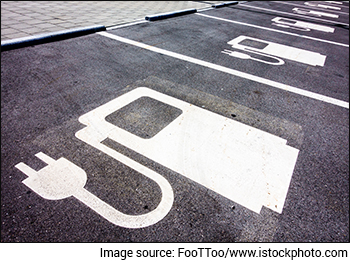 Over the last few weeks, you've heard from me and my colleagues about the megatrend that is unfolding in the auto sector - Electric Vehicles.
But it's not just the auto industry that has awakened to its potential.
Companies across industries are latching on to this opportunity.
The latest to join the league of electric vehicle manufacturers is Apple iPhone maker Foxconn.
And why not? After all, it's a once in a century opportunity.
But here is what you need to know about this revolution.
This revolution is not an event at any one point in time. It's not just about batteries taking over the internal combustion engine. It's not just a switch from petrol and diesel powered vehicles to battery charged ones.
Bigger disruptive forces are coming along with electrification.
--- Advertisement ---
FREE Replay

See What Happened at the Top 3 Stocks for 2022 MEGA Summit...

Offer Expires at 11:59 PM Tomorrow...




Grab Your FREE REPLAY Now...
------------------------------
The future car or bike will look a lot different from the past. And the difference will not be in the fuel technology alone.
The future belongs to smart cars. These cars will be much more electronics, autonomous, connected, and instrumented.
Remember when mobile phones disrupted landlines?
It was not just about calling from anywhere, or while talking on the go.
Phone became an integral consumer device. Music, entertainment, information, work, travel, eating habits, shopping - it completely changed our lives. The mobile phone revolution was beyond what anyone could have imagined. Old business models were reinvented. New were created.
The auto segment is going through a similar revolution.
The EV revolution is coming along with an IoT revolution. It will piggyback on technologies such as sensors, vehicle control, cloud computing, embedded software, data processing, and analytics.
Think about it.
ALERT: Top Investment Recommendation for 2022
The future cars will be connected and digital. From vehicle ownership to shared cars, safety, connectivity, location tracking vehicle condition, infotainment... the electric vehicle in future be very different from the ones we drive today.
Batteries are just a part of the revolution. The cars of the future will be an engineering marvel.
The revolution won't end at electrification. In fact, it will be just the beginning.
It's critical to keep this in mind when you're thinking of investing in EV stocks.
I'm still focused on the EV value chain and not auto stocks. That's because these firms has are juggling too many balls in the air right now.
Also, it's a very expensive time to be an auto manufacturer. The value of their legacy portfolio of vehicles is being destroyed This business bring in well over 95% of their revenues.
But certain players in EV ecosystem are different.
They have no legacy liabilities. They have an exponential growth opportunity ahead of them. Most importantly, the downside of investing in them is minimal.
One of these lesser known Indian firms distinguishes itself in the EV supply ecosystem. With specific focus on green mobility, it has adopted technology and digitisation at its core.
It has in-house R&D as well as technical collaborations with global players. It boasts a solid line up of patents. What more, it's a pioneer in bringing AI-based driver assistance systems to India.
--- Advertisement ---
Have You Checked Out Our #1 Investment Idea for 2022 Yet?

We just released our #1 Investment Idea for 2022.

With the information that we have shared, you could learn how to tap into this potential 15x opportunity.

We have compiled a video wherein you could get all the details that you need to take advantage of this amazing opportunity.

All you have to do is click the link below to watch the video:

#1 Investment Idea for 2022
------------------------------
Along with electrification, its offerings cover the spectrum of next generation connected mobility and IoT (Internet of things).
The company focuses on cutting edge engineering via embedded software systems, telematics, connectivity, light weighting solutions, and power electronics.
These technologies 'smartify' the entire auto segment.
Now a lot of firms in auto ecosystem are focusing on supplying parts. But this company is well on its way to become a complete systems supplier.
It's no wonder the company has clients in other industries like marine, defense, railways, and aerospace. These could further open up new avenues for the growth, beyond the auto sector.
And it's also no wonder that it grew in a pandemic year when the rest of the auto industry posted double digit declines.
I expect this company to growth very fast due to higher revenues from new customers in India and abroad. It will gain from increased and premium content and services per vehicle.
It has stakes in some tech startups as well. If even one of these investments do well, the company will enjoy further gains.
There are other great investing opportunities like this.
To know more about this stock and others like it, join me and Tanushree on Monday, 25 October at our special online event. We'll tell you all about the EV Gold Rush.
You can register for the event here.
Warm regards,



Richa Agarwal
Editor and Research Analyst, Hidden Treasure
PS: Get the details of the top 3 stocks to ride the massive 15x EV opportunity at the EV Gold Rush. Sign up for free here.
Recent Articles