One Cycle that Defines Everything in Markets
Oct 23, 2020
I've been writing about cycles over the last few months.
I've covered cycles across time frames and asset classes like the 8-year cycle in Sensex. It can even help you identify multibaggers.
You can watch the video.
Apart from this I have also written about the 32-month cycle in Auto index, the 22-month cycle in Metal index, and the hidden patterns in bitcoin as well as gold.
Despite writing so much on cycles over the last few months I'm guilty of missing the most important cycle of all.
This cycle defines everything in markets.
If you could master this cycle, then nothing can stop you from making huge profits.
--- Advertisement ---
These 3 Stocks are the Dark Horses of the Stock Market

The mainstream media mostly ignores them.

Mutual funds and hedge funds can't buy them in bulk.

Stock brokers rarely cover them.

These stocks are the dark horses of the stock market.

They only come in limelight after they have rallied by hundreads of even thousands of percent.

Our head of smallcap research, Richa Agarwal, has a knack for identifying such stocks before they begin their rally.

Over the years, she has spotted such stocks which have gone on to offer triple and even quadruple digit gains for investors. (* Past performance is no guarantee of future results)

Today, when the markets are near all-time high... and some investors are thinking of booking profits... Richa has spotted 3 such stocks which are set for a massive rally.

She will reveal the details of these 3 stocks on 28th January at her free online summit.

Click here to sign-up instantly. It's free.
------------------------------
All publicly traded financial securities repeatedly go through this cycle without fail.
The Four Phases in a Cycle
I have illustrated below the four phases that a stock goes through during its life cycle. The cycle repeats itself after the stock goes through all these four stages.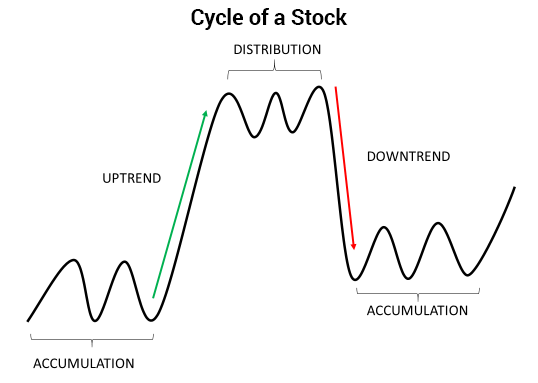 Stage 1: Accumulation
This is the first stage in the cycle of the stock. The stock consolidates in a range after a prolonged downtrend. It finds buying interest near the lower end of this range.
Value investors who find the stock attractive enter when the general mood of the majority is still negative.
Stage 2: Uptrend
In the second stage, the market condition improves, and the negative sentiment begins to recede.
BREAKING: Full Details of the #1 Investment of the Decade...
The stock starts trading above its most recent highs. It begins forming higher tops and higher bottoms. This attracts momentum investors into the stock.
Stage 3: Distribution
The strong uptrend in the previous stage attracts common public in the stock. At the same time, smart investors start reducing their positions gradually.
Every successive rally now becomes difficult to come. Falling volumes on rallies gives us an indication of the exhaustion of the trend.
Stage 4: Downtrend
Lack of a substantial upmove unnerves buyers. They become restless and exit the stock at negligible profit or at a loss.
--- Advertisement ---
Top 3 Stocks for 2020 and Beyond

We've uncovered 3 high-potential tech stocks after years of research.

These 3 cutting edge tech stocks could potentially create a wave of Indian millionaires.

First one is present in the sector which is expected to GROW over 300 times by 2030.

Second one is one of the leading players in Artificial Intelligence technology.

And the third one is involved in putting up a global safety net to save the world from cyber criminals.

These 3 tech stocks have the potential to offer life-changing gains in the long run.

Click here to get the details...
------------------------------
There are several who think on similar lines. They start selling their stock at lower prices. Falling prices attract short sellers who drive the prices further down at greater speed.
The stock eventually bottoms out and starts trading in a range giving birth to a fresh cycle. Stage 1 resumes once again.
So, this a trader's perspective of the most basic and important cycle in the markets based on price action. But that's not the only cycle that exists in the market.
A business also goes through a similar lifecycle. There are four phases in the business life cycle just like a stock: start-up, growth, maturity, and decline.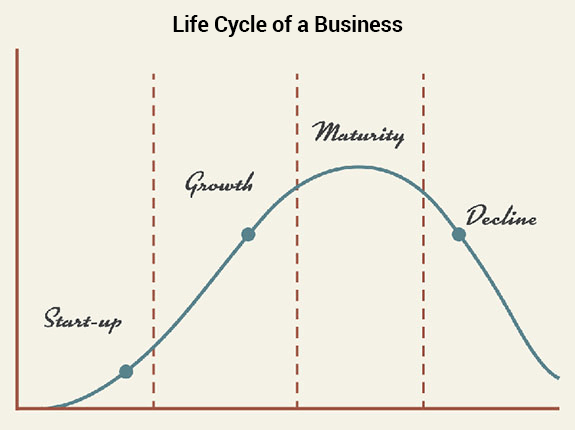 A stock's life cycle offers opportunity to make money to all types of investors in each phase.
You should take advantage of it.
Warm regards,

Apurva Sheth
Senior Research Analyst, Fast Profits Report
Equitymaster Agora Research Private Limited (Research Analyst)
PS: Tanushree was live at the Explosive Profits Summit yesterday. Watch it here...
Recent Articles