One Cycle that Defines Everything in Markets
Oct 23, 2020
I've been writing about cycles over the last few months.
I've covered cycles across time frames and asset classes like the 8-year cycle in Sensex. It can even help you identify multibaggers.
You can watch the video.
Apart from this I have also written about the 32-month cycle in Auto index, the 22-month cycle in Metal index, and the hidden patterns in bitcoin as well as gold.
Despite writing so much on cycles over the last few months I'm guilty of missing the most important cycle of all.
This cycle defines everything in markets.
If you could master this cycle, then nothing can stop you from making huge profits.
--- Advertisement ---
India's #1 Defence Stock

Our co-head of research, Tanushree Banerjee, has uncovered what she calls India's #1 defence stock.

She believes, this stock is primed for an unprecedented rally in the coming years.

It's a potential 10x opportunity in the long run.

Tanushree is confident about the potential of this defence stock because the Indian government has made a major change in the defence policy.

And as a result, a flood of money could start flowing to a handful of Indian defence companies.

It is estimated that over the next 5-7 years itself the opportunity is worth over Rs 4 lakh crore.

Tanushree believes, the defence stock which she has uncovered is well-positioned to benefit immensely from this windfall.

Tanushree will reveal more details about India's #1 defence stock at her upcoming special online event.

This event will go LIVE at exactly 5pm on November 30.

Seats for this event are filling up fast. Since there are limited free seats, we urge you to block your free seat at the earliest.

Click here to sign up instantly. It's free.
------------------------------
All publicly traded financial securities repeatedly go through this cycle without fail.
The Four Phases in a Cycle
I have illustrated below the four phases that a stock goes through during its life cycle. The cycle repeats itself after the stock goes through all these four stages.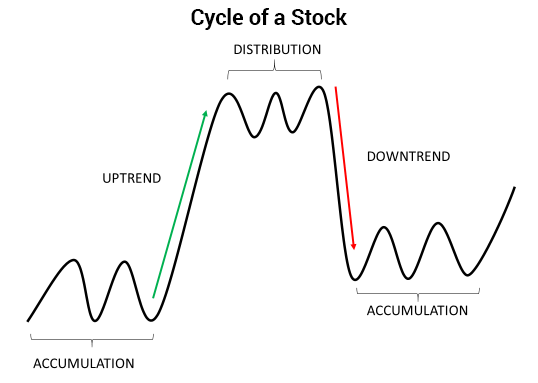 Stage 1: Accumulation
This is the first stage in the cycle of the stock. The stock consolidates in a range after a prolonged downtrend. It finds buying interest near the lower end of this range.
Value investors who find the stock attractive enter when the general mood of the majority is still negative.
Stage 2: Uptrend
In the second stage, the market condition improves, and the negative sentiment begins to recede.
New: 5 Pandemic-Proof Smallcaps You Should Know About...
The stock starts trading above its most recent highs. It begins forming higher tops and higher bottoms. This attracts momentum investors into the stock.
Stage 3: Distribution
The strong uptrend in the previous stage attracts common public in the stock. At the same time, smart investors start reducing their positions gradually.
Every successive rally now becomes difficult to come. Falling volumes on rallies gives us an indication of the exhaustion of the trend.
Stage 4: Downtrend
Lack of a substantial upmove unnerves buyers. They become restless and exit the stock at negligible profit or at a loss.
--- Advertisement ---
EXCLUSIVE WEBINAR
Mega Panel Discussion on Asset Classes of Equity, Debt & Gold

Date: 27th Nov | Time: 6pm | Venue: Your Computer

– What is the outlook for each asset class as of year-end?
– What is the suggested asset allocation between Equity, Debt & Gold in the current market scenario?
– How important is it to diversify investments with the help of Multi-Asset Funds?

Register FREE for this upcoming webinar here
------------------------------
There are several who think on similar lines. They start selling their stock at lower prices. Falling prices attract short sellers who drive the prices further down at greater speed.
The stock eventually bottoms out and starts trading in a range giving birth to a fresh cycle. Stage 1 resumes once again.
So, this a trader's perspective of the most basic and important cycle in the markets based on price action. But that's not the only cycle that exists in the market.
A business also goes through a similar lifecycle. There are four phases in the business life cycle just like a stock: start-up, growth, maturity, and decline.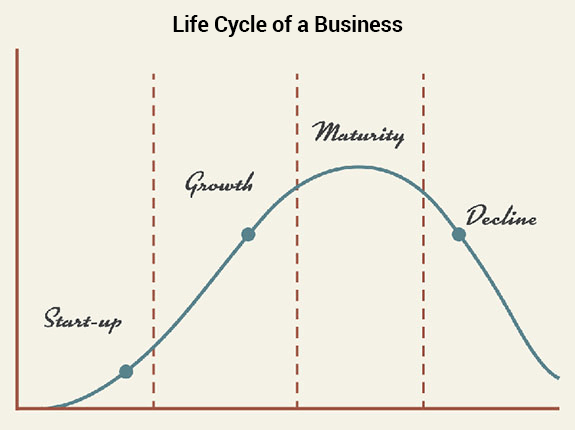 A stock's life cycle offers opportunity to make money to all types of investors in each phase.
You should take advantage of it.
Warm regards,

Apurva Sheth
Senior Research Analyst, Fast Profits Report
Equitymaster Agora Research Private Limited (Research Analyst)
PS: Tanushree was live at the Explosive Profits Summit yesterday. Watch it here...
Recent Articles