Can the Nifty Hold Above the 10,000 Mark?
Oct 26, 2018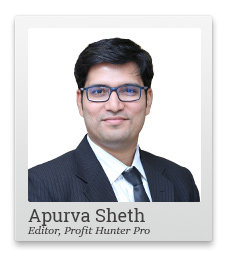 The Indian stock markets never fails to surprise market participants. Just when it looked like the Nifty was finally making a U-turn after trending lower for more than a month... it slipped lower.
Nifty snapped back by about 600 points in the last six trading sessions. The benchmark index opened with a gap up last Friday and hit a high of 10,710. It's been trending down since then and hit a low of 10,079 yesterday.
I am sure all the bullish hopes are put to rest after this sharp crackdown during this week.
But is it time to give up all hopes yet?
Well, at Profit Hunter Pro I believe in price action which indicates there might be possibility of a turnaround.
Now before I show you the price action in Nifty I'd like to share this illustration I showed my Profit Hunter Pro readers a couple of months ago.
So here we go... have a look at the following illustration.
The security is in a vicious downtrend. Its forming lower tops and lower bottoms. The selling stops eventually and it zooms higher only to snap back to previous lows again.
This time around it doesn't penetrate the previous lows. Buyers chip in and drive the price higher once again.
The two extreme lows at similar levels and subsequent recovery tell us that selling has probably climaxed. You have your buy signal when the stock breaks the green line.
--- Advertisement ---


REVEALING: The Strategy Behind Our Small Cap 4-Digit Gainers And More

Today, we're going to reveal to you the secret strategy our highly-skilled research analyst, Richa Agarwal, and her team used for identifying various small caps that went on to give 3-digit and even 4-digit returns in a few years .

Yes! This strategy is unlike anything you may have seen, and it has been working fabulously for over 10 years now.

But the best part is - the same strategy has now identified 3 high-potential small caps you could consider investing in immediately.

So don't delay. Click here to get full details now!
------------------------------
Remember, you're not waiting for the security to jump to new all-time highs. You're simply waiting for it to signal that the market has flushed out the aggressive sellers and it is ready to move higher.
This pattern is called as a double bottom. Some people also call it as 'W' pattern simply because that's how it looks on the charts. Now whether you call it a double bottom, 'W' or anything else. The name doesn't matter much if you understand the psychology of market participants trading the security.
Right now, our beloved Nifty is also on the verge of forming a similar pattern. Let's have a look at its charts.
Nifty has been trending lower ever since it topped out at 11,760 on 28th August 2018. It has formed lower tops and lower bottoms just the way we have seen in the earlier illustration.
The index hit a low of 10,138 earlier in October and recovered to hit a high of 10,710 last Friday. It couldn't sustain the selling pressure and retested the previous lows yesterday. In fact, it slipped marginally below the previous lows and hit a low of 10,079.
Now that the index has hit an extreme low for the second time we will have to see whether a subsequent recovery follows. Looking at the price action it seems chances of a recovery are high. There are two reasons which suggests that...
First, it is trading above an important psychological support level of 10,000. The correction which began in January 2018 found support around the same levels in March 2018. Thus, the same level could act as a support in the immediate term.
Secondly, the daily RSI is forming a bullish divergence with price after hitting a 10-year low. The last time daily RSI dropped below recent levels was in 2008. So, you know that we are in deeply oversold zones and chances of a bounce back are high.
So, let's keep our eyes on the Nifty and see what's in store for us.
--- Advertisement ---


A Proven Way To Potentially Make Money Even In Sluggish Markets

We often come across phases where there's not much happening in the stock market.

Most investors would take such phases in their stride thinking that sluggish and down phases are a part and parcel of the stock market.

But research analyst Apurva Sheth found that banks and insurance companies were using a secret method that enabled them to generate solid gains even when the markets (or individual stocks) were doing almost nothing.

Yes! To find out all about that secret method, just click here…
------------------------------
Meanwhile Nifty isn't the only security forming a double bottom pattern. There are other stocks from the Nifty 50 universe which are following suit and forming the same pattern.
Could it be possible that they turnaround along with Nifty?
Let's check out the price action...
1. HDFC Ltd.
HDFC Ltd. topped out much ahead of Nifty and is trending lower since July 2018 after topping out at 2,053. It touched a low of 1,646 on 8th October and retested the same levels yesterday as well.
The stock is on the verge of completing a double bottom pattern. The neckline of the pattern is placed at 1,775. A breakout above the same would indicate a change in trend from down to up.
2. Mahindra & Mahindra Ltd.
Mahindra & Mahindra topped out at a level of 993 along with Nifty in August 2018. Its dropped almost 28% in the last two months.
It touched a low of 715 in the second week of October and retested the similar levels earlier this week. It is also on the verge of forming a double bottom pattern. The daily RSI is forming a bullish divergence with price after hitting the lowest levels since October 2008. Thus, a breakout above 790 would confirm a change in trend.
So it's not just Nifty but many other stocks are also pointing towards a change in trend. But I'm not going to press the trigger just yet. We need to wait for confirmation. Once we get that there will be many stock recommendations to follow.
I am keeping my eyes on the price action in Nifty as well as these and many other stocks. As soon as I see anything interesting I will send a note to my Profit Hunter Pro subscribers. You can benefit from it too.

Apurva Sheth (Research Analyst)
Editor, Profit Hunter Pro
PS: We're about to enter a period of increasing opportunities. Whether you are ready or not will make all the difference to your wealth. So step up, and sign up now for Apurva's brilliant premium recommendation newsletter. Click here now.
Recent Articles