PSU Banks Will Move Up Again
Oct 27, 2020
Editor's note: Yesterday, India's #1 trader Vijay Bhambwani, recorded a video on the most profitable segment of the market today - PSU stocks. That's right. PSUs are the hottest stocks in the market today...and you read about it first right here in Profit Hunter. We published this piece on PSU Banks by Apurva Sheth about 3 weeks ago. It makes sense to revisit it now that PSU stocks have started to run up.
---
Have you ever felt that you have lived the present situation before?
It's called Deja vu.
Right now, I'm experiencing a deja vu moment in the markets.
Banks were going through tough times even before the pandemic struck. Covid-19 amplified the effects.
But banks going through tough times isn't new.
They were in a similar situation back in 2016. Private sector banks were relatively better compared to PSU banks.
PSU banks were dealing with Non-Performing Assets (NPA) and big losses in March 2016. Here's how the headlines read back then.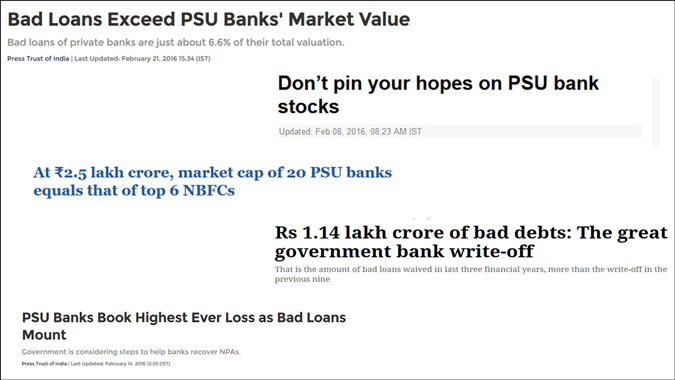 If you have been following the news recently then you would know their situation is the same. The Covid-19 outbreak and the moratorium which followed has simply broken their back.
Common investors would run away from PSU banks at such times.
But you must not!
--- Advertisement ---
India Rushes to Prepare for a 2-Front War

A 2-front war is here.

China and Pakistan seem to be acting in sync... when it comes to attacking India.

Both countries have increased their military activity in the border region like never before.

And that's exactly what India is rushing to prepare for.

In fact, the Indian government has already allocated Rs 90,048 crores for 2020-21 itself.

Plus, an additional Rs 4 lakh crore would be spent over next 5-7 years.

This money will secure our borders.  And...it will potentially trigger a mega growth opportunity for a select few Indian defence companies.

With this flood of money flowing their way... their stock prices could potentially shoot up to record highs in the coming years.

You can learn everything about this massive opportunity on November 30 at our Explosive Profits Summit.

At this summit, you will also get the details of what we believe is India #1 defence stock.

It's a potential 10x opportunity in the long term.

Click here to sign-up instantly here. It's free.
------------------------------
I believe there is no better time than right now for making an investment in PSU banks.
And I am not saying this based on a hunch or gut feeling.
I have lived through a similar moment back in 2016 and even guided my subscribers to solid profits in PSU banks back then.
I believe the worst seems to be over for PSU banks. Here's a weekly chart of Nifty PSU Bank index.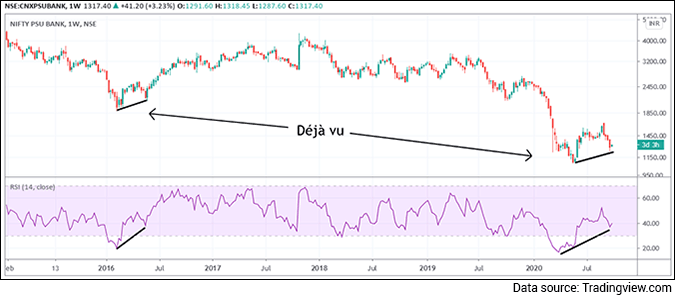 PSU Banks are forming bullish divergence in Relative Strength Index (RSI) on weekly charts. RSI is a momentum indicator which shows the strength of the trend.
New: 5 Pandemic-Proof Smallcaps You Should Know About...
A bullish divergence in RSI indicates that the ongoing downtrend is losing steam. This doesn't guarantee a reversal but increases the chances.
The adjacent illustration will help you identify a bullish divergence in RSI.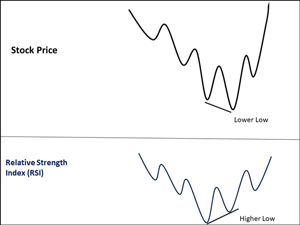 You will notice that the price is in a downtrend and RSI is also falling along with it initially.
However, the RSI starts forming higher lows when price is still forming lower lows. This acts a signal that the ongoing trend may reverse.
If you want to know how to trade the RSI divergences then you can read my detailed article on Contrarian Trading with the RSI I wrote back in 2016.
--- Advertisement ---
REVEALED: How India's Best Investors Are Planning For 2021 and Beyond...

Are you an active investor looking to grow and protect your wealth in 2021 and beyond?

Then you must Register for The Equitymaster Conference Right Now.

Because for the first time ever, this conference is going fully virtual.

That means you can listen to the biggest investment minds of this generation - right from the safety and comfort of your home.

So don't wait...

Grab Your Conference Ticket Right Now
------------------------------
Now here's the fun part.
It's not just the PSU bank index which is forming a bullish divergence with RSI. Several PSU banking stocks are also forming similar pattern on the weekly chart like they did back in 2016. I'm sharing some of them here.
Now you can see from the charts how PSU Banks fared after forming the bullish divergences in 2016. All these stocks generated phenomenal returns.
They did well for my subscribers back in 2016.
Here's a piece I wrote on My Contrarian Trades in the PSU Banking Space back in July 2016.
Now just because something has worked in the past doesn't guarantee that it will work in the present as well. However, it does increase the probability of the investment going in your favour.
Nevertheless, you should be disciplined and manage your risk well so that you doesn't lose much even if the investment doesn't work as expected.
Warm regards,

Apurva Sheth
Senior Research Analyst, Fast Profits Report
Equitymaster Agora Research Private Limited (Research Analyst)
PS: To get the details of the top 3 stocks in the market today... please click here...
Recent Articles