Why the Kotak Bank - IndusInd Bank Merger Should Interest You
Oct 28, 2020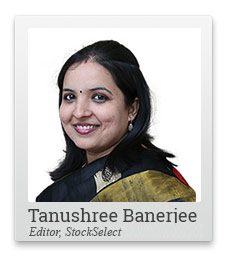 Five of them would travel together in a car and get off somewhere near the Bombay Municipal Corporation headquarters.

They would then walk down to the Times Bank office at the Times of India building, opposite Victoria Terminus on D. N. Road.

After getting off the car, they would walk down separately, pretending not to know each other.

No one would be dressed like a banker, in striped shirts and grey suits.

Even the driver didn't know where they were heading.
Doesn't this read like detectives on the prowl? It certainly does.
But actually, is a narration, of one of the most successful and earliest mergers of new private sector banks in India.
Few such mergers have gone to create the biggest wealth creation records, in India, over decades. Hence their stories are narrated with such intrigue in books and memoirs.
--- Advertisement ---
New FREE Guide on Big Opportunity in Defence


Tanushree Banerjee, the co-head of research, recently released er latest guide:

The Explosive Rs.4 Lakh Crore Opportunity: How to Tap into India's Surging Defence Sector for Potentially Huge Profits

And she has agreed to make it available for free for a limited time.

If you've not claimed your free copy, then do so now. It might not remain free for long. One more thing...

Tanushree has also discovered one stock from defence sector... which she believes has the potential to multiply invested money 10-times in the long run.

She will reveal more details about this stock at her upcoming online special event.

Click Here to Download the Guide & Block Your Seat Now. It's Free.
------------------------------
I am referring to HDFC Bank's merger with Times Bank back in the year 2000.
Since then, there have been only a handful of meaningful mergers and acquisitions among private sector banks in India.
But most of the times the results have been quite stunning!
In most cases the acquiring bank has exploited the merger to its advantage to the fullest.
So, without doubt there is merit in investors anticipating confirmation on the Kotak Bank - IndusInd Bank merger talks.
Now, why should this interest you, dear reader?
Well it's because financial entities with a good track record of product innovation and capital allocation tend to derive big advantage from mergers.
In fact, if I look at history, 106%, 71%, and 114% are the kind of returns banks have generated immediately after a virtuous merger.
New: 5 Pandemic-Proof Smallcaps You Should Know About...
And Kotak Bank is no stranger to such mergers and joint ventures.
If you recollect, Kotak Bank itself got into lending business, specifically vehicle loans in India, in 1989 when there were very few cars on the roads.
At that time Citibank was the only bank disbursing car loans. The lending rate was 27-28%. There was no way Kotak Bank could compete against the might of Citibank.
But in the 1980s, cars were in short supply in India.
So, Kotak Bank started booking cars in advance. It usually took 6-8 months for cars to be delivered.
If a customer wanted to buy a car, Kotak Bank could offer the car along with the loan!
The bank didn't charge the customer a premium on the car. But the customer had to take a loan from Kotak Bank.
Such a virtuous playbook of entering into joint ventures made Kotak Bank one of the leading banks over the past two decades.
Its acquisition of ING Vysya Bank in 2014 added huge value to shareholders over the years.
I decluttered the math behind the proposed merger with IndusInd Bank in my video.
But which of the two banking stocks, Kotak Bank or IndusInd Bank should you act on to take advantage of this proposed merger?
I will share the details in the upcoming issue of StockSelect.
Warm regards,

Tanushree Banerjee
Editor, StockSelect
Equitymaster Agora Research Private Limited (Research Analyst)
PS: Get access to my top 3 stock recommendations here...
Recent Articles