Follow the HDFC Bank Template for Investing in Smallcap Stocks
Oct 29, 2020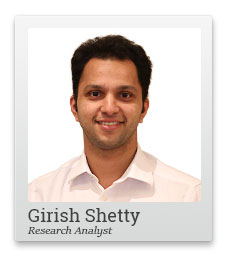 Retirement is never easy.
Most people don't get it right. People who have been successful in their field, tend to cling on to their position for too long. They are then forced to retire when things turn bad.
All their good work is undone, and their legacy is remembered for the wrong things.
On the other hand, some people retire too early. They have the potential but are unable to fulfill it.
But there's one man I could say has timed his retirement perfectly: Mr. Aditya Puri.
He is the outgoing MD and CEO of HDFC Bank, one of the most successful private banks in India.
If there is one sector where leadership is as important as any other factor, it is banking.
It's a sector where every mistake is magnified. Whom to lend, when to lend, how much to lend, are dependent on the top management strategy.
Lend recklessly and sooner or later, you will land in trouble. We've seen that with Yes bank and others.
--- Advertisement ---
India Rushes to Prepare for a 2-Front War

A 2-front war is here.

China and Pakistan seem to be acting in sync... when it comes to attacking India.

Both countries have increased their military activity in the border region like never before.

And that's exactly what India is rushing to prepare for.

In fact, the Indian government has already allocated Rs 90,048 crores for 2020-21 itself.

Plus, an additional Rs 4 lakh crore would be spent over next 5-7 years.

This money will secure our borders.  And...it will potentially trigger a mega growth opportunity for a select few Indian defence companies.

With this flood of money flowing their way... their stock prices could potentially shoot up to record highs in the coming years.

You can learn everything about this massive opportunity on November 30 at our Explosive Profits Summit.

At this summit, you will also get the details of what we believe is India #1 defence stock.

It's a potential 10x opportunity in the long term.

Click here to sign-up instantly here. It's free.
------------------------------
Here's where HDFC Bank stood out. It never aimed for reckless growth. It did only two things right. Consistency and survival.
It aimed for consistency in growth across cycles but never aimed to be the fastest all the time.
There would've been one or the other banks doing better in any given cycle, but no bank could maintain consistency across cycles.
Second was survival. HDFC Bank knew that if it manages to survive 25 years, it would do well.
Their focus was to stay out of trouble year after year. It did that exceptionally well.
While one or the other banks got into trouble every cycle, HDFC Bank gained market share from them.
Looks like a simple template, doesn't it?
Mind you, it wasn't easy doing this consistently for more than 25 years. The reward for this consistency has been huge.
HDFC Bank has been a 1,540 bagger over the last 25 years since listing.
New: 5 Pandemic-Proof Smallcaps You Should Know About...
This also happens to be the simple template to pick stocks for smallcap investors.
This is what I try to follow when recommended stocks to Hidden Treasure subscribers.
I look at consistent performers that I know have a good chance of surviving for decades to come.
What are the indicators to look for in such companies?
You can spot consistency from the track record.
Has the company consistently generated above average returns (ROE, ROCE) on the money that it has invested? Has it been able to grow consistently and steadily over the years?
Then comes the survival test.
Has the company seen multiple cycles and come out stronger? Does the company sell a product that we know will be in demand for decades to come? Is the management ethical enough to not get into trouble in the future?
--- Advertisement ---
REVEALED: How India's Best Investors Are Planning For 2021 and Beyond...

Are you an active investor looking to grow and protect your wealth in 2021 and beyond?

Then you must Register for The Equitymaster Conference Right Now.

Because for the first time ever, this conference is going fully virtual.

That means you can listen to the biggest investment minds of this generation - right from the safety and comfort of your home.

So don't wait...

Grab Your Conference Ticket Right Now
------------------------------
If you follow these basic templates, you are likely to do better than most investors. Especially in a post-Covid-19 world, the survivors are likely to get stronger and stronger.
I have tried to give you such a template on what to buy, sell, and hold in my video...
I'm not saying every smallcap you pick will be the next HDFC Bank.
Such stocks are very rare. Besides, you don't even need a 1,540 bagger like HDFC Bank to outperform the markets.
You need just one or two 100 baggers in your portfolio for a lifetime of wealth creation.
And there are many such potential 100 baggers in the smallcap space.
Follow the HDFC Bank template and you are likely to find them.
Warm regards,



Girish Shetty
Research Analyst, Hidden Treasure
Equitymaster Agora Research Private Limited (Research Analyst)
PS: Get Richa Agarwal's top 5 smallcap stock recommendations here...
Recent Articles