How Smart Traders Could Have Made 1.25 Lakh in Just 22 Days
Oct 30, 2020
What's the best compliment a businessman can get?
Being praised from a respected competitor.
Uday Kotak was fortunate enough to get a compliment from the outgoing managing director of HDFC Bank Aditya Puri.
In a TV interview, Puri was asked whether RBI should have a 15-year limit on tenure of promoter CEO's?
Here's what Puri said, 'There are always two sides to a coin. If you take Uday Kotak and HDFC Bank. One is a promoter driven bank and one is professional bank. But we are the two guys with the best corporate governance.' [emphasis mine]
Kotak Mahindra Bank is about one-fourth the size of HDFC Bank in terms of balance sheet size. But it generally commands a higher price to book multiple around 4 over HDFC Bank's 3.5. The simple reason behind it is its corporate governance.
--- Advertisement ---
[Alert] Sell These 3 Stocks Immediately

These 3 stocks are ticking time bombs in your portfolio.

It is very likely that you could be owning these 3 overvalued... fundamentally weak... ready to crash stocks... in your portfolio today.

Because many stock brokers have painted rosy pictures of these stocks.

But the reality is starkly different.

If the market crashes, then these stocks could wipe out your wealth.

You should get rid of these stocks as soon as possible.

We are going to reveal details of these 3 landmines at our upcoming special event.

You can click here to sign-up in 1-click. It's free.
------------------------------
Kotak Bank is a lot like HDFC Bank in many ways apart from corporate governance. No wonder many investors believe it to be the next HDFC bank.
However, traders were concerned about the stock's performance a few days ago. Kotak Bank was underperforming most banks and even PSU's like SBI.
Check out the performance of Bank Nifty stocks for the first 15 days of this month.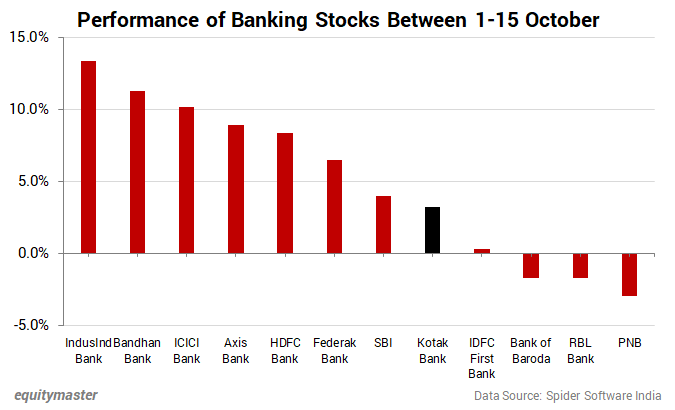 When all the private sector banks were moving higher, Kotak Bank lagged with gains of only 3.3%.
Normally it would move in tandem with its larger peer HDFC Bank. But HDFC Bank was performing much better than Kotak Bank.
India's Revival: A Once-in-a-Generation Wealth Making Opportunity
I knew there was an opportunity for traders. I immediately headed to my charts to get a deeper understanding. Here's what I saw...
HDFC Bank and Kotak Bank Move in Tandem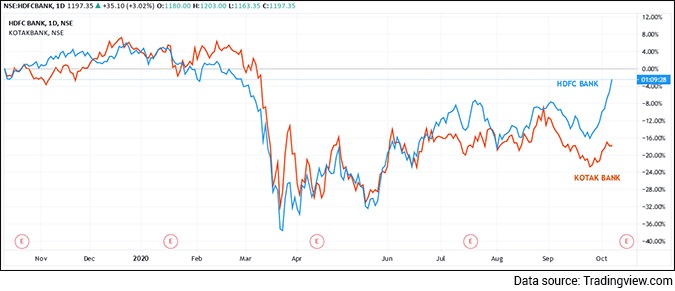 Kotak Bank and HDFC Bank almost always moved in tandem witch each other over the last one year.
There were a few times when one would outperform the other but eventually, they would catch up.
Kotak Bank to HDFC Bank Ratio Chart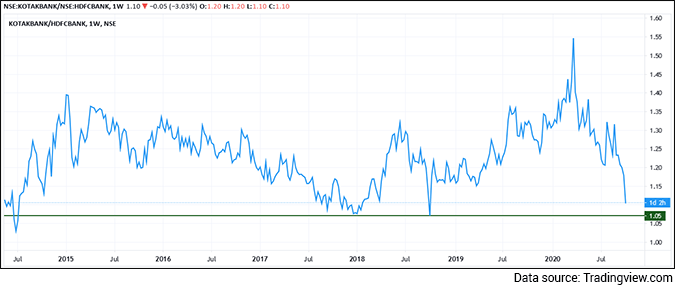 The ratio chart of Kotak Bank to HDFC Bank was trading at a weekly support level of 1.05 on 8 October.
A ratio of 1.05 means that the stock price of Kotak was trading only 5% higher than HDFC Bank's stock price. The absolute difference between their stock price rarely dropped to this low level.
In plain speak, the stock price of Kotak Bank was trading relatively cheap compared to HDFC Bank. This was a time to go long on Kotak Bank.
--- Advertisement ---
[Watch Now] 3 Little-known Stocks We are Super Bullish On




Click Here to Watch Now
------------------------------
Smart traders always think of risk before rewards. When you go long on a stock you stand the risk of losing if it moves against you. Hence, traders contain their risk by hedging their positions.
The best way to hedge in this case was to go short on HDFC Bank. It has a lot size of 550 shares in the futures segment. Its closing price on 8 October was 1,187. Thus the contract value would be about Rs 6.5 lakh.
A smart trader could have bought equal value of Kotak Bank's shares in cash and/or futures. At a closing price of Rs 1,320 on 8 October, that would mean 500 shares. Now the lot size of Kotak Bank is 400. So, a trader would have to buy 100 shares in cash as well.
This is known as pair trading. Here you buy a stock and sell another stock ideally from the same sector whenever their price difference has moved to an extreme.
You can see a detailed video on pair trading here.
What would have been the returns of this trade till F&O expiry yesterday?
Kotak Bank ended the expiry around levels of 1,570 and HDFC Bank remained flat at 1,188. So the profit on investment in Kotak Bank would be Rs 250 per share. Since the total quantity bought was 500 shares.
Thus, the total profit is around Rs 125,000.
Rs 1.25 lakh on an investment of Rs 4.25 lakh.
That's a return on investment of about 30% in just 22 days. Wow!
Warm regards,

Apurva Sheth
Senior Research Analyst, Fast Profits Report
Equitymaster Agora Research Private Limited (Research Analyst)
PS: Get the details of the most explosive stocks in the market today...please click here.
Recent Articles