This Chart Made Peter Lynch a Legend and is Now Helping Me Find Undervalued Gems
Oct 31, 2019
Every single dollar entrusted with Peter Lynch at the start of his fund management career turned into 28 dollars by the time he hung up his boots.
That's an impressive record. 29.2% compounded annually over 13 years.
Little wonder, Lynch is a legend in investing circles. I highly recommend his excellent book - One Up on Wall Street - to gain some real insights into stock picking.
One of my favorites lies smack in the middle of the book.
It goes something like this.
A quick way to tell if a stock is overpriced is to compare the price line to the earnings line. If you bought familiar growth companies - such as Shoney's, The Limited, or Marriott - when the stock price fell well below the earnings line, and sold them when the stock price rose dramatically above it, the chances are you'd do pretty well.
Well, what Lynch is trying to say is the following...
Investors are willing to pay a certain multiple to the earnings of a company. However, their willingness to pay this multiple isn't always based on logic or common sense.
A lot of the times, emotions take over.
Due of these emotions, the earnings multiple can either end up significantly lower or higher than the long-term average.
However, this window remains open only for a limited period. Soon enough, the market comes back to its senses and the stock moves back to its long-term average.
Lynch is of the view that a smart investor can take advantage of this. You can buy when the multiple moves significantly lower than the average and sell when it goes back up to its long-term average or higher.
Let me try and explain with the help of an example.
Wait for the Blue Line to Go Below the Red Line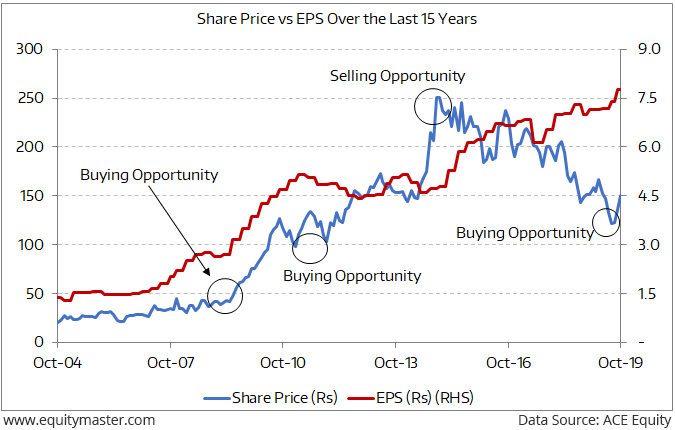 This is the share price of a company plotted against its trailing twelve-month EPS over the last 15 years.
Notice how whenever the price line (blue) moved significantly lower than the EPS line (red), the stock price went up sharply over the next few years.
Likewise, the reverse is also true.
Whenever the price line moved significantly higher than the earnings line, it was a great selling opportunity.
Investors exiting at these levels would have made the right decision. The stock price usually went lower over the next few months.
So where are we now?
--- Advertisement ---
[Alert] Sell These 3 Stocks Immediately

These 3 stocks are ticking time bombs in your portfolio.

It is very likely that you could be owning these 3 overvalued... fundamentally weak... ready to crash stocks... in your portfolio today.

Because many stock brokers have painted rosy pictures of these stocks.

But the reality is starkly different.

If the market crashes, then these stocks could wipe out your wealth.

You should get rid of these stocks as soon as possible.

We are going to reveal details of these 3 landmines at our upcoming special event.

You can click here to sign-up in 1-click. It's free.
------------------------------
Well, as things stand now, the stock price line has moved significantly lower than the earnings line. In fact, the gap hasn't been this big over the last 15 years!
So, a little over a month back, I did what Peter Lynch recommends we do in such situations.
I recommended a BUY on the stock. I believe the fundamentals of the stock are intact and it should move back up, closer to the earnings line.
It has turned out to be a good decision also far.
The stock is up more than 15% since then and looks set to go much higher.
What gives me confidence is the pedigree of the company. It is one of the most well-known brands in its industry and commands huge respect. Its financials are equally enviable.
It has in the last 10 years, generated free cash flow (after fulfilling its capex needs) to the tune of Rs 39 billion and has paid out almost 80% of it in the form of dividends.
Yes, that's right. This company has paid out Rs 8 out of every Rs 10 of free cash flow it has generated over the years. All of this while remaining a zero-debt company for the entire period.
To be honest, stocks like these more the norm than the exception in my Double Income service.
I hunt for solid cash generating stocks that are down due to temporary concerns and where the stock price line has moved significantly lower than the earnings line.
Eventually, the market comes to its senses and the gap between the earnings line and stock price line narrows. Thus my subscribers should be able to exit at a good profit.
I believe this is a great low risk way to earn market beating returns in the long run.
It's a strategy which can potentially increase your monthly income, even double it, in the long run.
It is the difference between having to wait for more than 25-26 years to create another income stream for yourself versus achieving the same goal in 8-9 years flat.
You can read more about my Double Income strategy here.
Warm regards,



Rahul Shah
Editor and Research Analyst, Profit Hunter
PS: Dear reader, I have an exciting money-making proposal for you today! No matter how much you earn per month, I will show you how to make much more in a reasonable period of time. Read more about my strategy here.
Recent Articles