India's Third Giant Leap
This Leap Could Potentially Generate Gains
Far Bigger than Anything We Have Seen in Our Lifetimes
Lights, Camera, Action: Multiplex Stocks Are Back
Nov 11, 2021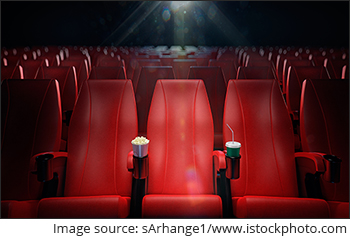 'Change is the only constant'.
Mankind has been taught this truth in order to achieve success and adapt well to life.
So, what leads to change? Why do products and technologies become redundant?
Change happens due to new products which offer...
a) Higher utility or comfort at equal or lower cost.
b) Time savings at equal or lower cost.
Both these reasons are drivers of change. The main input which enables this change is technology.
Examples from our Daily Lives
Take a simple example of OLA/Uber. The main reason why they are thriving is technology.
An idea was transformed in to a product. They used mobile phones and internet (i.e. technology) as the primary input. Luxury and convenience was the outcome of the adoption of the product.
This led to sharp decline in business of traditional cabs. The change was technology which led to an outcome like higher comfort or savings in time and cost.
Airbnb too uses technology to offer homes at lower prices than hotels.
It connects the tourist with the home owner. It matches the price expectations of both parties. This leads to savings for the tourist and an income for the home owner.
The outcome here is cost savings and a greater number of options.
--- Advertisement ---
India's Third Giant Leap

India is precisely at the same point in its growth journey that propelled nations like USA, Japan, China and South Korea to the pinnacle of economic success.

Our research suggests that India's third giant leap could potentially generate gains far bigger than anything we have seen in our lifetimes.

Our co-head of research, Rahul Shah, has already identified the first 3 stocks to ride this giant leap for you.

He is going to share his entire research... including details of these 3 stocks at his upcoming event.

See Full Details
------------------------------
What About EVs?
A lot has been written about electric vehicles. Again, it stems from the fact that change is constant.
Let's think of EVs in terms of cost.
Would you buy an electric car for 2x the price of a petrol car with similar features and space?
The reason why people are switching to two wheelers faster than passenger cars is due to cost.
The breakeven time for the EV is much faster even after accounting for the cost of replacing the battery after 4 years.
In a nutshell...
Success of cab aggregators like OLA/Uber was due to higher comfort and convenience at similar or marginally higher costs.
The reason Airbnb is a hit is because it offers more options as well as cost savings. It's the best possible combination.
However, the slow adoption of EVs, apart from the infrastructure bottlenecks, is mainly due to higher costs.
Investors need to figure out if a particular technology is going to make the products, of the companies we are invested in, redundant.
During a press conference to announce Microsoft's acquisition of Nokia, CEO Stephon Elop of Nokia ended his speech saying, 'We didn't do anything wrong, but somehow we lost'.
That is the power of redundancy.
Nokia was replaced by the smart touch screen phones. They didn't adapt, they didn't change fast enough and got wiped out.
Imagine if you would have been a shareholder of Nokia and couldn't see the change coming just like the management? You would have lost all your money.
Why Multiplexes Are Back
During the past 18 months, since covid wreaked havoc in our lives, many analysts have written obituaries of multiplexes and cinema halls.
Existence of multiplexes like Inox and PVR were questioned going forward. They were expected to be redundant due to OTT players (Netflix, Hotstar, Prime, Zee 5, Sony Liv, etc).
Or just like Airbnb pulled away some business from hotels, the OTT players would shrink the revenue of the multiplex industry.
However these narratives had a major flaw in them.
This is a tweet by Book My Show...
'Sooryavanshi hits a peak of 17 tickets sold per second on Nov 5th... More than 700,000 tickets sold in less than 24 hours, making it the highest ever peak for a Hindi movie on Book My Show'.
In fact, living in Metros, our focus has been more towards Hindi and English cinemas. However to gauge the loyalty towards cinema and multiplexes, the barometer is regional cinema, especially south Indian cinema.
Fan following in the true sense can be measured in South Indian cinema. So here are the statistics for super star Rajnikanth starrer Annaatthe as per Book My Show.
'Annaatthe crosses 1 million tickets sold on Book My Show as of 5 Nov, becoming the first movie to hit the million mark after the second Unlock in 2021'.
In terms of global box office collection, Annaatthe has crossed Rs 1.5 bn while Sooryavanshi has crossed Rs 0.75 bn during its first weekend.
And mind you, this is with a 50% occupancy in majority of states. As the covid situation continues to improve, the occupancy cap is likely to be removed.
Now I come back to why I think the narratives of the industry becoming extinct were false.
The key input for cab aggregators, Airbnb, and EVs is 'technology' with the outcomes being convenience, luxury, higher utility, lower cost, etc.
In case of multiplexes, let us look at whether these 'outcomes' change?
Can OTTs Replace the Cinema Experience?
Where is the luxury?
Can the feel of 65*30 ft Dolby surround sound be ever replaced with a miniscule 5-6 inch mobile screen with headphones or a 35-45 inch television at home? How many of middle class Indians have a home theatre?
The convenience?
A lot of people believe the utility in watching a movie at their own timing is a benefit provided by the OTT apps. However the whole point of going out to a theatre is to have an 'outing'.
Utility is important in cases which are not for recreation. For a middle class Indian family, watching a movie is a recreational activity.
The Cost Factor
When was the last time you skipped going to a movie because you could not afford it?
Affordability is important in big ticket items. In order to watch a movie, you will have to subscribe to multiple OTT platforms which in my opinion is highly unlikely to save cost in a meaningful manner.
As mentioned earlier, the most important factor for change is cost savings or having a better experience at a similar cost.
The frequency of watching a movie is at best once or twice a month. In this case cost is not a big factor as against recurring activities like cabs v/s OLA/Uber or buying an electric vehicle.
What About the Future?
In the jungle when the lion and the tiger make peace and coexist, neither will go hungry.
Prior to covid, theatres and OTTs coexisted.
In spite of the rising clout of OTT led by many soft factors such as increase in data and smart phone penetration, the gross box office collection of theatres was steadily rising.
In fact, box office collection for the first time ever crossed Rs 100 bn before covid. To add to it, the number of movies entering the Rs 1 bn revenue club reached its highest level in December 2019.
Can OTT players afford to buy movie content as an ongoing practice?
In a normal scenario, film producers have two options. They can release the movie in theatres and let the popularity of the movie determine the box office earnings.
Or they can sell it to deep pocketed OTT players at a predetermined price. In this case, the upside is fixed and not many big ticket movie producers will give up that upside.
OTT players in the initial days of covid purchased movies with the intent of increasing their customer base. They treated these movie purchases as a customer acquisition cost.
It normally takes Rs 1 bn to purchase a good movie. In that budget, OTT players can produce at least 10 shows. Also, the ARPU (average revenue per user) can't be raised beyond a point. If prices go up too much, customer acquisition slows down.
Besides, OTT players can buy the theatrical rights post 6-8 weeks at a fraction of cost. If you go by the past year, big ticket movie producers have refrained from releasing their movies on OTT apps.
From a return perspective too, OTT players, on a sustainable basis, are better of focusing on small ticket shows which will fetch them higher return on investment.
In my view, in terms of operational performance, the best is yet to come for multiplexes. The inventory of movies lined up is massive. The overpriced popcorns which they sell, still have a margin of 75%.
Higher occupancy will lead to higher margins and profits...and a further re-rating of multiplex stocks.
Warm regards,



Aditya Vora
Financial Writer
Recent Articles