History Repeats: 'Buy at Any Price' Bulls Get Crushed
Nov 2, 2021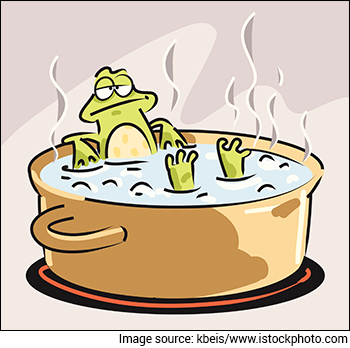 Over the past 6 months, inflation has taken hold in our lives.
It reminds me of a story the frog and the boiling water.
Put a frog in a vessel of water and start heating the water. As the temperature of water rises, the frog adjusts its body temperature accordingly. At that point, the frog is comfortable or may be even enjoying it.
The frog doesn't realise that at a certain point, his body will not be able to keep pace with the temperature of the water. However, up to that point, the frog is comfortable.
When the water is about to reach boiling point, the frog can't adjust anymore and dies.
Inflation does something similar to companies.
The stock market has been conveniently ignoring inflation. The market accepted the narrative of inflation being 'transitionary'.
--- Advertisement ---
My Top 3 Stock Picks for 2022


Good News for you!

I have zeroed in on my top 3 stocks for 2022.

On May 24th at 5pm, I'm revealing the details only to a selected few readers of Equitymaster at my upcoming MEGA summit.

If you'd be interested, use this link to save your spot asap.
------------------------------
When prices of every commodity ranging from metals, chemicals, rubber, coffee, and most importantly oil, were sky rocketing, the stock market chose to ignore it.
But numbers don't lie...
Rise in Global Commodity Prices
| Commodity | 12 months price change |
| --- | --- |
| Fuel (energy) index | 108% |
| Metal index | 38% |
| Natural gas | 166% |
| Coffee (Robusta) | 44% |
| Cotton | 47% |
| Aluminium | 63% |
| Urea | 68% |
| Steel | 38% |
| Copper | 47% |
Data Source: Investing.com

Just like the frog who kept on adjusting his body temperature with the temperature of the boiling water, the stock markets too were ignoring inflation.
Now it has become difficult for the frog (companies) to raise its temperature (product prices) to the temperature of the water (inflation).
The result?
Margins are under pressure. Companies have chosen to protect demand and their market shares at the expense of margins.
EV Stocks: Which is Tanushree's Top Pick?
Here's what some managements have said...
HUL
'We haven't seen this kind of inflation in many years and continue to see inflationary trends to continue going forward'.
Jubilant Foodworks
'While the company under takes a 3% price hike every year, this year it is expected to undertake a 5% price hike to tide over inflationary pressures'.
Havells India
'There is unprecedented inflation'.
These are just few of the companies which have reported numbers. While demand has been strong, consumer companies are facing pressure on margins.
Costs of raw materials, logistics, and power are all going up. Cost of logistics, which eats up 5-7% of revenues, has increased due to crude oil touching US$85 a barrel, and diesel prices staying above Rs 100.
Yet the stock market thinks inflation is transitionary!
I'm sure you must have seen the stock prices of Jubilant Foods, Asian Paints, HUL when they declared results.
These stocks have been hammered for missing earnings estimates.
--- Advertisement ---
(LAST CHANCE) A Massive Boom Is Coming to The Crypto Market

Are you ready?

According to Economic Times, the $2.5 Trillion crypto market is booming right now...

And could grow 100 times by 2030.

Which means this is a great time to get into cryptos and own a stake in the future of money...

FINAL CALL: Here's What We Recommend You Do Next
------------------------------
You see the market had priced everything to perfection. There was no room for error. No margin of safety.
After all, the assumption was that 'inflation is transitionary' and strong demand would allow companies to easily pass on higher raw material prices.
Unfortunately, that hasn't happened.
So what should investors do now?
The golden rule to hedge against inflation is to buy gold. However, from the point of view of the stock market, focus on...
Companies which have pricing power - These companies can pass on higher prices and their customers are less sensitive to price changes.
Companies which benefit directly from inflation - Basically, play the commodity cycle. However, this approach is fraught with risks. Predicting commodity prices is very difficult and involves taking trading bets.
Whichever choice you make, dear reader, be very careful out there. Don't make any big bets with your money in this market.
This is a time to be prudent with your capital and not adventurous.
Warm regards,



Aditya Vora
Research Analyst, Hidden Treasure
Recent Articles