How to Prepare Your Stocks for US Election Results
Nov 4, 2020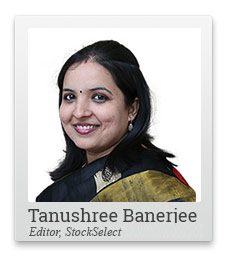 It was May 2016.
We were just months away from the US elections in November.
We concluded an internal discussion within the research team at Equitymaster. We discussed sectors, earning trends, management takeaways and macro challenges.
What stood out in our discussion was the direction of the overall profitability of Indian companies.
The numbers in front of us showed that profits of companies in India were well below their historical average. And that even a reversal to the mean could be rewarding.
What did that mean? Well, it meant that even a simple arithmetical average formula could bring in corporate profits that were 60% higher.
In other words, the Sensex could move from 25,000 then to almost 40,000 in few years.
This revelation had a huge impact on the way we picked stocks.
--- Advertisement ---
The Smallcap Revival Summit

Join us on the evening of 28th January to learn,

• Why despite rallying over 100% since March-2020 lows... small-cap stocks are set for a massive rally over the coming months and years
• Details of our top 3 stocks to capture potentially huge gains from this upcoming small-cap rally
• And how to spot opportunities, even in the current market, with potential to generate 200%, 400%, and even 900% long-term gains

Plus there is a lot more that we are going to cover.

The summit is free to attend for Equitymaster readers.

But since there are limited seats, we would recommend you to register at the earliest.

Click here to register. It's free.
------------------------------
The US elections in November 2016 had the potential for massive impact on global fund flows. But we knew the kind of stocks that could make the most of such money supply.
Sensex 40,000 became a reality in June 2019.
The US has gone to polls once again.
And like in 2016, the poll results can have a massive impact on India's fund inflows, foreign policies, and stock markets.
At least temporarily.
But eventually it's the earnings of Indian companies that would matter.
Here is something interesting...
The total profit of all profitable Indian companies put together was around Rs 4.3 trillion in 2016. The losses of the loss-making ones totaled 450 bn.
BREAKING: Full Details of the #1 Investment of the Decade...
So, India's net corporate earnings that year was around Rs 3.8 trillion.
In 2020, our total corporate profit is lower than Rs 3.8 trillion.
Not because the profits of profitable companies haven't grown. Rather they have grown by almost 40% since 2016.
But the losses of loss-making companies have grown 6 times or 500%.
That's simply because many more sectors like telecom, realty, power, commodities, hospitality, textile, infrastructure, and public sector banks have added to the pile of losses.
Sensex 40,000 is on the back of significantly higher profits of a handful of Indian companies.
So, the US election results may have a temporary impact on the valuations of such stocks.
--- Advertisement ---
Top 3 Stocks for 2020 and Beyond

We've uncovered 3 high-potential tech stocks after years of research.

These 3 cutting edge tech stocks could potentially create a wave of Indian millionaires.

First one is present in the sector which is expected to GROW over 300 times by 2030.

Second one is one of the leading players in Artificial Intelligence technology.

And the third one is involved in putting up a global safety net to save the world from cyber criminals.

These 3 tech stocks have the potential to offer life-changing gains in the long run.

Click here to get the details...
------------------------------
But eventually, it's the profitability of the larger group of companies in India that could determine the fortune of our stock markets.
And that, dear reader, will depend on how the strongest Rebirth of India megatrends play out...like I explained in my video.
Whether India becomes a hub of global supply chain
Whether Indian vehicles take centerstage in global move towards clean energy
Whether India's fintech reforms create the next global financial centre
Whether India's niche tech companies become the next hub of innovation
Whether India's defence production and space research brings in cutting edge technology and capital
So, by all means take advantage of the market volatility over next few weeks and months to buy stocks that have been on your watchlist.
Book profits in businesses that have been a drain on your capital.
But know that the US election results will have only a limited impact on your stocks.
The Sensex could rise from 40,000 to 80,000 or even 100,000 during this period.
Nevertheless, the stocks that create wealth for you would be the ones that far outstrip the average earnings trend.
So, do not let the US election results change the way you invest.
Rather keep your eyes peeled for the big winners.
Warm regards,

Tanushree Banerjee
Editor, StockSelect
Equitymaster Agora Research Private Limited (Research Analyst)
PS: For details of the best stock to buy for 2021 and beyond... please click here.
Recent Articles