What India's NFT Craze Tells us About the Stock Market
Nov 4, 2021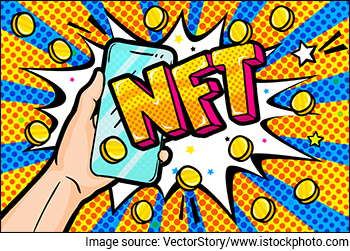 Equitymaster wishes you and your family a very happy Diwali and prosperous New Year.
I start today's edition with something I'm finding difficult to wrap my head around.
And while I wonder, celebrities are busy making moolah out of it.
The NFT mania is taking over. Amitabh Bachchan, Salman Khan, Sunny Leone, and Sunil Gavaskar have joined the fad.
And fans have responded, doling out money in auctions for NFT launches.
But what are NFTs and what is the hype is about?
Click here to see what it looks like.
And if the visual didn't help, here's Wikipedia...
Non-fungible tokens (NFTs) is a unique and non-interchangeable unit of data stored on a digital ledger.

NFTs can be used to represent easily-reproducible items such as photos, videos, audio, and other types of digital files as unique items, and use blockchain technology to establish a verified and public proof of ownership.
India is warming up to the concept of NFTs but 11% of American adults have already bought them!
--- Advertisement ---
Richa Agarwal's Top 3 Stocks for 2022

Mark your calendar for Tuesday, 24th May at 5 pm, as...

India's leading Smallcap guru is revealing the details of her Top 3 Stock Picks for 2022 at her first MEGA summit of 2022.

Richa believes these are the 3 little-known companies every Indian should consider owning.

So make sure to book your spot for the MEGA summit with this link right away...
------------------------------
By the way, here's another interesting stat...
Around 85% of Americans have gambled at least once in their lives. And 60% have gambled in last year itself.
Could this be related to NFTs?
You see, amid the lockdowns, a lot of money was printed and doled out for free. Gambling instincts took over.
The stock markets and exchanges have replaced casinos.
Anything with the word 'digital' or 'blockchain' associated with it, is taking off. Be it cryptos, NFTs, or loss making internet businesses.
Paytm, Zomato, Policybazaar, Ola, Pharmeasy, Delhivery, Byju's are all making hay while sun shines.
Yet to see a single rupee in profits, they are likely to displace some Sensex companies that have viable business models and have been in existence for decades.
With clear disclaimers that they may not generate profits for a long time, their IPOs are getting bumper listings. Their early stage PE investors are getting bumper exits.
It looks like everyone is making money.
Recklessness is being rewarded. Any conversation around profits and valuations is being frowned upon.
I wouldn't be surprised if this frenzy has rubbed on to you.
EXPOSED: The Shocking Truth Behind Today's Hottest Investment Opportunity
You see, I have been getting some queries and comments from subscribers on why we haven't made recommendations around these themes. I would love to share with you my response...
While I understand the excitement around these businesses, it's highly unlikely that our existing recommendation services will include these names.
And it's not just because most of these businesses launching IPOs are deep into the red. That's a lazy statement. Afterall, losses didn't stop Amazon from being one of the most valued companies.
The path to future profits is highly unclear. Even at operating level, these businesses are struggling, with external money as their oxygen.
Zomato's CEO was recently quoted that with just six months of cash in bank, the IPO was a desperate contingency plan.
But access to fund would take the story only so far.
Most of these so called disruptors are facing the heat of brutal competition themselves. Given the nature of digital businesses, the winner, if at all, is going to be the one company that eliminates all competition. Not just existing competitors but the potential ones too.
For instance, Zomato's competition is not just from Swiggy but Amazon as well. With the economy opening up, it will compete with unorganised segment in food deliveries too.
--- Advertisement ---
A Massive Boom Is Coming to The Crypto Market

Are you ready?

According to Economic Times, the $2.5 Trillion crypto market is booming right now...

And could grow 100 times by 2030.

Which means this is a great time to get into cryptos and own a stake in the future of money...

Here's What We Recommend You Do Next
------------------------------
It's too early to point to a winner across any of these industries.
And then there are potential regulatory risks as well.
This is not just limited to China where the big government is cracking down on its tech giants causing more than half of their market value getting wiped off in a few days.
The regulatory scenario is still evolving in India and could have serious consequences for these businesses in the future.
For instance, the food delivery companies in the US are facing caps on delivery fees. Something similar could not be ruled out for such business in India.
I would like to make it clear that I'm not writing off these businesses as investments.
I'm glad to see all these businesses getting listed. I do think there will be some companies of this lot that will sustain.
But I also believe there will be a better time and valuations to invest in them.
With just three years of financials shared in the IPO, of which two are marked by pandemic, I believe it's prudent to wait.
The valuations of these IPOs are offering us a negative margin of safety.
A case in point is Paytm. At the offer price, it's valued at around 50 times price to sales.
This is at an exorbitant premium to its global peer PayPal. The latter trades at 11 times sales. And PayPal makes profits.
If you are afraid of missing the bus, do know that Doordash, the US based peer of Zomato that got listed in December 2020, is down 29% from its listing price. As I write this, it's still underperforming the US benchmark index.
This is a market where prices are driving narratives and narrative are fueling valuations.
With rising prices, stories are being fabricated to justify stratospheric valuations of stocks. These stories in turn are feeding the momentum further.
Stocks (or any random asset under the sun) are literally being peddled. So be very careful of your news sources. Don't act on borrowed conviction. Do your own due diligence.
You may feel like you are losing opportunities in the near term. Crazy things can last for a long time in the stock market...but not forever.
Timing the exit is an art no one has perfected yet. This frenzy may continue for more months. But when it ends, it will be retail investors stuck with the empty parcel.
So let fundamentals, margin of safety in valuations, smart allocation, and a time-tested investing process, be your anchors in these crazy markets.
Warm regards,



Richa Agarwal
Editor and Research Analyst, Hidden Treasure
Recent Articles