SBI: Will It Get Bigger and Better?
Nov 9, 2018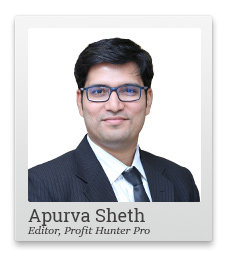 State Bank of India (SBI) - the nation's largest bank in terms of assets - announced its quarterly results earlier in the week.
The bank posted a net profit of Rs 9.45 billion, which was lower than the Rs 15.82 billion reported a year ago. Nevertheless, the profits were still better than analyst expectations.
The Gross and Net Non-Performing Assets (NPA) stood at 9.95% and 4.84% respectively. Both the figures eased a bit from the June quarter's level of 10.69% and 5.29% respectively.
The gross NPA was still marginally higher than the September 2017 quarter level of 9.83%.
Quarterly Net Profit of SBI
Quarterly Gross and Net NPA of SBI
The quarterly numbers have shown a marginal improvement, especially the net profit figures, which would have remained in the red for fourth straight quarter if not for a one-time gain of Rs 10.87 billion from the sale of investments in its general insurance and merchant banking businesses.
--- Advertisement ---


Take Advantage of this Lull Before the Storm of Profits

You've probably heard the saying that every storm is preceded by a period of lull where things are calm and there's not much noise or activity.

The same can be said of the stock market as well.

And the best way to take advantage of that lull is to buy up solid companies selling for cheap, so that one could potentially make substantial profits from them later.

Our Hidden Treasure service has now got over 20 stocks you could consider buying during this lull period.

Something like this hardly ever happens, so don't let this opportunity go.

Click here to join Hidden Treasure at 50% off now!
------------------------------
Keeping that aside, there wasn't anything major which stood out in the quarterly results except one thing - the management commentary.
SBI chief Rajnish Kumar is making headlines in the newspapers with his quotes on the bank.
'We have complete control over the demon of NPA'
'Though the profit is modest, there is no looking back'
'From here on, this number will only be bigger and better'
Kumar reiterated his belief that a pick-up in resolution of stressed accounts will help improve profitability for corporate lenders.
Now whether this happens or not we will have to wait and watch. But the confidence with which he spoke with the analysts and media reminded me of the famous lines by ex-SBI chief Arundhati Bhattacharya.
Here's what she had said in an interview to a business daily on 6th July 2017...
'But from FY19, we will be much better. So therefore, I urge you all to buy our shares now. You won't get it at such a price later.'
A company official later clarified that the statement made in the interview wasn't quoted in the right perspective and it wasn't intended as a recommendation to buy the stock of SBI.
Now, I would never recommend that anyone should buy a stock based only on what management says. But I know many people who buy shares simply because the management makes positive commentary about the future of the company.
What would have happened if one had entered the stock after 6th July 2017 considering the positive outlook?
SBI Daily Price Chart Since July 2017
The price action clearly indicates that the stock hasn't gone anywhere for more than a year. It has traded in a broad range of 240-340. Most of the action is in the lower end of this trading range.
To be precise, the stock has traded below 281 (closing price on 6th July 2017) for 186 trading sessions out of a total of 331 since 6th July 2017. This means the stock has traded below 281 for 56% of the total trading days.
I am sure if you were a buyer of SBI in July 2017, you wouldn't be happy today.
James Montier, who was the co-head of Global Strategy at Societe Generale, has written a couple of books on behavioural finance.
I came across one of his books - Behavioural Investing: A Practitioners Guide to Applying Behavioral Finance - while I was preparing for my Chartered Market Technician (CMT) exams.
In this book, Montier shares seven sins of fund management. One of them is meeting companies. He believes one must overcome five psychological hurdles if meeting companies were to add value to an investment process.
First, more information isn't better information. So why join the futile search for an information edge that probably doesn't exist?
Second, corporate managers also suffer from cognitive illusions like the rest of us. Their views are likely to be highly biased.
Third, we all suffer from confirmatory bias and look for information which agrees with us. So rather than asking hard questions which test our views, we tend to ask leading questions that tend to generate answers we want to hear.
Fourth, we have an innate tendency to obey figures of authority. Analysts and fund managers normally find themselves overawed in front of managers who have reached the pinnacle of their profession.
Finally, we are simply lousy at telling truth from lies. We think we are great at spotting lies, but data shows otherwise. We generally perform in line with chance.
Now it would be very difficult for anyone to keep these biases under check. If you can do that then you could meet and listen to managements.
--- Advertisement ---


Be Greedy When Everyone Else Is Fearful…

The current market crash is indeed a cause of concern for most investors.

But if you're an opportunist, it could be a blessing in disguise.

Tanushree Banerjee, our Safe-Stocks Expert, has carefully picked 7 Blue chip stocks for her loyal subscribers and they're now available at bargain prices.

But these stocks may not be available at such attractive valuations for long.

So before it's too late, click here to claim our special report on 7 stocks To Profit From This Market Crash.
------------------------------
But if you can't, then I suggest you simply track the price action like I do at Profit Hunter Pro. Because price action never lies.
After all that's all that is important to a trader - Bhav Bhagvan Che.
Now coming back to SBI. What does its price action suggest? Can it get bigger and better from here?
I have told readers of Profit Hunter Pro often why one should never marry a PSU stock. A government generally uses PSU stocks to put their own interests first and do what's necessary to get votes and not build wealth for shareholders in the long run.
The chart above is a live example of this. SBI hasn't gone anywhere over the last 8 years. The stock hit an all-time high of 350 in November 2010. It hasn't crossed the same levels since then.
It has mostly traded in a broad range between 140 to 340. The middle level of this range is placed at 240. The same level has acted as a resistance as well as supports on multiple occasions.
So finally, to answer the question: Will SBI get bigger and better?
If you go by price action I don't think it is in a hurry to do so. At least not until it crosses the level of 340 decisively...
At Profit Hunter Pro, I keep my eyes open on any such developments and update my readers so they can take the maximum advantage from price action in fundamentally strong stocks.
You too can benefit from it...

Apurva Sheth (Research Analyst)
Editor, Profit Hunter Pro
PS: It's Diwali. Everyone is feeling optimistic. And our trading expert Apurva Sheth has two buy recommendations that could make this holiday season even happier. To get them now, sign up here.
Recent Articles