Forget Diwali Stock Tips and Buy the #1 Stock of 2021 Instead
Nov 10, 2020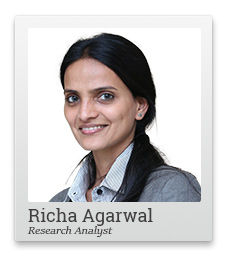 If you could invest in one stock in 2021, which would be it?
I had never thought I would be asking you that question. In fact, I would never ever ask you to invest only in equities, let alone one stock.
But there is still a great value in asking that question, every time you consider parking your hard earned money in any stock.
I started thinking in this way when the economy was forced into the vice of a lockdown, rendering many industries unviable.
Airlines, restaurants, hotels, retail, game parks, travel companies were the key casualties. I don't think anyone, including myself, had ever pictured a scenario when there will be no revenues for months in a row.
--- Advertisement ---
The Smallcap Revival Summit

Join us on the evening of 28th January to learn,

• Why despite rallying over 100% since March-2020 lows... small-cap stocks are set for a massive rally over the coming months and years
• Details of our top 3 stocks to capture potentially huge gains from this upcoming small-cap rally
• And how to spot opportunities, even in the current market, with potential to generate 200%, 400%, and even 900% long-term gains

Plus there is a lot more that we are going to cover.

The summit is free to attend for Equitymaster readers.

But since there are limited seats, we would recommend you to register at the earliest.

Click here to register. It's free.
------------------------------
And yet the costs will have to be borne by these companies. This will dent whatever little reserves an already harsh business scenario had allowed.
Indeed, while the markets have recovered many businesses are still smarting from that shock. Many have gone down and will never see the light of the day.
This calamity nudged us to restrict our recommendations to only niche market leaders with strong liquidity and low or nil debt on their balance sheets. That too in industries which will remain relevant even in the drastic situation of a lockdown.
In other words, businesses that were critical for essential goods or services (food, pharma etc) to survive.
Or businesses that were either the biggest (and in some cases, even sole) suppliers to their bluechip counterparts.
BREAKING: Full Details of the #1 Investment of the Decade...
Now that there is a risk of second wave of infections, and even lockdowns in quite a few global economies, we don't have to lose sleep. We know our recommended companies will not just survive but emerge stronger from any shocks that may come their way.
Here's a simple visualisation exercise I learnt from Warren Buffett, that will help you follow this approach. He calls it the 20-slot rule.
Buffett claims, he could improve your ultimate financial welfare by giving you a ticket with only 20 slots in it so that you had 20 punches, representing all the investments that you got to make in a lifetime. And once you'd punched through the card, you couldn't make any more investments at all.
Why does this work?
I believe it's because it forces you to be highly selective. I make you go deep, rather than wide and shallow, and act only when you have full conviction.
--- Advertisement ---
Top 3 Stocks for 2020 and Beyond

We've uncovered 3 high-potential tech stocks after years of research.

These 3 cutting edge tech stocks could potentially create a wave of Indian millionaires.

First one is present in the sector which is expected to GROW over 300 times by 2030.

Second one is one of the leading players in Artificial Intelligence technology.

And the third one is involved in putting up a global safety net to save the world from cyber criminals.

These 3 tech stocks have the potential to offer life-changing gains in the long run.

Click here to get the details...
------------------------------
Further, it forces you to think long-term.
With just 20 stocks for lifetime, you surely wouldn't be looking for just doublers or triplers. You would consider only the businesses that you could think will stay relevant for at least a decade or more.
You would want it to be backed by a strong management team, not just competent, but with a reputation of treating minority shareholders' well.
I don't have any election specific or Diwali stock recommendations for you.
The only tip that I can share with you, that will help you throughout your life, would be to stop seeing stocks like potential lottery tickets, and ask yourself this question :
If there is only stock you are allowed to invest in 2021, will it make the cut?
If you want to know about my pick for 2021, do join me online this Thursday, 12 November at 5 pm, for my No. 1 Stock for 2021 Mega Summit.
Thousands have already signed up. Registration is free - please click here.
Block your calendar. I'll see you on Thursday.
And to know more about my thoughts on investing in the times of a pandemic, check out my video.
Warm regards,



Richa Agarwal
Editor, Hidden Treasure
Equitymaster Agora Research Private Limited (Research Analyst)
PS: My #1 stock for 2021 is a leading player in a Rs 4 trillion market. Read more about it here.
Recent Articles