The Smallcap Rally will Continue...but Only for these Stocks.
Nov 10, 2021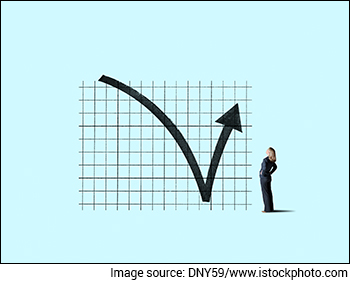 Stock markets are a place of confusion these days.
In the post-covid rally, huge money has been made...but that's only one side of the story.
On one hand, there are brokerages and stock market experts throwing away tips for next multibagger.
On the other, warnings bells are being struck.
Economists are highlighting the divergence between stock market and ground reality.
Words like 'taper' and 'froth' are being generously used in the financial media. There is a fear that we're nearing the peak.
How are you making sense of it, dear reader?
My Thoughts
My concern is more about smallcaps, where the runup has been higher. And the quantum of fall, in case the markets peak, would be significant.
Here's what I think. I'll start from the beginning.
It was in October 2019 that I started talking about rebound opportunity in smallcaps.
From the peak in January 2018, the smallcap index had crashed 50% by then.
--- Advertisement ---
Richa Agarwal's Top 3 Stocks for 2022

Mark your calendar for Tuesday, 24th May at 5 pm, as...

India's leading Smallcap guru is revealing the details of her Top 3 Stock Picks for 2022 at her first MEGA summit of 2022.

Richa believes these are the 3 little-known companies every Indian should consider owning.

So make sure to book your spot for the MEGA summit with this link right away...
------------------------------
It was the cleanup phase. A slew of auditors' resignations, reclassification of mutual funds by marketcap, and a liquidity crisis had cut off money supply for both smallcap companies and smallcap stocks. These were the reasons for the drastic fall in smallcap stocks.
But it also seemed like the bottom had been reached.
The impact of demonetisation and GST were settling down. Globally, interest rates had slipped close to zero or had become negative. India was featuring among the world's fastest growing economies.
You see markets need two factors for a bull run to happen and sustain - strong underlying fundamentals, and money supply.
While a lot of companies in the smallcap space were doing great fundamentally, money supply had been limited.
And then came the inflection point.
Things started to improve for smallcaps.
Corporate tax rates were cut. There was more buying in the smallcap space by FIIs and mutual funds.
Basically, it seemed like the bottom for smallcaps had been reached.
We were right on all these factors, but the timing went wrong. The smallcaps hit their bottom a few months later.
EXPOSED: The Shocking Truth Behind Today's Hottest Investment Opportunity
The covid crash led to the smallcap index touching its lowest point in many years. While we may have been off on the timing part, our approach was solid.
And it yielded results as the markets, especially smallcaps, witnessed a great run in the post Covid rally.
It's great to see our smallcap recommendations showing double digit gains every month.
But now that margin of safety has shrunk, it's also time to fine tune our approach to current times and to see what lies ahead.
So let's take stock of some of the fundamental and technical indicators that give a sense of what's happening in the smallcap space.
The Smallcap to Sensex Ratio
This relative valuation indicator suggests there is still a lot of juice in the rally.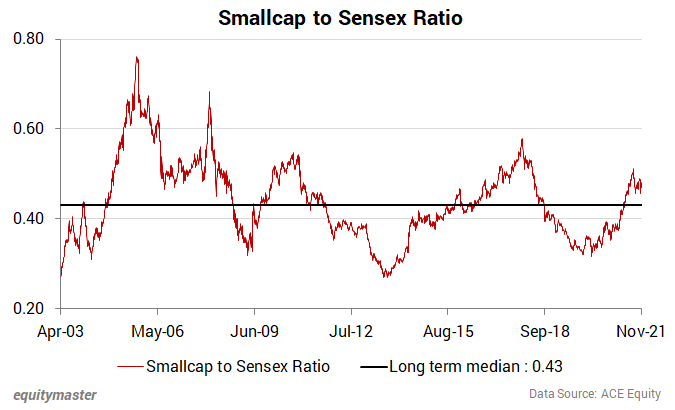 This all-important ratio has risen from 0.32 times to 0.48 times. This compares to long term median of 0.43 times. It has moderated from 0.51 in August 2021 post the recent rise in Sensex.
More importantly, it is way lower than the previous peak ratios: 0.76 in September 2005, 0.68 in January 2008, 0.55 in September 2010, and 0.58 in January 2018. The last time, it took eight months for the smallcaps to peak before the decline from this level.
Here's what I find more comforting...
On financial parameters, the smallcap space looks better than ever.
There has been an impressive debt reduction in the balance sheet of smallcap companies.
Over 62% of the companies have reported improvement in operating profit margins in FY21.
--- Advertisement ---
A Massive Boom Is Coming to The Crypto Market

Are you ready?

According to Economic Times, the $2.5 Trillion crypto market is booming right now...

And could grow 100 times by 2030.

Which means this is a great time to get into cryptos and own a stake in the future of money...

Here's What We Recommend You Do Next
------------------------------
And I'm not using FY20, but pre-covid FY19 as the base year. This has come along with an improvement in cash flows.
For a pandemic ridden year, that's quite an achievement for companies in the smallcap space. It reflects how business models have pivoted towards running businesses in a cost efficient manner.
And then there are some cyclical and structural tailwinds.
Demonetisation, liquidity crunch, GST, covid and now, the break down in supply chains...the last few years have been very disruptive for small businesses.
A wave of consolidation has passed over different sectors. We are seeing this in real estate, building materials, manufacturing sector, and even in chemical, and IT companies.
The companies in the unorganised sector are being phased out, rendered unviable. Their clients are taking their demand to companies in the organised sector. Smallcap companies have been some of the biggest beneficiaries of this value migration.
In short, the dust has just settled. The runway for some smallcaps is quite clear and they are well prepared to make the most of it.
That said, I believe there is froth in the markets. Even undeserving stocks are rallying.
The fear of missing out is palpable, drawing in even the most sensible of investors.
This is evident from the rush in the IPOs, and towards anything sprinkled with the words 'digital' or 'blockchain'.
Quick money is being made and this momentum might continue for some more time. Ultimately, it will stay only for businesses that deserve it.
The Bottomline
The rise of smallcaps is not just a cyclical, but structural phenomenon.
That said, the easy money in the smallcap has been made. To ride the cycle here, due diligence on the management and business fundamentals is critical.
Here are a qualities you should be looking for while picking smallcap stocks:
Market leaders or players with core competence that will remain critical to their clients, irrespective of economic conditions.
Businesses that are either immune to disruption or using disruption as an opportunity. For instance, for many companies in the EV supply chain, electrification has brought new business opportunities.
Companies where cost efficiencies and value migration are kicking in. This could be driven by backward integration, automation or improved product mix leading to better realisations.
Knowing where to exercise caution is equally critical. These are some red flags that demand deeper investigation.
High promoter pledging.
Multiple exits in the senior management team, and auditors' resignations.
Increase in the debt to equity ratio beyond 1 (for non-finance companies).
Vast fluctuations in the operating profit margins.
Companies where cash flows do not align with reported earnings.
Last but not least... avoid stocks where the valuations do not offer enough margin of safety.
The last point needs some elaboration. This is something I have learnt from experience of almost 10 years in the smallcap space.
Margin of safety in valuations is a great filter while buying stocks. But selling is a different ballgame.
While there is a lot of literature and recommendations on stock picking, the art of selling remains ignored.
Making money in investing is not just a function of picking great stocks...
When and how to sell are equally critical. Especially in the current markets when valuations in some stocks have run ahead of fundamentals.
This realisation came over the years. There have been instances when we booked profits in the winners on valuation grounds.
But it's not without regret that we look at some of those closed positions.
There are cases when after doubling in three years and booking profits, the stock doubled in two months, riding the momentum.
To avoid potential opportunity losses, I have tweaked my selling process.
We do not hit the sell button when the target prices are met. Like I said, we intend to make the most of the momentum in the smallcaps.
Hence, we're letting the winners run, while building in a downside protection. We have added stop losses for stocks that have crossed the target prices or are about to.
To be sure, the stop losses limits are not decided while making a recommendation.
This is because stocks are picked with a three to five year time frame in mind. As long as the fundamentals remain strong, any short term correction is a buying opportunity.
The stop loss concept kicks in whenever there is a 'let your winners run' opportunity. This happens in a scenario where the stock is being driven more by momentum and less by fundamentals.
It doesn't allow an exit at the peak, but still works better than a pure 'value based exit approach'.
So far, it has served us well, adding an extra compounding factor. I believe it will continue to do so in the future.
For more updates upcoming recommendations and smallcap investing, stay tuned...
Warm regards,



Richa Agarwal
Editor and Research Analyst, Hidden Treasure
Recent Articles