This Super-Successful Trader is Proof that All Intelligent Investing is Value Investing
Nov 13, 2019
How likely are you to buy one of the world's largest companies with a stupendous track record and available at valuations that are at a multi-year low?
If your philosophy answers to the name of value investing, you will jump with joy with this kind of opportunity.
After all, this is the perfect value investing set up. A fundamentally strong market leader available at rock bottom valuations.
However, there's something very important I've learned in my 15-year long career - Never ever forget to ask the question: 'Who's on the other side of this trade?'
If you are bullish on the stock, then it obviously means the other side is bearish.
And you should never pull the trigger unless you have a good handle on why the other side is offering you the stock at such cheap valuations.
Well, what if the stock I am referring to happens to be the global retail behemoth WalMart? It has a stupendous track record and its valuations are also very attractive currently.
And what if the person on the other side happens to be a hedge fund that is using modern day tools?
Tools like sophisticated satellite images of the parking lots at the company's retail stores. Or a tool like big data where it is analysing credit card spending patterns at the store. Tracking the rush at these parking lots and spending patterns on credit cards could give important clues on where the sales of WalMart are headed.
The Parking Lot Indicator to Monitor the Real Health of a Retail Chain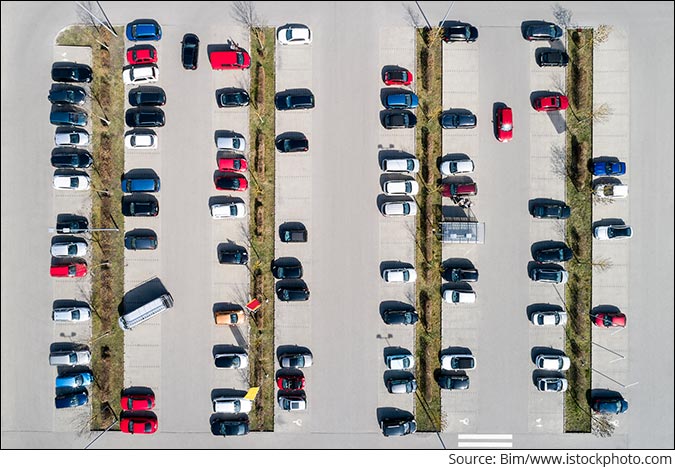 Well, the person on the other side isn't an irrational lunatic you expected it to be. It is a super smart hedge fund that's conducting some deep research on the company.
I think it was Warren Buffett who once said that if history is all that is to the game of investing, the richest investors would be librarians.
It is evident that the hedge fund has taken this lesson to heart. It is trying hard to figure out whether the glory days of WalMart are behind it or whether it is still a force to be reckoned with.
We, on the other hand, are simply relying on past data and assuming the future is just as rosy as the past.
We are not relying on any satellite images or on any of that tool for that matter. We are just hoping the company regains its mojo and valuations go back to previous high levels.
It doesn't take a genius to figure out who will have the last laugh in this trade.
A value investor's number one enemy is the habit of blindly extrapolating the past into the future. Therefore, the key to earning market beating returns is to keep this devil from raising its ugly head.
Whenever you see a fundamentally sound company trading at valuations that's good to be true, always ask why.
A lot of the times, you may come up with nothing. The person on the other side could actually be behaving irrationally.
However, there will also be times when the other side is right. The stock's long-term fundamentals may have really taken a turn for the worse. Its parking lots are likely to remain deserted for a long time to come. In that case, you are better off staying away from such stocks.
The ability to carry out this assessment not just separates the value investing boys from the men, it is also crucial to identifying a real trader from a fake one.
Which is why when my friend and colleague, Vijay Bhambwani, took me through his process of identifying and executing a successful trade, I looked for this one single quality.
I am happy to say I found it in abundance. In fact, it is at the very heart of Vijay's core trading philosophy.
Vijay is of the firm view that most traders focus only on technical side of things. You'll find them spending hours in front of their computer screens looking at different numbers, patterns, and charts.
This is exactly like a fundamental analyst investing in a cheap stock because of its excellent past track record.
Vijay believes there's a problem with this. They're not looking at what's happening in the real world. This is why when they do find a profit opportunity, they don't know what has triggered this opportunity in front of them.
And when you don't understand the reason behind a trading opportunity, Vijay believes, it is as good as gambling.
It's really simple. The less you know, the likelier you are to make mistakes and face losses.
Therefore, before Vijay makes a trade, he needs to understand the market forces behind the opportunity in front of him. Like the satellite images of the hedge fund, Vijay needs to be able to pick up on the smallest indicators that point towards a powerful trading opportunity.
And he needs to be able to position himself for profits long before the rest of the crowd catches on.
Well, I was hooked and couldn't help but marvel at the similarities Vijay's approach has with good, sensible value investing.
And why not. After all, all intelligent investing is value investing and I don't have any hesitation in putting Vijay's approach to trading in this category.
--- Advertisement ---
On May 17, we are holding a FREE event to reveal Equitymaster's Great Indian Wealth Project

At this event, we'll reveal the details of your first stock for a potential Rs 7 crore in long-term wealth.

Since there are limited seats, we urge you to register at the earliest.

Click here for free sign-up
------------------------------
Let me tell you, he has been a trader for over 30 years and this approach allows him to live a life of complete financial freedom.
It is what has given him the luxury of buying a house in one of the most upscale localities of Mumbai.
And most importantly, it is what gives him the freedom to spend more time with his family without having to worry about money.
If you are still having a hard time believing all this, I strongly suggest you get your hand on a free copy of Vijay's brand-new book.
Called Fast Profits, it is Vijay's very own blueprint that he has been using to generate fast money every week, for the last 30 years.
It is filled with Vijay's greatest insights, the tools and tricks that have made him millions in profits over the years, and his best ideas.
Also, Vijay has just launched his new trading newsletter - Fast Profits Daily - and is hosting an exclusive free trading summit for Equitymaster readers.
Trust me, you do not want to miss out on this once in a lifetime opportunity.
Warm regards,



Rahul Shah
Editor, Profit Hunter
Equitymaster Agora Research Private Limited (Research Analyst)
PS: Join Vijay Bhambwani for the Weekly Cash Summit on 26 November. This exclusive summit is free for Equitymaster readers. At the summit, Vijay will share his secrets on how make fast profits every week. Register for free here.
Recent Articles