The Smartest Stock to Buy for 2020
Nov 14, 2019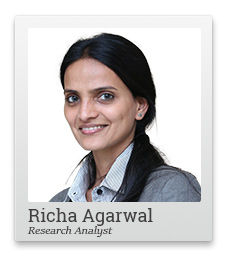 Smart investors like to buy stocks when they're low.
And why not?
The biggest money is made in the stock market by buying high-quality stocks which are beaten down and then holding on to them until they hit a high again.
But with the BSE Sensex at an all-time high, can you really call stocks 'beaten down'?
That's where all the bad economic news coming out over the last few months comes into play.
Consider the latest economic news headline - the index of industrial production (IIP) slumped to an 8-year low.
All this negative news has been having its effect on the stock market, but not on all stocks equally.
So while BSE Sensex is close to its record high, in sharp contrast, the BSE Small Cap index today still is a massive 33% below its all-time high.
The bad economic climate has had its biggest effect on the stocks of smaller companies.
In fact, there has been an increasing neglect of smaller companies. Investors, who were falling head over heels for small caps just last year, and the year before, have now lost interest big time.
How do I know this?
This lack of interest is also showing up in their liquidity on the stock exchanges. Liquidity of smaller companies has taken a massive beating.
Lack of Interest in Smallcaps: A Buying Opportunity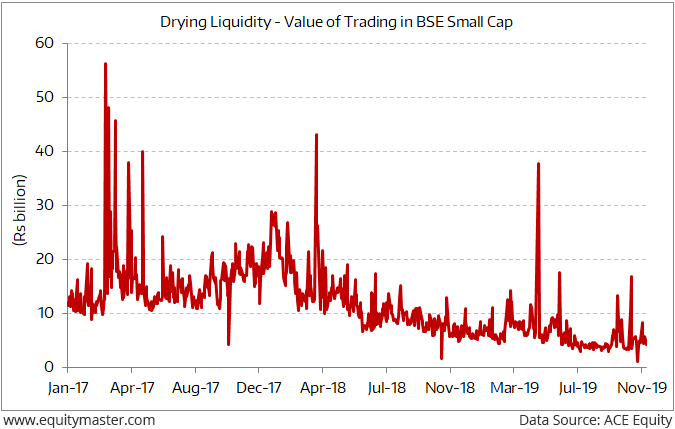 Liquidity has all but dried up in smallcap stocks. It's down from a high of over Rs 50 billion to just Rs 5 billion now.
Now, liquidity is a funny thing.
It may have very little effect on the fundamentals and the intrinsic value of the business. Yet stock market investors generally love higher liquidity stocks, i.e. stocks that are traded in large quantities.
The higher, the better and the lower, the worse.
So much so, that most investors completely leave out stocks below a certain liquidity level.
Is this something to be worried about?
Not at all. In fact, this is very good news indeed!
This is a very natural part of the small cap cycle. Liquidity tends to increase as stock prices and investor's enthusiasm increase.
The reverse happens when prices and enthusiasm falls.
Now this could make buying and selling small-cap stocks in large quantities a little difficult.
But other than that, it's nothing to worry about. Especially if you are patient and can sit out any bad patch of liquidity or volatility in the market.
So you see, it's all part of the market cycle.
But why bother with smallcaps at all?
Well, the potential profits in small-cap stocks at such times is just too hard to ignore.
--- Advertisement ---
New FREE Guide: Find the Next Crorepati Stock in this Futuristic Industry

Tanushree Banerjee, the co-head of research, just released her new guide:

Find the Next Crorepati Stock in this Futuristic Industry

And she has agreed to make it available for free for a limited time.

If you've not claimed your free copy, then do so now. It might not remain free for long. One more thing…

Tanushree has also discovered one stock from this futuristic industry… which she strongly believes has the potential to make you a crore or more.

She'll reveal more details about this stock in her first-ever 'One Stock Crorepati MEGA Summit'

We expect this to a huge event… with more than 10,000 people attending it LIVE.

You simply can't miss it.

Click Here to Download the Guide & Block Your Seat Now. It's Free.
------------------------------
In fact, the best stocks in the small cap world can be bought at the most lucrative prices when they are being neglected by most investors.
And then there are times like right now when the whole category - i.e. small cap stocks as a group - are being neglected.
Investors have always had a manic love/hate relationship with small caps. They begin to neglect them when they're in the 'hate' phase and want nothing to do with them.
This usually happens when they've either fallen or seen no major moves for a while.
It is then that neglect begins to creep in. The volumes and liquidity in these stocks starts drying up. Investors start ignoring good fundamentals and many stocks fall to low levels.
That is exactly what we're seeing right now!
Investors are shunning small-cap stocks with least regard for their long-term potential and fundamentals. The low competition in such stocks from other investors means you now can scoop them up low and early, before others get on their trail.
This offers you the potential for massive profits.
I've uncovered one such opportunity for you today. I believe, this one small-cap stock is poised to create a lot of wealth in 2020 and beyond...
And I've recommended it to my Hidden Treasure subscribers.
If you're not a member of Hidden Treasure, get in now before it rebounds to higher levels once again!
Warm regards,



Richa Agarwal
Editor, Hidden Treasure
Equitymaster Agora Research Private Limited (Research Analyst)
PS: Take advantage of the big rebound in small-cap stocks. I've identified the 1 stock to bet on for 2020. Read more about this money-making opportunity here
Recent Articles