I Think Nestle, HUL, and Asian Paints Could Give Low Returns
Nov 15, 2019
Editor's Note: Last week, Rahul Shah wrote to you about his views on 3 high quality companies. He believes these companies are expensive and could deliver low returns. Recently, I shared my view on these 3 stocks with my premium subscribers. It's a rare combination where both technicals and fundamentals, paint a negative picture for these stocks. Read on to know more...
---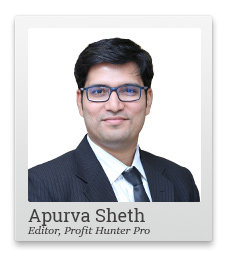 Our stock market is going through a 'Great Indian Clean-up'.
The Indian financial system was crumbling under the weight of NPAs and the liquidity crisis.
The government has woken up to this mess and is taking steps to rectify it but someone must pay a price for all the mess created over the years.
Shady promoters, ignorant auditors, and rating agencies are all under scrutiny. Everyone who have dirtied their hands is paying a price...except high quality companies.
As the clean-up is underway, high-quality companies have only benefitted. Investors shrugged their hands off dirty assets and are chasing the high-quality names.
This has led to too much money chasing too few stocks. Can this sustain for long?
Equitymaster's co-head of research, Rahul Shah, shared his views on the same.
I am sharing an excerpt from his piece and then, I'll share my views on the 3 high quality companies he wrote about.
No list of quality stocks in India is complete without names like Nestle, HUL, and Asian Paints.

Over the years, these bullet proof franchises have survived everything the competition has thrown at them. In fact, they have gone from strength to strength.

Little wonder, investors have gone gaga over them. They can't seem to get enough of these stocks.

What else could explain the meteoric rise in valuation multiples of these stocks in recent years?



PE Multiples: Up, Up and Away




All the three stocks have commanded significantly higher PE multiples in the last decade than in the previous decade.

Furthermore, their current PEs are unlike anything we have seen in the past.

In fact, so optimistic are investors about their future that all of them are trading 3x higher than the entire Indian stock market if we use the Sensex PE as a proxy.

These companies will have to grow their earnings at a massive rate to justify the current high multiples.

How massive?

Well, growth in the range of 40%-50% will be needed.

Put differently, the market has factored in an annual earnings growth rate of 40%-50% over the next 10 years in the current stock prices of these companies.

This is massive. None of these companies have managed these growth rates in the past. Historically, both HUL and Nestle have managed to grow earnings by 10%-12%.

For Asian Paints, the historical earnings are slightly higher at 18%. But still well below the 50% that it is expected to grow at over the next 10 years if it is to justify the current high multiples.

Some of you might dismiss my assumptions as too conservative. And perhaps that is really the case.

However, in the case of these stocks, the gap between what is required and what they can realistically achieve is so huge, I believe they have a strong chance of underperforming the market.
If you have followed Rahul regularly, you know that he speaks less but whenever he does you must take notice of it.
Rahul normally gets all his big calls right whether it is calling the top in smallcap in 2018 or a bottom in the markets in 2016.
He's hit the bulls eye often than not.
--- Advertisement ---
The Top 8 'Double Income' Stocks...

Since we launched Double Income, Rahul Shah's latest recommendation service – we've had nearly 2,000 people pay to join in.

Double Income, is a way for our readers to potentially generate an additional source of income – to add to your regular income.

And we believe this service could end up being Rahul Shah's most successful offering yet.

He has already recommended 8 stocks that are a 'BUY' right now.

And today, you could get access to these stocks right away – along with FREE 12-month access to Double Income.

Just click here to claim your free access.
------------------------------
So what does the price action of all the three charts suggest?
Let's take a look...
1. Asian Paints has been trending higher for as long as one can remember. The rally is gradual but corrections are shallow and quick. The stock touched a high of around 1,200 in October 2016. This level acted as hurdle until May 2018 when the stock broke out of it decisively. Since then it was trading in a range of 300 rupees between 1,200 to 1,500. The range shifted upwards in July 2019. It has rallied 300 rupees and is currently trading near 1,800 levels. The weekly RSI is displaying bearish divergence which indicates slowing momentum.
2. Nestle India is trending higher in a rising channel since its listing. The edges of this channel beautifully restrained all the price action so far. However, the stock has moved out of this channel this time around. It's been four weeks that the stock is trading above this channel. Could it mean that the stock is shifting out in a different trajectory all together? I would love to think that way. But the bearish divergence in RSI tells me that this could just be a false breakout.
3. Hindustan Unilever was trading in a rising channel between January 2017 to March 2019. It slipped below this channel and consolidated for a few months before heading higher once again. The stock is currently touching the lower edge of the channel once again. This line which acted as a support earlier could now act as a resistance. The stock may also find resistance near the range 400-rupee range breakout target of 2,250.
So, the price action of all the three stocks suggest they are stretched too far and near resistance zones. They may not fall immediately but chances of big upside from here are minimal. Nobody knows for sure what happens next.
But one thing is clear...investors who get in now are taking too much risk for too little reward.
I would only say one thing to investors at this point: Tread with extreme caution.
Warm regards,

Apurva Sheth
Editor, Profit Hunter Pro
Equitymaster Agora Research Private Limited (Research Analyst)
PS: Join Vijay Bhambwani for the Weekly Cash Summit on 26 November. Vijay will share his secrets on how make thousands of Rupees in trading profits, practically every week. Register for free here.
Recent Articles