Investment in securities market are subject to market risks. Read all the related documents carefully before investing
Last Chance to Lock In


Small Cap Recommendation Service
Hidden Treasure at 50% Off
Price Going Up Significantly Next Month
Is Gold Warming up for a Bumper 2022?
Nov 15, 2021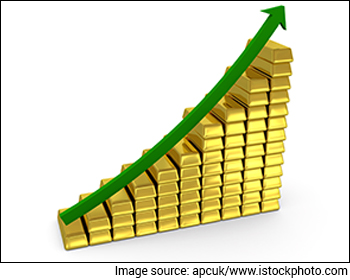 To be honest, I was pretty 'cold' towards 'gold' in the initial years of my career.
A big part of the reason is my young impressionable mind.
If someone as successful as Warren Buffett doesn't like gold, so shouldn't I. There's no point questioning the wisdom of the Oracle of Omaha.
To be fair though, Buffett does have a point about the yellow metal. He has even mounted one of the most eloquent defenses in favour of stocks and against gold in his 2011 letter to shareholders.
He classified gold as an asset that will never produce anything. However, it's purchased in the buyer's hope that someone else will pay more for them in the future.
Indeed, gold bugs are not concerned about the fact that gold doesn't produce anything. They are only driven by the belief that others will desire it even more strongly in the future.
Needless to say, this view did not go down well with gold bulls. Some of them ripped into Buffett, arguing that while gold may not produce anything, so do paper currencies.
And over the long term, gold has preserved wealth much better than cash.
--- Advertisement ---
Investment in securities market are subject to market risks. Read all the related documents carefully before investing

Premium Small Cap Research: Act Before The Upcoming Price Hike

The subscription fee for premium Small Cap Research Service is going up significantly

But we want to give one last chance to get Hidden Treasure at lower than its current price.

Act right now to get a 50% discount on its current price.

Offer Disappears at 11.59pm on Saturday, 30th September

Claim Now
Details of our SEBI Research Analyst registration are mentioned on our website - www.equitymaster.com
---------------------------------------------
In other words, US$ 1 m invested in gold 100-years ago would buy a lot more goods and services than if one would have kept the same amount in cash.
The story in the Indian context is a little different though.
Back in early 2016, the Sensex was perched at a little over 26,000 while 10 gms of gold was priced at Rs 22,500 Five years later, Sensex went up 1.8x whereas gold recorded a 2.3x jump.
Ditto over a 10-year period. Sensex moved up close to 330% while gold did a shade better and logged in 360% gains point to point.
Increase the time horizon to fifteen years and still gold emerges triumphant, recording a 7x jump versus a 5-bagger Sensex.
The takeaway is simple, at least over the time periods that we have considered. Gold has not just retained purchasing power better vis-a-vis cash, it has also managed to outperform the Sensex over a medium term, long term, and a very long-term period.
Looks like Buffett would have faced more flak in India over his views on gold than he did in the US.
Besides, if gold's outperformance wasn't enough, it has also proven to be far less volatile than the Sensex.
On a year end basis, the biggest drop gold was witnessed was 18% back in 2013 compared to the 52% that the Sensex cratered in 2008 in the aftermath of the sub-prime crisis.
--- Advertisement ---
Investment in securities market are subject to market risks. Read all the related documents carefully before investing

Want to Grow Your Wealth With Safe Stocks?

Access Our Premium 'Low Risk, High Return Potential' Stock Research at Rs 2,050 Off

Full Details Here
Details of our SEBI Research Analyst registration are mentioned on our website - www.equitymaster.com
---------------------------------------------------
In fact, I even did a video around using gold's low volatility to our advantage by creating a portfolio where once the stock markets turn expensive, you move 75% of the corpus into gold and then get back into stocks again to the tune of full 75% when the valuations go back to reasonable levels.
Well, the results were extremely encouraging. The corpus went up by almost 15x, a whopping 15-bagger as compared to the 7-bagger in gold and the 5-bagger in Sensex. The best of both worlds if you ask me.
I know anything that does not have an intrinsic value and anything that can't be valued is an anathema to value investors. And gold certainly falls into this category.
In Graham parlance, it's a voting machine where its price is determined more by what people are willing to pay for it and not a weighing machine, where fundamentals are weighed carefully in order to arrive at a ballpark intrinsic value.
But you cannot totally ignore history and gold's place in it either. The fact that it has remained a great store of value for thousands of years and is still going strong cannot be wished away.
Thus, it may not be a bad idea to start adding some gold to your portfolio if you haven't already. The good news is that after months in hibernation, the yellow metal is finally showing some signs of coming back to life.
To be fair though, even I was worried whether gold will continue to be the same rewarding asset class again, especially in the backdrop of soaring prices of cryptocurrencies. I was wondering whether something has changed with the world.
After all, in an environment where everything has gone up, gold's subdued performance was a serious cause of concern.
There has rarely been a Dhanteras where one has bought gold at a lower price than the year before and it was one such rare occasion this time. The prices were trading at close to 48,000 per 10 gms, down from 50,500 levels during Dhanteras last year.
Maybe I was overreacting. It wasn't as if gold's price had crashed. It had corrected only marginally. Thus, it seemed to be taking a breather and now, it seems to be firmly in the saddle.
One important factor that can light a big fire under gold prices is the onset of high inflation. As a matter of fact, it's only after the Wednesday data showed that US consumer inflation has risen the fastest after 1990 that gold managed to break out of many months of downtrend.
And if a lot of experts are to be believed, inflation doesn't seem transitory and is pretty much here to stay.
Since 2001, there have been only 3 calendar years where gold has given negative returns. The way things were moving, 2021 was shaping up to be the fourth one. However, gold's recent move has given hope that it may not be the case and the shiny metal could close the current calendar year almost flat or even perhaps a small gain.
What about 2022?
Can gold do an encore and follow the Sensex in touching the elusive 60,000 mark?
Well, that's an upside of roughly 20% from the current levels and if history is any indication, it is well within realms of the possible.
However, be it stocks or gold, predictions are always tricky.
We believe more in sticking to one's long term strategy and not worry too much about which asset class will move how much.
Thus, as far as one's strategy is concerned, I am increasingly convinced that gold does deserve a sizeable allocation of at least 10%-15% in one's overall portfolio and now is as good a time as any to start your tryst with the yellow metal.
Warm regards,



Rahul Shah
Editor and Research Analyst, Profit Hunter
Recent Articles