Don't Sell these Stocks if the Market Falls
Nov 17, 2021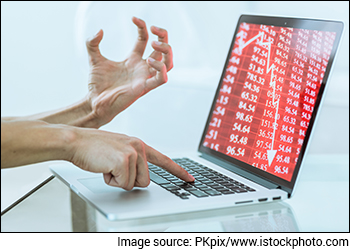 British investor Jeremy Grantham recently called the market 'a fully-fledged epic bubble'.
Stanley Druckenmiller, known for partnering George Soros in his big currency shorts, believes that 'all assets are in a raging mania'.
These investors are not alone in predicting the doomsday for the market. They have been joined by big global brokerages like Nomura and Morgan Stanley in sounding the alarm bell for small retail investors.
The predictions of such big pocketed institutional investors feed off the fear in the minds of retail investors.
When markets crash, the fear factor rises. Some investors sell and head for the safer pastures. Some are paralysed, not knowing what to do. Others double down on contrarian ideas, buying into the sell off.
The worst affected in such tsunami of fear, during the market crash, are investors who choose to let go of wealth compounding stocks.
Selling such wealth compounding stocks in a market crash due to fear of temporary notional losses, can be a huge blunder.
Assuming that the stocks could be bought back later at a cheaper valuation is easier said than done. Rarely will investors have the courage to buy back the stocks in the middle if the crash.
Once a big compounding machine prematurely goes off your portfolio, it can potentially have massive impact on the returns over decades.
So, here are three categories of stocks you shouldn't sell even in a market crash.
Prudent Capital Allocators
Investing in companies that generate a return on capital employed (RoCE) far higher than their cost of capital is a basic tenet of investing.
Irrespective of one's investing 'style', consistent and healthy shareholder returns is a must. Such businesses not only cover the cost of capital but also produce a surplus.
If a company sees enough growth opportunities in its core business, it should prioritise the allocation of cash to the core business. Such reinvesting should be done to expand capacity and deepen its competitive advantage.
Smart management teams do not constrain themselves with the prevailing market opportunity. They expand the business to find growth in newer avenues.
We see the results such allocation decisions only with the passage of time. So investors need a framework to analyse these decisions at the time they are taken.
The reason why stocks from sectors such as FMCG, paints, consumption are market favourites is their track record of capital allocation.
FREE REPLAY: Catch the Details of Potential Crorepati-Making Stocks Right Now...
Cash flow Machines
Most investors make the mistake of looking for earnings trends in the bottomline of the company.
The fact is that the bottomline paints the earnings picture with a lag. The best way to pre-empt a sharp rise or fall in earnings is to look at the cash flows.
For instance, while most companies showed an earnings recovery in FY21, post the lockdown quarters, few showed massive cash flows. These companies are literally cash flow machines due to their ability to sweat assets in good times.
Such companies focused on cost controls and good working capital management during the pandemic.
But they also stepped up their capex plans, strengthened supply chains, and gained market share with the help of free cash.
Turns out the cash flow machines ended up being businesses with wider moats on the other side of the pandemic.
In fact, it was not just the pandemic that proved to be benign for the cash flow machines.
During every disruption, like demonetisation or GST, Titan owned Tanishq, benefits massively through market share gains from smaller jewellers.
Finally, Titan keeps launching new retail formats such as eyewear (Titan Eyeplus) and sarees (Taneira). In doing so, it reinvests the free cash flows from Tanishq.
Similarly, over the past decade, north India focussed retailer V-Mart had collected substantial data related to the footfalls at its stores.
During the pandemic, the company invested heavily in data analytics and supply chain infrastructure. It wanted to increase the turns of store level inventory and launch its in-house ecommerce/omni-channel offering.
Being a cash flow machine allowed V-Mart to plan its future moat when most of its peers were struggling to survive.
--- Advertisement ---
There is a new paradigm shift currently unfolding across the global economic landscape...

And at the heart of this massive SHIFT is...

INDIA!

India is on the verge of a multi-trillion-dollar rebirth that could potentially mint countless new millionaires...

If you are on the right side of this mega shift, then it could be your biggest opportunity to build potentially massive wealth over the long term.

Click here to find all the details...
------------------------------
Spawners
Spawners are companies with a unique DNA. These can incubate new businesses or acquire ones that have the potential to become massive growth engines.
Not sure what that means? Think of these companies...
Amazon
Alphabet
Berkshire Hathaway
Alibaba
Baidu
HDFC Ltd
Such companies have the means and foresight to create revenue streams completely independent of their core business.
Well known investor Mohnish Pabrai has very helpfully classified the spawners into 4 types.
Adjacent Spawns: The best example here would be Starbucks, which grew from running coffee houses to selling coffee machines, and juices. Asian Paints did the same when it went from paints to home decor to kitchen modules.
Embryonic Spawns: These companies acquire new businesses and nurture them into larger businesses. That's exactly what Facebook did when it acquired Instagram and WhatsApp. In India, I've written about Pidilite witnessing massive growth its acquisitions.
Cloner Spawns: These are companies that don't innovate. They simply copy successful products. Microsoft did it successfully, with Explorer, Azure, and Teams. In India, TCS has done it with quite a few products, especially its EdTech offerings.
Non-Adjacent Spawns: These companies buy businesses in unrelated areas. Here you have companies like Amazon going from ecommerce to cloud storage. Alphabet going from search engine to email to maps to wearables.
While there haven't been too many examples of non-adjacent spawns in India, Titan would be a good example. It went from selling watches, to jewellery, to eye wear, to perfumes.
So, companies with the spawning DNA offers a lot more visibility over others.
Here's, Thomas Phelps, author of 100 to 1 in the Stock Market...
For the individual or institution really out to make a fortune in the stock market it can be argued that every sale is a confession of error.
Nick Sleep, Nomad Investment Partnership wrote...
The truly brilliant investors weren't investors; they were entrepreneurs that didn't sell.
Therefore, pre-select the stocks you would not want to sell in the eventual market crash.
Doing this will offer you bigger compounding benefits over decades, than good stock picking ever will.
Warm regards,



Tanushree Banerjee
Editor, StockSelect
Equitymaster Agora Research Private Limited (Research Analyst)
Recent Articles