Follow the Big Money for Big Profits
Nov 18, 2019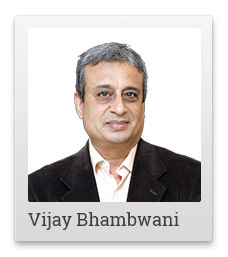 Watching the 1980s epic Hollywood movie 'Wall Street' is an overwhelming experience.
Michael Douglas as Gordon Gekko was awesome. His now famous dialogue - "Greed is good" still gives you an adrenaline rush.
And I agree with the logic too.
Its greed for a better life that pushes you harder and longer, so you wind up ahead of your cousin, who you always envied. Capitalism accepts greed as a part of the overall package.
But is it really the be-all-and-end-all of success? I think not. There is more to it. Allow me to elaborate...
The French Emperor Napoleon Bonaparte loved conquering new lands. He was in direct competition with the British, for world domination.
Before he set out for conquests, he had to appoint generals, to lead his army. He had a unique way of short listing Generals. He would ask them if they would prove lucky for him. Any General replying in the affirmative was asked to back it with a reason.
Generals honest enough to admit that they would pocket some riches like bullion, diamonds, tobacco etc, in addition to their army wages, were immediately appointed.
Reason? Vested interest.
These Generals had a personal interest in winning the war. They would therefore push their soldiers harder to win. After all, they wanted to get rich too. Napoleon accepted that the small leakages in the treasury collections, from the spoils of war, would be good, keeping the bigger picture in mind.
I believe this is the right thing to do. Ask yourself this simple question - would you rather own 100% of a 6-inch pizza or 80% of a 12-inch pizza?
Napoleon's thinking was ahead of its times. Management Gurus of the 20th century advocate the same approach. Now that we got a background of the idea, it is time to make some money out of it...
I am sure, I can take the liberty on of speaking on behalf of all of us, when I state that we all love money. We cannot seem to have enough of it.
My mind is tuned to read and watch news events with my thoughts process working in the background. How will this impact the markets, and how do I make money out of this?
--- Advertisement ---

Oops...Did you miss this?

We are sure you have been reading about the MEGA Summit that's happening at Equitymaster...

It's going to be huge, with over 10,000 readers expected to join.

Now we are told that for some reason you are yet to sign up...

If you miss it, it will be a lost opportunity.

We again recommend you Click Here to join our upcoming Rebirth of India Mega Summit with Tanushree Banerjee
------------------------------
So when the Saudi King Salman takes a fleet of 747 jumbo jets to Moscow in 2017 with a staff of 3,500 people, I am on high alert. When the frail all King's solid gold aircraft escalator breaks down, I am not laughing out loud like the others. I am wondering why a feeble old King has travelled to the country of a friend's (USA) rival, which also happens to be one of the top three oil producers worldwide.
Of course, to sign an oil output cut deal, so the oil price jumps.
After all, the Saudis need to push through the world's largest IPO of Saudi Aramco. Its success depends on rising crude oil prices.
The same technique can be applied in equities.
How about PSU disinvestment stocks? They will get support from state investment institutions. Does an individual stand to lose more than the government, who banks on such divestments?
This is what I am talking about. This is behavioural style of trading. You place your rifle on somebody else's shoulder and go for a kill, with little to lose in the bargain.
So greed is good, but vested interest is better.
And if there is a trade based on both, don't miss it.
I will talk about this and more at my Weekly Cash Summit. Join me on Tuesday, 26 November, at 5 PM, and I will share with you money-making ideas for fast profits.
Warm regards,

Vijay L Bhambwani
Editor, Fast Profits Daily
Equitymaster Agora Research Private Limited (Research Analyst)
PS: On 26 November, I will reveal my best trading secrets at the Weekly Cash Summit. I will also share my proven trading strategy, developed over 30 years, which you can use to make thousands of Rupees practically every week! Sign up for free here.
Recent Articles