Build a Robust Portfolio in these Fragile Times
Nov 18, 2020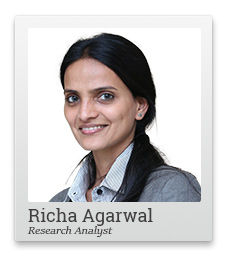 Yet another bank has gone the Yes Bank way. Lakshmi Vilas Bank has exposed, yet again, the fault lines in the Indian banking system.
There are worries for the Indian stock market from abroad too.
European economies are undergoing a second wave, and even lockdowns. As I write this, there is news of Delhi Chief Minister, Arvind Kejriwal, demanding one in Delhi.
In some good news, Pfizer recently announced a vaccine. Just when the stock gained on the news, insiders cashed out. The same happened with Moderna a few months ago on a positive news regarding the vaccine.
Meanwhile, the Sensex is touching life-time high. Smallcaps have rallied nearly 78% since March lows, just 20% short of the previous peak.
Seemingly unrelated events suggest the fragile and irrational times we are living in.
Bitcoin is trading over US$ 17,000.
Robinhood is seeking an IPO.
--- Advertisement ---
[Alert] Sell These 3 Stocks Immediately

These 3 stocks are ticking time bombs in your portfolio.

It is very likely that you could be owning these 3 overvalued... fundamentally weak... ready to crash stocks... in your portfolio today.

Because many stock brokers have painted rosy pictures of these stocks.

But the reality is starkly different.

If the market crashes, then these stocks could wipe out your wealth.

You should get rid of these stocks as soon as possible.

We are going to reveal details of these 3 landmines at our upcoming special event.

You can click here to sign-up in 1-click. It's free.
------------------------------
Tesla is finally joining S&P 500 index, with not even 2 years of consistent profits.
With multiple unknown odds and unreasonable behaviours, it is increasingly getting difficult to make sense of the world around us.
Investing was never a perfect science. There are no clean mathematical equations where a defined number of variables and a function between them will bring a unique output.
Covid has only made this worse.
Yet, there are some clear patterns.
With more companies coming up with results and management commentaries, we know that all businesses are not equal.
The pandemic and the ensuing disruption has proven to be the acid test for companies. The weaknesses and strengths in a business model and balance sheets have been amplified.
With all the uncertainty it has brought, Covid has also offered a lens to the assess the survival quotient of individual businesses.
India's Revival: A Once-in-a-Generation Wealth Making Opportunity
If you are looking top down, developing a fancy macro theory and playing by it, good luck to you. In my view, this is time for a bottom up approach.
That said, sticking to a conventional bottom up approach of picking stocks will not be enough. Afterall, the value investing concept of fair value or intrinsic price is not sacrosanct anymore.
You would do well if you focus on the market leaders with strong balance sheets, and businesses with resilience. These companies will not just remain relevant to the economy and its customers but will likely gain from second order effects.
If you buy these stocks at a sufficient margin of safety, along with prudent asset allocation, your portfolio will live long despite these precarious times.
For this month, I'm glad to have found a stock which makes the cut on not only on fundamentals and growth, but the valuation front as well.
This little-known company enjoys a 50% market share in India in a very niche segment. It actually gained one third market share in the pandemic. It is benefitting from the consolidation in its industry.
--- Advertisement ---
[Watch Now] 3 Little-known Stocks We are Super Bullish On




Click Here to Watch Now
------------------------------
While the product it makes costs little, barely 2%-3% of the end product, it's a critical to the life and smooth operation of vehicles.
As such, its clients focus more on quality then price. This has allowed the company to report highest ever margins in the latest quarter!
A long approval cycle and learning curve to manufacture its product ensures high entry barriers in the industry. This, along with long standing relationships with almost all auto firms in India will ensure a smooth ride ahead for this company.
Hidden Treasure subscribers can read the recommendation report here.
If you're not a Hidden Treasure subscriber, you can get access to the report here.
Warm regards,



Richa Agarwal
Editor, Hidden Treasure
Equitymaster Agora Research Private Limited (Research Analyst)
PS: Today you can get access to an extra year of my premium smallcap stock recommendation service, Hidden Treasure. Details here...
Recent Articles