My Latest Recommendation: A Great Way to Ride One of the Biggest Megatrends of this Decade
Nov 19, 2019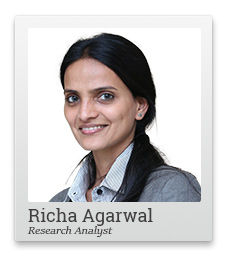 This was a scene from a few years ago.
A truck needs to make his way from Kolkata to Mumbai. The distance between the two cities is around 2,200 kilometers. It takes 2 days by train and almost 4 days by car.
The truck carries a consignment of valuable freight. The driver does not look forward to this journey.
You see, his pay used to be random and irregular, but he couldn't say no. After all, he had a family to support. He didn't get to see them often. He was on the road most of the time.
Now this journey involves travelling across multiple states. Each state has a different set of laws for the transit of goods.
If the driver is not compliant with any, he might have to pay penalties. Such matters are often settled by offering bribes after a bit of haggling. On the way, he has to face the harassment from the authorities. He loses a lot of time in this process.
This is why, a journey that can be covered in 4 days by car, takes double the time, around 8 days, for our truck driver.
The multiple checkposts and toll points would slow down his truck to an average speed of 11 kilometers per hour. He had to stop over 20 times for tolls and over 25 times at border check posts.
If he were driving his truck in China, Europe, or even some other Asian countries, he would have moved at thrice the speed.
This slowdown in the speed and leakage of money used to cause a huge loss to not just the logistics sector but to the entire economy.
The long hours on the road would also have taken a toll on the condition of the vehicle.
The driver would usually be aged beyond his years. He would have a blank and perpetually tired look on his face...and no job/social security.
A few years later, with cab services (Ola and Uber etc.) burgeoning across the country, he was happy to shift seats. Here, he could earn almost thrice of what he was earning driving trucks. He could also spend more time with his family. Not to mention it's a job with dignity.
Now this isn't a single driver's story.
It's an overarching narrative which reflects all that was wrong with India's logistics sector.
In fact, the opening scene transpired (and was reported) as a part of real time case study to assess the health of logistics - one of the most critical sectors in India's economy.
At 14%, logistics cost in India is much higher than Japan's 11% and the US' 9-10%. The shortage in truck drivers is a common issue now, plaguing businessmen, traders and transporters.
As per industry estimates, around 28% of all trucks are not used for the lack of the drivers. Also, around 20% of the drivers lack skills and are untrained. They're forced in to the job to meet their daily expenses. The delays have gotten longer. The accident rates, higher.
But all this is about to change.
--- Advertisement ---
From X to 2X: How to Double Your Income in the Long Run

How would you like to potentially double your income...

– Without working longer hours
– Without asking your boss for a raise
– And without even cutting expenses

What if we said this was achievable...over the long run?

Our Co-Head of Research, Rahul Shah, recently shared his latest strategy with a small group of readers...it is a way to potentially double one's income in the long run.

Rahul has put down a note explaining, step by step, how this strategy works, how it beats conventional investments, and how readers like you can use it to potentially generate an additional source of income.

Click here to read Rahul's detailed note on his strategy.
------------------------------
With multiple actions on the policy front - GST implementation, infrastructure status to logistics and introduction of E-way (electronic way) bills, the sector is at a turning point.
Along with regulatory reforms, infrastructure development (Bharatmala, Sagarmala, Highways, port facilities) are making the road smoother for organized players in the logistics sector.
My latest Hidden Treasure recommendation is one of the key beneficiaries of this regulatory (policies) and impending structural shift (from unorganized to organized). Call it a classic case of value migration - a flow of economic and shareholder value away from obsolete business models to new, more effective designs that are better able to satisfy customers' most important priorities.
The investing history is replete of instances where business that could capture the value when it migrated turned multibaggers. I believe this company is perfectly bet - present at the right time and at the right place, to capture a great structural shift in the logistics sector.
Warm regards,



Richa Agarwal
Editor, Hidden Treasure
Equitymaster Agora Research Private Limited (Research Analyst)
PS: On Tuesday, 26 November, India's #1 trader will reveal his super profitable personal trading blueprint. Click here to register FREE for Vijay Bhambwani's Weekly Cash Summit.
Recent Articles