The Markets Are Going to Go Up! And Here's Why...
Nov 21, 2018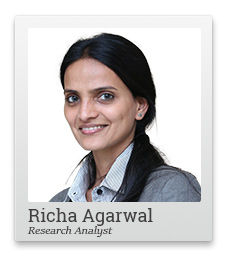 Have a close look at the chart below of the BSE Small Cap Index since 2003...
What stands out the most?
For me, two things are clear:
Over the last 15 long years, the index has kept seeing massive fluctuations.
Despite these large fluctuations every now and then - the overall trend of the index has been upwards.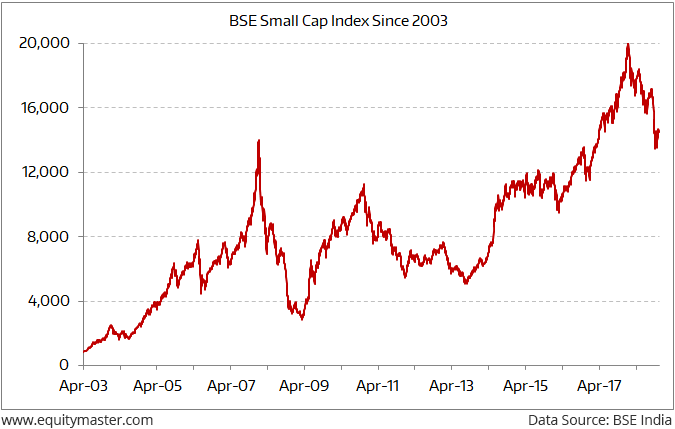 Beginning from when the small cap index was calculated i.e. April 2003 to now, it has appreciated over 17 times over these 15 years.
That's a percentage return of 1,636%.
And a compounded annual return of 20%.
--- Advertisement ---


Pay Less Than 2%…Only If You Act Before 11:59 PM Tonight!

At 11:59 PM tonight, we will close one of the best offers we have designed for you to try our ONLY Guru-Based stock recommendation service – Smart Money Secrets.

An offer where you just have to pay Less Than 2% of the normal annual membership fee to get INSTANT and UNRESTRICTED 30-Day Access to the service…

Plus, you will also get Instant Access to 2 Special Guides worth Rs 950 each…

But you can get these benefits ONLY if you act before 11:59 PM Tonight.

So, if you're looking for actionable investing ideas that are backed by India's Top Investing Gurus… you shouldn't miss out on this rare opportunity!

Click Here Before 11:59 PM Tonight For Full Details.
------------------------------
That's an amazing return by any standards. This underlying upwards bias of the index stocks has meant that even if you just passively bought the index stocks over this period and just forgot about all the ups and downs that happened in the interim - including the fall this year - you'd still be sitting today on a very lucrative result.
Further, if you'd picked the right fundamentally strong small caps - you'd likely be sitting on an even better result.
So why has the market's overall trend been upwards? Wil this continue?
For the uninitiated, the movement in the BSE Small Cap Index is nothing but the movement of the market value of all stocks that make up the index put together.
And it shows, in as clear a fashion as possible, the growth in the market value of Indian companies over time. It exemplifies that as the Indian economy has grown in size, this combined market capitalisation has moved up.
Why?
Well, it's pretty simple. Growth in the economy is nothing but growth in consumption by the people. As Indians consume more goods and services over time - corporate India is going to sell more to them over time.
And as their business volume increases, so will their profits. And with rising profits come higher market valuations.
Thus, as the chart shows, this trend of rapidly increasing market values of Indian companies that has been happening since 2003 will only continue in the years to come.
--- Advertisement ---


Smart Money Alert: Last Chance to Get Our Latest Guru Based Stock Pick At Just Rs 99

(Invitation Expires at 11:59 PM tonight)

Till 11:59 PM Tonight, you have a rare opportunity to claim 30-Day Unrestricted Access to our ONLY Guru-Based Premium Stock Recommendation Service – Smart Money Secrets – By paying Just Rs 99.

And for less than Rs 100, you will get:


| | |
| --- | --- |
| 1) | Instant Access to a detailed report on our latest Guru Based Stock Pick…plus all the Guru-Based stocks we have recommended in the past…(Over 10 of them are a BUY as per our last report!) |
| 2) | Instant Access to a Special Guide – The Complete Investing Strategies of Warren Buffett – Worth Rs 950 |
| 3) | Instant Access to a Special Guide – Smart Money Secrets: A Quick Start Guide – Worth Rs 950 |

…plus there's a lot more!

But, the ONLY restriction is that this invitation will expire at 11:59 PM Tonight.

So, if you miss it now, you could miss it altogether!!

Click Here before 11:59 PM Tonight for full Details.
------------------------------
Yes, there will be ups and downs in the short run... in the near future...
But over the long term, it is headed only up.
Only if Indians ever stop aspiring to live better lives, or if our system in India changes on a very fundamental level that prevents people from doing so - is the only way in which this process will stop.
And we don't see any reason whatsoever for that to happen.
That's precisely why the Indian markets - and along with that small cap stocks - can go in only one direction over the long term: Up.
Nothing else - not panics, market crashes, economic crisis', recessions or anything else in between - can change that.
Regards,



Richa Agarwal (Research Analyst)
Editor, Hidden Treasure
PS: Small cap stocks pose an enormous opportunity for wealth-building. Especially now, when the stocks are so much cheaper than they were just a few months ago. Invest in these stocks now - before it starts rising. Be ahead of the curve - sign up to get the top small cap recommendations of all time.
Recent Articles