Smallcaps: The Rules of Investing Are Changing in Your Favor
Nov 24, 2020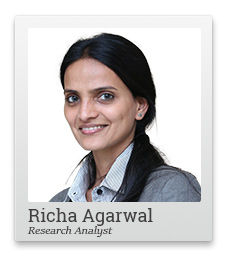 Something very interesting is happening in the investing space.
It might be a little premature to discuss it since the rules are yet to be finalised.
But I consider it nothing less than revolutionary and would like to give you a heads-up anyway.
Allow me a digression first.
You see, there are two kinds of businesses.
First, where greater size helps in brings the economies of scale i.e. higher returns. The larger you are, the better you get.
This could come from lower fixed cost, ability to influence prices, network effects, and so on.
But then, there are some businesses where bigger does not mean better. As size expands, the incremental returns diminish.
--- Advertisement ---
These 3 Stocks are the Dark Horses of the Stock Market

The mainstream media mostly ignores them.

Mutual funds and hedge funds can't buy them in bulk.

Stock brokers rarely cover them.

These stocks are the dark horses of the stock market.

They only come in limelight after they have rallied by hundreads of even thousands of percent.

Our head of smallcap research, Richa Agarwal, has a knack for identifying such stocks before they begin their rally.

Over the years, she has spotted such stocks which have gone on to offer triple and even quadruple digit gains for investors. (* Past performance is no guarantee of future results)

Today, when the markets are near all-time high... and some investors are thinking of booking profits... Richa has spotted 3 such stocks which are set for a massive rally.

She will reveal the details of these 3 stocks on 28th January at her free online summit.

Click here to sign-up instantly. It's free.
------------------------------
The business of investing is a case in point.
Here is the verdict from none other than the genius Warren Buffett, who started small before he amassed a giant portfolio.
If I were running US$ 1 million today, or US$ 10 million for that matter, I'd be fully invested. Anyone who says that size does not hurt investment performance is selling.

The highest rates of return I've ever achieved were in the 1950s. I killed the Dow. You ought to see the numbers. But I was investing peanuts then.

It's a huge structural advantage not to have a lot of money. I think I could make you 50% a year on US$ 1 million. No, I know I could. I guarantee that."
So where does this structural advantage come from?
I think the answer lies in investible universe, that is defined by given the amount of money one has.
Big fund managers are often limited by liquidity and market cap. They can't go below a certain cut off. It would be impossible for them to invest a big sum in a stock with low liquidity and low market cap i.e. smallcaps.
Investing small sums does not move the needle for them.
Their limitation is your biggest edge.
BREAKING: Full Details of the #1 Investment of the Decade...
You can leave them to their low return game, and focus on a space where the cream lies - smallcaps.
But it is easier said than done. The reason is information asymmetry.
Unlike largecaps where you can find a lot of information on business channels, print media, and company websites, getting information on smallcaps can be tricky.
It often requires having personal meetings/concalls with the managements. Being a part of the professional analyst community helps, as it allows you access to these managements.
No wonder then that the small investors often end up coat-tailing fund managers/analysts and experts on the media when it comes to taking investment decisions in this space.
In the process, they could be unwittingly subjected to the pump and dump phenomenon, ending up with the short end of the stick.
That's indeed no way to use one's biggest competitive/structural advantage.
Well, the good news is, this might change.
--- Advertisement ---
Top 3 Stocks for 2020 and Beyond

We've uncovered 3 high-potential tech stocks after years of research.

These 3 cutting edge tech stocks could potentially create a wave of Indian millionaires.

First one is present in the sector which is expected to GROW over 300 times by 2030.

Second one is one of the leading players in Artificial Intelligence technology.

And the third one is involved in putting up a global safety net to save the world from cyber criminals.

These 3 tech stocks have the potential to offer life-changing gains in the long run.

Click here to get the details...
------------------------------
You see, the market regulator is mulling taking steps to curb the information asymmetry in investing, due to analyst meets and conference calls conducted by companies.
The regulator has proposed that companies should make audio/video recordings of any such interactions available on their website, within 24 hours of the event.
Further, if they share any unpublished price sensitive information in these meetings, it should be made public with immediate effect.
This will make common investors privy to what transpires in such meetings.
This could be a big game changer, quite empowering for small and common investors, given the structural advantage in the smallcap space, that comes from being 'non institutional'.
While the norms are yet to be finalised, I hope you won't wait to enter the space.
You see, smallcaps are on a massive rebound.
The BSE smallcap index has gained 90% from the lows in March.
I believe there is still steam left. The index is still 20% away from the lifetime highs in January 2018.
You should consider participating in this rebound in smallcaps. Click here to know more.
Warm regards,



Richa Agarwal
Editor, Hidden Treasure
Equitymaster Agora Research Private Limited (Research Analyst)
PS: Dear reader, Tanushree's Explosive Profits Summit has been preponed to Monday, 30 November. Have you booked your free seat yet? Details here...
Recent Articles