Not Infosys or Wipro. India's Next Wealth Creators Could Be Drone Stocks
Nov 25, 2020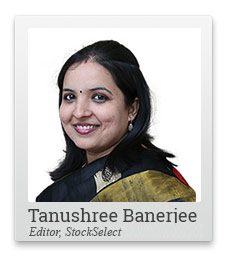 Azerbaijan and Armenia are not countries that grab international headlines too often, but they recently did.
The reason was the manner in which Azerbaijan's tiny drones handed a crushing defeat to Armenia.
Azerbaijan won the war primarily with the use of drones procured from Turkey and Israel. The tiny aerial objects managed to hunt down tanks, trenches of soldiers, radars and everything that moved on the ground.
The air defence system of Armenia and soldiers with assault rifles were no match to the drones that struck with no warnings.
Drones are the latest of the technological breakthroughs in periods of conflict.
Technology has been a game changer for defence since time immemorial. During the reign of Mughal emperor Babur, the use of gun powder made elephants redundant in wars.
--- Advertisement ---
One Stock for Potentially Life-changing Gains

This stock comes from a high-growth industry.

An industry which is growing exponentially.

Our co-head of research, Tanushree Banerjee, believes...

This growth is likely to continue for many years and perhaps even decades.

Tanushree's past recommendations from such high-growth industries have offered triple and even quadruple digit gains in just a few years. (* Past performance in no guarantee of future results)

And the stock which Tanushree has discovered now could potentially offer such gains.

This is Tanushree's #1 stock pick right now.

She will reveal details of this stock at a special online event she is holding on July 29.

Since there are limited free seats, we would recommend you to sign-up at the earliest.

Click here to sign-up. It's free.
------------------------------
From the air radar systems to x-rays to the Enigma machine, which gave birth to modern computers, defence technology is typically far ahead of commercial ones.
India's technological prowess has, so far, been in the latter.
But believe me when I say that is changing.
For my conversations with the managements of certain niche defence stocks has given me more insights into cutting edge technology, than the bluechip IT majors ever did.
Don't get me wrong. Technologies like blockchain, artificial intelligence (AI) and IoT are being widely adopted by Indian companies.
And that's an encouraging sign!
But to discover the hidden, next generation technology revolution, you must take a look at defence businesses.
It would be a mistake to assume that most defence companies in India, being government owned, have little to do with technology.
FREE Event: How to Profit from the Massive Ongoing Revival in Smallcaps
Rather a handful of private sector companies, with interests in defence, are investing heavily in defence tech startups.
The most luring of the new defence technologies, is the drone revolution.
In India alone it could be a 4x opportunity within few years.
And if India gets anywhere close to China in drone manufacturing, the growth could be 14x.
Plus, that's nothing to do with India's chances of getting into a war.
War or no war, the drones are here to stay. They can be modified to use every kind of commercial purpose from ecommerce deliveries to wedding photography. So, drone manufacturing is ready to take off.
Sensing the opportunity, the government recently set up a Directorate to manage India's drone ecosystem.
And like my colleague Rahul Shah put it, the next batch of multibaggers could literally drop from the sky!
So, do not look for signs of next tech breakthrough from India's IT behemoths.
Rather keep your eyes peeled for the hidden multibagger drone stocks.
More details in my Explosive Profits Summit on 30 November 2020.
After the summit, I will send out a bonus report on a solid defence stock, but I don't think the stock will remain in the 'buy range' for long.
This defence stock is an opportunity of a lifetime. Don't miss out!
Block your seat right away for my Explosive Profits Summit on 30 November 2020.

Tanushree Banerjee
Editor, StockSelect
Equitymaster Agora Research Private Limited (Research Analyst)
PS: At my Explosive Profits Summit I'll share details of the #1 defence stock in India today. Register for free here.
Recent Articles