Live @ 5pm: Profitable Trading Ideas for You from India's Best Trader
Nov 26, 2019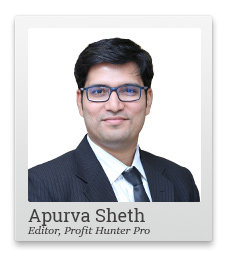 If you had to give an award to India's best trader, who would you pick?
I would certainly nominate Vijay Bhambwani for this award.
Vijay entered the markets when teenagers of his age were busy fooling around. He made his first trade in gold when he was 14 and earned up to 25% in a few months.
He's been active in the markets since then. Vijay has witnessed 3 major bear markets - the Sensex crash during Harshad Mehta scam of 1992, the Ketan Parekh scam of 2000, and the global subprime meltdown of 2008.
Vijay has seen big wealth created and destroyed over the years. If you talk to him for a few minutes you would realise he eats, sleeps, and breaths trading. The insights you get from him about trading, are the kind you won't find anywhere - not on Google or on social media chat rooms.
But that isn't why I believe Vijay is India's best trader.
These are my 4 reasons...
Most traders don't survive more than 1-2 years

Most new traders enter the field of trading with pomp and vigor. But their excitement dies down soon and they leave trading in 1-2 years. Vijay has not only survived nut thrived as a trader for more than 30 years! That's much longer than an average trader and a very big achievement.
88% of traders lose money

Over the years Vijay has prospered as a professional trader. It has been his bread and butter for over three decades. The best measure of a trader's success is if he can pay his bills from trading. Vijay has been doing it for ages.

Many people have a dream to quit their 9 to 5 jobs and trade for a living. Vijay is living that dream life.
Most traders don't have a method

Many traders fail because they don't have a method or a plan while trading. Most trade out of their whims and fancies or on tips from brokers. This does more harm than good. With Vijay, it is very different.

He has a unique method where he combines geo-politics, technicals and behavioral analysis, and the snap quote window, to pick out profitable trades. His has refined his process which has stood the test of time.
Trade entries are easy but exits are very difficult

Anyone can enter a trade whether long or short but few can exit perfectly. Even fewer can hold on to a losing trade and then exit it at profit. I met Vijay back in 2013. He described how he made a profitable exit on a long trade in potato where others lost money. He averaged his positions after knowing the futures prices were trading far lower than spot market rates.

So the only way for the prices to go was up. It takes real skill and conviction in your idea to add on to a losing position. Vijay has both.
This is why I believe Vijay is the best trader in India.
Today, you will soon get a once in a lifetime opportunity to gain insights from Vijay at his Weekly Cash Summit.
Don't miss it.
The summit goes live TODAY at 5 pm sharp.
More than 28,000 have registered for it! Please tune in at least 5 minutes ahead of time to avoid the last-minute rush on the site.
If you haven't signed up for the Weekly Cash Summit yet then this is your LAST Chance.
Warm regards,

Apurva Sheth
Editor, Profit Hunter Pro
Equitymaster Agora Research Private Limited (Research Analyst)
PS: Today @ 5pm sharp, India's #1 trader - Vijay Bhambwani - will be live at the Weekly Cash Summit. More than 28,000 people have registered for it! Vijay will share his best trading ideas as well as his very own trading strategy for fast profits. Don't miss it. You can register for Weekly Cash Summit here.
Recent Articles