Could this Smallcap Be the Next Page Industries?
Nov 27, 2019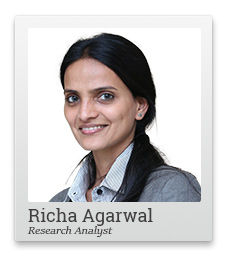 Sensex has scaled new heights. And I think you should be very worried.
That's because no one is able to explain the dichotomy between markets and the economy. And yet, everyone is joining and riding the rally.
When sanity prevails, I believe explanations will be offered. And this will go down as another bubble phase in select blue chip stocks that was just waiting for the pin to burst.
But I do not mean to scare you. For there are still pockets in the market where no one is looking and where future multibaggers lie.
I'm talking about the smallcap stocks, where one can find some great rebound bets.
But within these bets, there is a stock that is first among equals.
You see, it's not often that one comes across the kind of opportunities, where there is conviction of holding it for the long term. And by long term, I mean not just 3 to 5 years, but 10 years or more.
Of the certain mistakes that we have made in the past, one was to not hold such stocks for the long term and 'Sell' early. A case in point is Astral Polytechnik. We closed the position with 143% gains. After our closure, the stock made new highs. As I write this, it is up by over 650% from our closing price.
Now I don't want to repeat such mistakes.
So, a few days ago, I decided to search for next 'Crorepati stock' - a stock that has the potential to not just survive over the next 10 years, but become even more relevant to its clients and to the economy... Where the runway is huge and promoters have unmatched competence.
I have selected one. Amid all the disruptions that the economy has gone through in last three years, the business has proved itself resilient. It has not just shown consistent growth, but has rewarded shareholders with dividends as well.
I have been tracking the stock for almost 3 years now. And my conviction in the management has only grown stronger.
--- Advertisement ---
[Breaking] India's Top Stock for 2021?

Here's an urgent profit opportunity from us that no mainstream media is revealing...

The #1 Stock for 2021.

...An innovative stock with the industry giants chasing it for its technology to touch millions and millions of people every day.

It serves several clients across the globe, but what got me is this...

The stock is leaving all its competitors behind despite the COVID crash, and now the price has already started to move.

There's actually one more reason why this stock could take off and make its early investors rich.

It's revealed here in this note with transparency.
------------------------------
The investment it has made in the last two years to capitalise on the new age economy is higher than what it made in the first 30 years. The management's vision is paying off.... and how!
At a time when behemoths like HUL are staring at multi-quarter low sales, this smallcap company is shrugging off the slowdown.
It has posted over 60% growth in the food and FMCG segment - one of the segments it caters to.
Unlike the bluechips in the food and FMCG space that are past their prime, this company is an early entrant.
It has a long runway ahead of it in the nearly Rs 4 trillion food and FMCG segment. In fact, HUL recently joined the list of its clients. The way things are going, Pepsi and Coke could follow soon.
If I could recommend one stock to own and hold forever, this would be it.
And all this is just a sliver of the pie this company offers.
With its unique business model and innovation prowess, it has successfully taken the leap from supplying to just consumer discretionary segment to the entire food and FMCG industry.
And with the same technology, the pharma and cosmetics industries could be next on its radar.
Just imagine the profit potential as it enters these multiple markets with almost unlimited opportunity size.
If the company maintains the growth rate, even without considering an expansion in valuation multiples or rerating, I believe the stock has the potential to multiply nearly 8 times from here.
I've written all about it in a premium report for my Hidden Treasure subscribers: One Stock Crorepati: How to Get Rich With This Little-Known Indian Stock.
All I can say here is that it's big enough for me to recommend my Hidden Treasure subscribers exceed the usual allocation for a single smallcap.
So make the most of the biggest wealth creating opportunity in smallcaps in the last decade.
Warm regards,



Richa Agarwal
Editor, Hidden Treasure
Equitymaster Agora Research Private Limited (Research Analyst)
PS: Did you watch the Weekly Cash Summit yesterday? Thousands tuned in at 5 pm and they got a chance to make fast profits with Vijay Bhambwani's trading strategy. If you missed the summit, the video is available for a very short time. I recommend you watch it before it is taken down. Watch Vijay Bhambwani's Weekly Cash Summit here.
Recent Articles