Here's How to Make Your Portfolio 'Omicron' Proof
Nov 30, 2021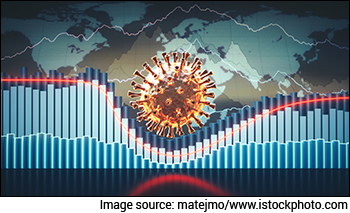 The damn virus is back again.
Just when offices opened up, public travel restrictions eased, and box office collections started ringing in some money, a new variant of the virus, Omicron, is grabbing headlines.
Flying restrictions and PCR tests are back. Global stock markets have been rattled.
It's still too early to know how bad this variant could be. It may or may not lead to more hospitalisations, more deaths, and another lockdown.
But it's indeed likely to weigh heavy on the market mood in the coming weeks.
To begin with, I don't know how severe this will be. And there is no point in speculating on these matters.
Real investing is not about short-term predictions or speculations. It's about building a portfolio that is meant to last and having the temperament to hold when sentiments sour.
I would rather focus on what we do know.
And that is....
I believe that considering everything, we are still in a much better place than we were in March 2020.
--- Advertisement ---
Rahul Shah's Lazy Millionaire Summit Is Now LIVE...

Discover the Master Key to Turning Every Market Crash to Your Advantage

Hurry up! Join in now...

Click Here to Join the Lazy Millionaire Summit
------------------------------
We are no longer dealing with an unknown or a black swan event. Businesses will not be caught unaware this time.
In fact, some of them have already seen the worst and have emerged stronger to deal with it.
We not only have vaccines now but have successfully administered them to a huge chunk of population.
Certain sectors aside, work from home is a norm, and not a new transition to navigate.
Supply chain networks have been diversified. Value chain integrations have taken place for better self-reliance. Business models have seen de-risking over last one and a half years.
Structurally, the last one and a half years has seen consolidation across sectors. And the organised players with disciplined balance sheets, prudent managements and leading market shares have benefited at the cost of weaker players.
With a focus on infrastructure, India's economic engine has been set in motion. And while there could be a delay in progress, the virus will not be able to derail it.
Apart from this, here are some encouraging developments in the smallcap space...
The balance sheets of smallcap companies are getting stronger. Debt is coming down.
Smallcap companies are witnessing a revival in earnings. Also, this is not an accounting maneuver. It's backed by growth in operating cash flows.
The capex for the companies in this space has gone up in the last two years. I won't be surprised to see this translate to growth in the revenues and profits. I have been on quite a few earnings calls, and it's heartening to see select companies in this space reporting their highest ever revenues and profits, even higher than pre-covid levels.
Valuation wise, quite a few fundamentally strong smallcaps are still lagging the larger ones.
Yet, there are aspects to be careful about.
From a valuation standpoint, smallcaps are a lot more stretched than they were at the start of 2020. The easy money has been made.
Equitymaster's Stock Screener: Identifying High-Potential Stocks Has Never Been this Easy
The new variant could be the 'turn of the tide' that would separate naked swimmers from robust ships.
The correction is still mild as compared to the gains made in the post-covid smallcap rally.
This could be a good time to exit the weak positions, which have gained only because of liquidity and lack fundamental strength.
When the sentiments turn weak, these stocks will be the hardest hit. And will have little fuel to come back even when things normalise.
Coming to opportunities in the smallcap space...
The playbook for picking small-cap stocks remains the same. And it's worth reiterating the rules here.
Focus on sectors that are relatively immune to another pandemic or lockdown, and enjoy inelastic demand. Think of sectors like FMCG, pharma, packaging, e commerce, and companies benefitting from digitalisation of the economy.
Focus on niche leaders that are critical suppliers in the economy and enjoy better cost advantage and economies of scale as compared to competitors.
Stick to companies with healthy financials, the ones with low debt or debt free balance sheets and good liquidity.
Look for managements that are competent, ethical, and have shown prudence in navigating the crisis well in the past.
Last but not the least.... look for margin of safety in valuations.
--- Advertisement ---
There is a new paradigm shift currently unfolding across the global economic landscape...

And at the heart of this massive SHIFT is...

INDIA!

India is on the verge of a multi-trillion-dollar rebirth that could potentially mint countless new millionaires...

If you are on the right side of this mega shift, then it could be your biggest opportunity to build potentially massive wealth over the long term.

Click here to find all the details...
------------------------------
Are there stocks that qualify on all these fundamentals and valuation yardsticks?
Well, I have identified and shared three stocks with my subscribers:
The first is a government backed company - a major growth driver behind India's most intricate transport network. In a year when Covid wreaked havoc on most businesses, this stock reported double-digit growth in its topline and operating profits.

It's riding on one of the biggest megatrends of this century - the internet. With strong long term revenue visibility and a healthy balance sheet, I believe this stock is all set for a promising journey ahead. Hidden Treasure subscribers can access the stock recommendation here.
The second company plays a crucial role in India's food security and economy.

You see, it supplies a critical ingredient to the most essential sector of the economy - agriculture. This company is one of the top three players in India in this segment.

What sets it apart from the other players in the industry is the solid R&D base and the knowledge bank that allows it to introduce high margin products. The company has recently made it to the list of Forbes Asia's Best Companies with revenue under a billion dollars with consistent top and bottomline growth.

But then this story is not just about strong fundamentals.

What I really like about the stock at this point in time is that it's still trading at a huge discount to the buyback price in FY20. Hidden Treasure subscribers can access the stock recommendation here.
The third company is one of the most profitable in its niche, thanks to an innovation focused management. Even in a pandemic-ridden year, it operated at over 100% capacity.

As the economy opens, the demand for its products is likely to swell. To accommodate the growing demand, the company is doubling capacity, with focus on value-added products. It's foraying into a new vertical connected to the food delivery segment.

In fact, I believe it's a better way to ride the food delivery megatrend than exorbitantly priced and loss making Zomato. Hidden Treasure subscribers can access the stock recommendation here.
Just to be sure...
There could still be a volatility in stocks that make it to the above checklist.
Here's a simple approach to not let the near term sentiment impact your long term return prospects.
Have a long horizon period.
Follow a robust risk management framework.
I cannot insist enough how critical the last point is. It means one must have a diversified portfolio with limited exposure to a single stock and sector, and to equities as an asset class.
For smallcaps, in our view, the overall allocation to a single smallcap should be limited to 2%- 3% of one's portfolio. Further, overall allocation to smallcaps as an equity class should not be more than more than 10%.
Right location, long term horizon, margin of safety in valuations, and picking stocks with strong fundamentals and managements is a strategy that has worked across crises, decades, and markets.
And it's your best bet to beat the virus blues.
For more such updates on smallcaps and markets, stay tuned.
Warm regards,



Richa Agarwal
Editor and Research Analyst, Hidden Treasure
Recent Articles