India's Third Giant Leap
This Leap Could Potentially Generate Gains
Far Bigger than Anything We Have Seen in Our Lifetimes
Warren Buffett Bought a Semiconductor Stock. Should You?
Nov 30, 2022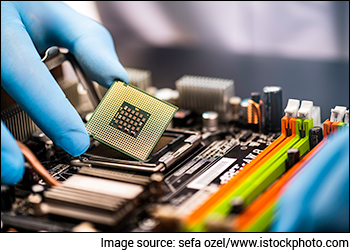 Thousands of small farmers in southern Taiwan have become super rich over past few years.
Reason?
Their agricultural lands were bought by Taiwan Semiconductor Manufacturing Company (TSMC), the largest contract chipmaker in the world.
TSMC has built a plant to make 3 nanometre chips. These will go into semiconductors expected to be up to 70% faster and more power-efficient than the most advanced in production now. Plus, these will be used in devices from smartphones to supercomputers.
The plant, due to start mass production in late 2022, will use process technology which so far only TSMC and South Korea's Samsung Electronics have mastered. At present, the most advanced chips are 5 nano metres (nm).
The new chips bring huge advantages for customers. The smaller the transistors on a chip, the lower the energy consumption and higher the speed.
--- Advertisement ---
India's Third Giant Leap

India's first two leaps created crores for investors.

And now India is taking its third giant leap.

This is the stage that leads to wealth creation of immense proportions.

We've already identified the first 3 stocks to ride this giant leap for you.

We are going to share this entire research... including details of these 3 stocks at our upcoming special event.

Get Full Details
------------------------------
The computer chips made by the TSMC aren't just the brains inside smartphones, laptops, and video game consoles. They're also core components of almost every kind of electronics in the world. From data centres to fighter jets, every kind of hi-tech electronics need them.
Apple, Huawei, Sony, Qualcomm, Broadcom, and several Indian companies, are among TSMC's 500 odd clients.
Now, what makes TSMC relevant to you dear reader?
Well, it's the unique business model and the ability to develop the semiconductor ecosystem from scratch. Both are necessary for Indian semiconductor producers to gain traction in being the global semiconductor hub.
Morris Chang, who founded TSMC in 1987, had spent 25 years at Texas Instruments developing its semiconductor business. When he was selected to lead the Taiwan government-backed technology development project, its semiconductor industry was nascent. It also had stiff competition.
Chang realised that companies like Huawei and Apple, design but don't actually manufacture their own chips. Integrated device manufacturers, such as Intel, Fujitsu, and Samsung, which make the chips start to finish, use the chips in their own products.
So, the world basically needed large scale chip foundries.
TSMC paved the way for a future where companies could design their chips and contract their production out. This helped in saving the enormous investment of time and capital required to keep up their own fabrication units.
TSMC's achievement is in changing the global semiconductor division of labour.
--- Advertisement ---
URGENT: Your Conference Pass is on Hold...

Your Equitymaster Conference 2023 pass is on hold...

When you complete your registration form today, you'll get to experience this two-day special virtual conference...

Where India's most successful investors will get together to share their research on what'll happen in the Indian stock market for the next 10 years

HURRY: Claim Your Conference Pass Now
------------------------------
Before Morris Chang, putting up a chip foundry was considered an impossible task. Customers were afraid of leaking or plagiarising chip designs. Hence, they were reluctant to hand over chips to foundries for manufacturing.
However, TSMC persuaded a huge number of companies with its high-standard integrity management.
TSMC slowly became the largest semiconductor fabrication company in the world.
The rest, as they say, is history.
But TSMC created history, once again, by being among the handful technology companies that Warren Buffett has bought till date.
Buffett's regret about not investing in Google and Amazon in their early days is well known.
But he did not shy away from taking modest position of a billion dollars in smartphone maker Apple during 2016. With his consistent buying, by the year end 2020, Berkshire owned more than 5% of the company, a value worth US$120 bn.
Over the years, Apple has been instrumental in Berkshire's book value performance. In fact it provided more than 50% of Berkshire's total unrealised gains in 2021.
Therefore, Buffett's recent US$4.1 bn bet on the American Depositary Receipts (ADR) of TSMC, does not come as a surprise. The legendary 'forever' investor sees semiconductor foundries being critical to the world for decades to come.
Now, quite a few companies in India are planning meaningful semiconductor capacities in the coming decade. Many of them are in collaboration with the Taiwanese chip makers.
In other words, India's semiconductor ecosystem is where Taiwan's was three decades back.
No doubt the companies have the risk of execution. But an early investor could fetch great bargains.
I have already laid out the blueprint for the semiconductor war profits.
More to come. Stay tuned...
Warm regards,



Tanushree Banerjee
Editor, StockSelect
Equitymaster Agora Research Private Limited (Research Analyst)
Recent Articles